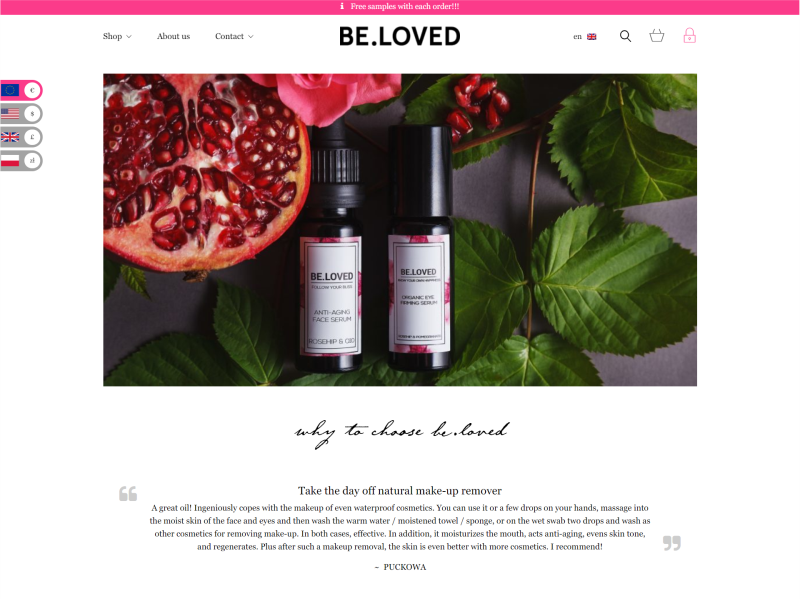 Kinga is the BE.LOVED founder, as well as a yoga teacher and natural lifestyle enthusiast. In her mid 30's she started to experience problems with her skin – a loss of elasticity, dark circles around the eyes, acne and wrinkles. Kinga combined her BEing and LOVEing philosophy, in natural cosmetic products, packed in dark violet glass that energetically activates the botanical formulas.
BE.LOVED formulas are designed by Kinga with the support of a team of international skincare experts. Her website is presented in Polish and English to reach more people globally.
https://belovedskin.com/?lang=en
How to build a multilingual e-commerce website with Toolset and WPML
To build an e-commerce site similar to this one with Toolset and WooCommerce you will need to:
Optional steps
Add a product categories slider
Create front end forms so users can add and edit products using Forms
Display information on store orders and which customers bought a product
You can find more details on each step within our guide to creating an e-commerce WordPress site. We have also created an example of a multilingual shop.
To translate an e-commerce website with WPML you will need to
If you are assigning translations
You will want to follow the steps above but you will need to send content for translation.
Report a problem