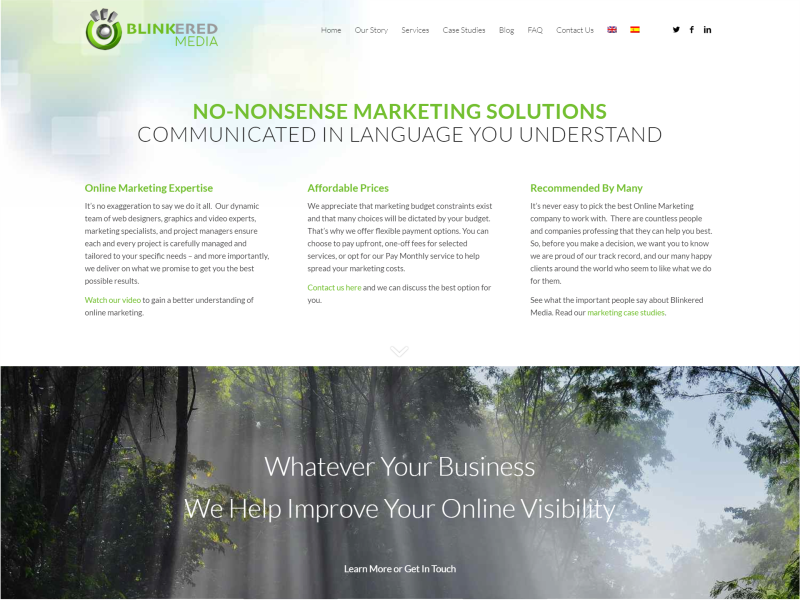 Blinkered are online marketing experts, all about delivering a bespoke personal online marketing and video service, with the sole focus on getting results.
Whatever your business is, they help improve your online visibility.
With offices in the UK and Spain, Blinkered needed a multilingual site to serve more clients internationally.
Blinkered help with:
Online Marketing Strategy
If your business doesn't have a clear online marketing strategy you're at risk of wasting your marketing budget on ineffective campaigns or being overtaken by competitors who have nailed their online presence. We can help get you on track.
Search Engine Optimisation
We've helped countless organizations with their on-page and off-page SEO. We have the common sense and technical skills to optimize your site; we know how to build inbound links via reputable methods without your site looking "spammy" or being penalized by search engines.
Video Creation
We script, staff and shoot a full range of videos to promote your business. From simple explainer videos to promote a service or product, one-on-one or group interviews, corporate videos through to video animation to get your message across.
Google & Facebook Advertising
We can tailor make Pay Per Click (PPC) campaigns to give a rapid boost to your online presence which gets you in front of your target market as soon as possible. We help with a variety of goals which include driving traffic to your website, email signup, online ordering and so on.
Social Media Management
Is a huge opportunity for business. Your customers and competitors are using it. If you're not, then they're having a conversation you're not part of! We can help you with advising on the most appropriate channels, branding, tips and training.
Graphic Design
Create a great first impression and put your best foot forward with all your marketing material. We help create the wow factor for you with our graphic design services which include logos, brochures, banners, posters, menus and more. Professionally designed material for online and/or print.
Article Writing
What have you got to say today? All over the world, every second of every day, content is being written, read, digested, shared and commented on. We can help increase your online profile with high quality, unique, and engaging content to talk to your target market in a tone that works for your business.
Email Newsletters
Email marketing still provides significant impact if done right. At it's simplest it helps you keep in touch with your existing clients, you can monitor who opens your mailings, who clicks through and who you should follow-up when you see they are interested in specific conversations you are having.
With an international audience in mind the website is available in English as well as Spanish.
https://www.blinkeredmedia.com/
Report a problem