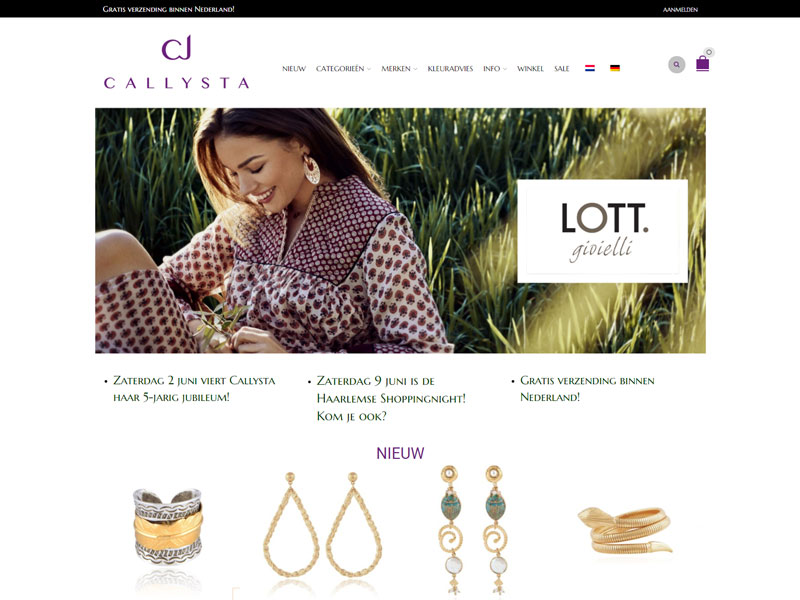 Callysta is a jewellery store that's located in the best shopping city in the Netherlands! On 10 October 2015, Callysta opened its first store on the Jacobijnestraat in the centre of Haarlem. Yıldız, the business owner travels regularly to Istanbul and other inspiring places in search of young, creative designers and artists. Her mission is to give them a platform in the West and thus to build the bridge. The jewellery and accessories from Callysta are for today's independent woman who knows what she wants and who she is. The woman who knows that she is unique, just like her jewellery.
The Dutch company is growing in Germany which made it necessary to have a multilingual website in German and Dutch languages.
https://callysta.nl/en/
How to build a multilingual e-commerce website with Toolset and WPML
To build an e-commerce site similar to this one with Toolset and WooCommerce you will need to:
Optional steps
Add a product categories slider
Create front end forms so users can add and edit products using Forms
Display information on store orders and which customers bought a product
You can find more details on each step within our guide to creating an e-commerce WordPress site. We have also created an example of a multilingual shop.
To translate an e-commerce website with WPML you will need to
If you are assigning translations
You will want to follow the steps above but you will need to send content for translation.
Report a problem