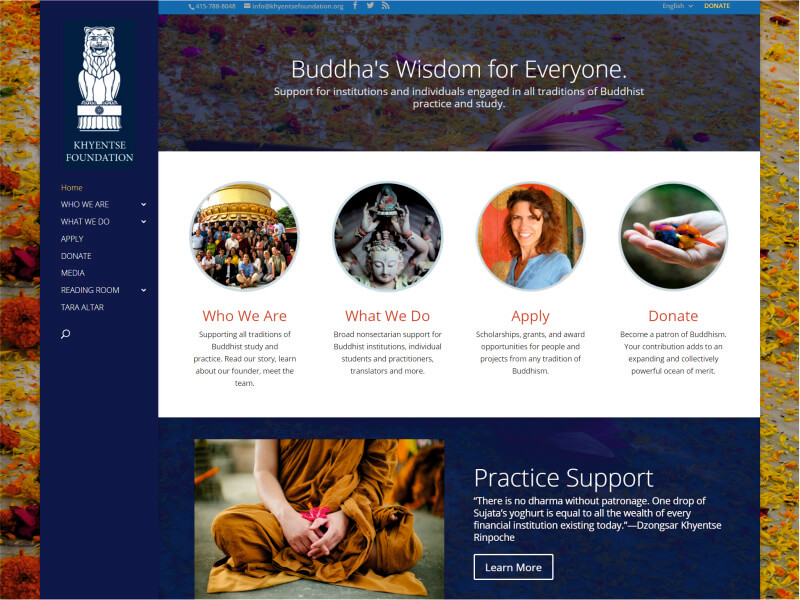 Khyentse Foundation is a nonprofit organization founded in 2001 by Dzongsar Khyentse Rinpoche to support all traditions of Buddhist study and practice. Since 2001, the foundation has supported individuals and institutions in more than 30 countries and has directly affected the lives of people around the world. Khyentse Foundation activities include major text preservation and translation projects, support for traditional monastic colleges in Asia, a worldwide scholarship and awards program, academic development of Buddhist studies in major universities, training and development for Buddhist leaders and teachers, Buddhist education for children, support for individual study and retreats, and more.
It's essential for the Khyentse Foundation website to be available in as many languages as possible in order to cater to the widest audience. At this stage, the site is translated into Chinese (both Traditional & Simplified), and we will soon be launching the Brazilian Portuguese version.
https://khyentsefoundation.org
How to build a multilingual education website with WPML
To build a multilingual education website with Toolset like this one you will need to:
To translate your education website with WPML you will need to
If you are assigning translations you will want to follow the steps above but you will need to send content for translation.
Report a problem