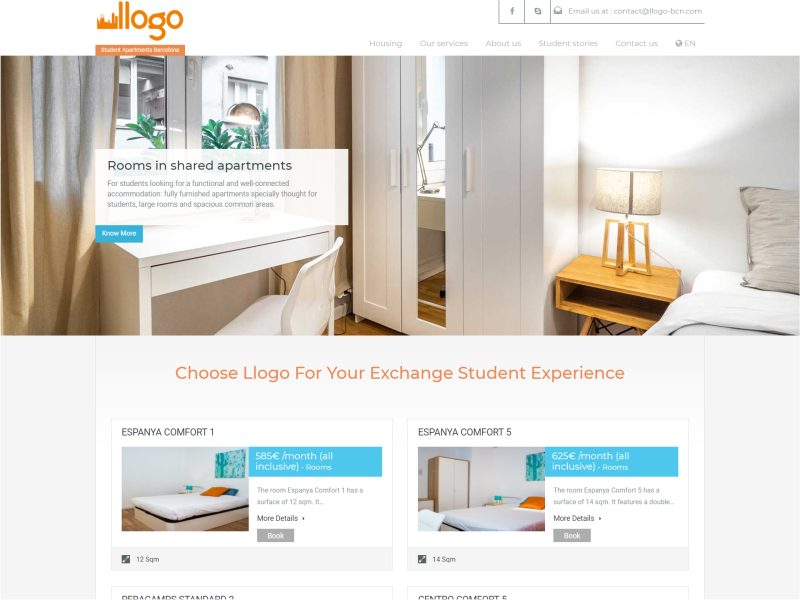 REAL ESTATE - WordPress Solution WPML
LLOGO was founded in 2010 in Barcelona. LLOGO specializes in short-term rental for international students. It offers common rooms in exceptional apartments and rooms and apartments in student residences.
TodoBravo Web Design Madrid developed the entire site: a Responsive WordPress solution in 5 languages using WPML with a multitude of advanced features. Since it is online, LLOGO saw its success is confirmed, better positioning SEO, improved visibility on Google Maps / My Business / Local … True reservation sales channel, the website has become the main source of customers.
---- ES
INMOBILIARIA - Solución WordPress WPML
LLOGO fue fundado en 2010 en Barcelona. LLOGO está especializados en alquileres a corto plazo para estudiantes. Ofrece habitaciones en pisos compartidos, habitaciones en una residencia y apartamentos para grupos.
Los diseñadores web de TodoBravo Diseño Web Madrid han hecho una solución Web WordPress de diseño responsivo a medida en 5 idiomas usando WPML con una multitud de funcionalidades avanzadas.
LLOGO ha conseguido múltiples beneficios: mejora del posicionamiento SEO de la web, mejora en el Google My Business / Google Local… sobre todo ha multiplicado sus ventas, esta Web de reserva es ahora su fuente principal de clientes.
Descubre nuestras ofertas de diseño web y solicita tu presupuesto web personalizado.
https://www.llogo-bcn.com/en/
How to build a multilingual directory website with Toolset and WPML
Report a problem