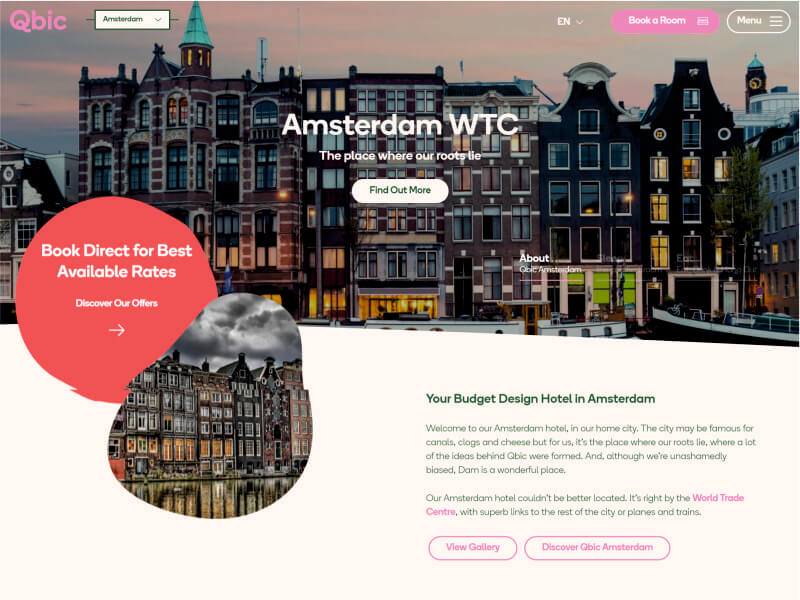 Qbic Hotels offer affordable accommodation across London, Amsterdam and Brussels. Our website developers developed the Qbic group website as well as their individual location sites, for Amsterdam, Brussels and London under ADAOs sister agency name (UP Hotel Agency). Manchester is planned in advance of the hotel opening in the near future. Both Amsterdam and Brussels domains currently have multilingual functionality; as requested by the client. The possibilities that this opens is a greater propensity to book from non-Dutch or French speakers looking to book a hotel room in either Amsterdam or Brussels locations. These were the two key destinations to open up the multilingual functionality for in the first instance. It is planned for additional Qbic locations to follow suit moving forward.
https://qbichotels.com/amsterdam-wtc/
How to build a multilingual e-commerce website with Toolset and WPML
To build an e-commerce site similar to this one with Toolset and WooCommerce you will need to:
Optional steps
Add a product categories slider
Create front end forms so users can add and edit products using Forms
Display information on store orders and which customers bought a product
You can find more details on each step within our guide to creating an e-commerce WordPress site. We have also created an example of a multilingual shop.
To translate an e-commerce website with WPML you will need to
If you are assigning translations
You will want to follow the steps above but you will need to send content for translation.
Report a problem