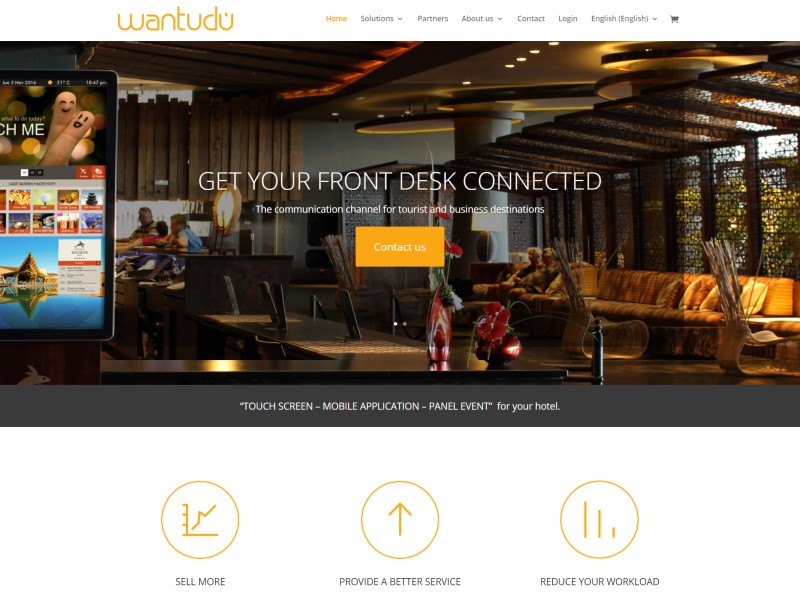 Wantudu offers communication solutions to reduce the workloads of front desks and public relations departments by up to eight hours. It has customized its software not only for accommodation but also for clients in other sectors such as retail, tourist offices, beach clubs, casinos, business centers, to name but a few.
The company can be found in 3 countries and in more than 130 facilities in hotel chains of recognized standing. Currently, agreements at an international level are being reached to improve their presence in the world's prime tourist destinations. This was one of the reasons to make the website available in English, French, Spanish, and German.
http://wantudu.com/en/
How to build a multilingual e-commerce website with Toolset and WPML
To build an e-commerce site similar to this one with Toolset and WooCommerce you will need to:
Optional steps
Add a product categories slider
Create front end forms so users can add and edit products using Forms
Display information on store orders and which customers bought a product
You can find more details on each step within our guide to creating an e-commerce WordPress site. We have also created an example of a multilingual shop.
To translate an e-commerce website with WPML you will need to
If you are assigning translations
You will want to follow the steps above but you will need to send content for translation.
Report a problem