Espresso Translations offers professional translation services in a vast number of languages such as Italian, Spanish, German, French, Portuguese and more. Our translation company is comprised of a network of professional native translators who have skill sets that are tailor-made to achieve objectives in a professional and timely manner. Our translation agency is a hub of people who have learned the art of translation in its highest form, its rules and its peculiarities.
Getting Started with Espresso Translations
To send files for translation to Espresso Translations, you first have to log in to your wpml.org account, and download and install the following plugins on your website:
WPML Multilingual CMS: the core plugin.
WPML Translation Management: this plugin will allow you to connect to Espresso Translations.
WPML String Translation: this plugin will enable you to translate interface strings.
If you do not have a wpml.org account yet, you can create a new one by simply choosing between our WPML Multilingual CMS or Multilingual CMS Lifetime plans.
As soon as you get access to your wpml.org  account, you may refer to our detailed step-by-step guide on how to download and install WPML. Please remember to register your site to receive automatic updates and gain access to Espresso Translations' services.
If you need any help with the WPML plugin configuration, you can go through our getting started guide or simply ask a question on our support forum.
Table of Contents
Connecting your site to Espresso Translations
Once all the required plugins have been installed and activated, all you need at hand for connecting WPML to the translation service is your Espresso Translations API Token.
Requesting an Espresso Translations account
You can request an Espresso Translations account by simply visiting the Espresso Translations website and clicking the "Request quote" button, or using the live chat for instant assistance.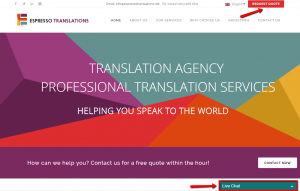 Alternatively, you can just click the contact now tab and send the details of your website project, the scope, and languages of the required professional translation, along with your contact details including your phone number.
Receiving your API Token
After submitting your request, a member of the Espresso Translations team will analyze all your information and contact you to discuss your project requirements in detail. Once you have discussed your project, the Espresso Translations team member will email a unique API Token to you. You will need this API Token to be able to connect with Espresso Translations through WPML.
Activating and authenticating Espresso Translations
Login to your WordPress website, visit the WPML->Translation Management admin page, and click on the Translation Services tab.


Scroll down to Available Translation Services and click Activate to activate Espresso Translations.

Once the service is activated, click the Authenticate button. This is where you will need the API Token obtained in the previous step.
A popup window will appear in which you can paste or enter your Espresso Translations API Token. After entering the value, click the Submit button.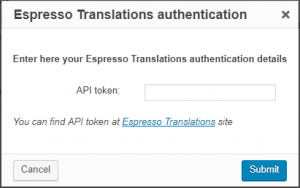 Congratulations! Your Espresso Translations account is now connected to your WordPress account.
Now, you are ready to send content for translation.
Sending your content for translation
To send pages for translation, go to the Translation Management module (WPML->Translation Management).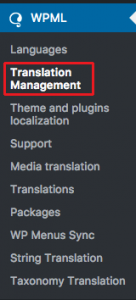 Select the pages you want to translate by clicking the checkboxes in the first column. Next, select the target languages by checking the boxes, and click the Add to translation basket button.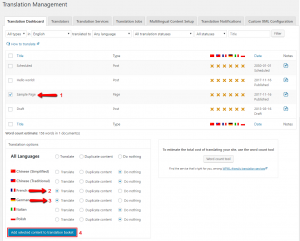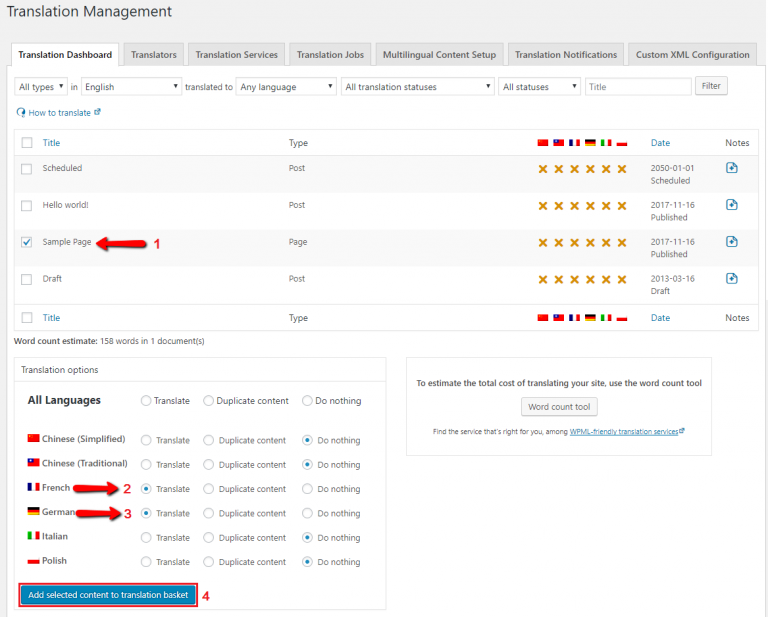 Go to Translation Management and click on the blinking tab at the top of the page, called Translation Basket. By clicking this tab, you will see a list of all the pages (jobs) that you added to the basket, as well as the languages these items are to be translated into.
Here, you can verify the content you wish to translate, remove pages you incorrectly added, and change the Batch name. The Batch name will be visible on the Translation Jobs tab and will help you find projects. When you are ready, simply click the Send all items for translation button to send everything to Espresso Translations.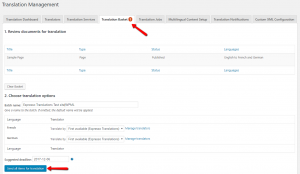 When the translation basket's contents have been successfully sent to Espresso Translations, you will see a confirmation message, as shown in the following figure.

Click on the Translation Jobs link you are given in the confirmation message or click on the Translation Jobs tab at the top of the screen. From the next administration screen, you can see the Batch you just sent for translation.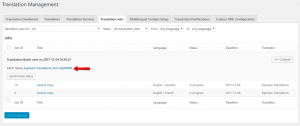 Receiving a quotation and authorizing your translation
Once your translation basket has been transmitted, Espresso Translations will be notified immediately and will proceed to carry out a detailed analysis of the batch.
If this is your first order with Espresso Translations, and/or you have no prior commercial agreement in place, and/or you specifically requested this to happen, no chargeable work will start automatically. Instead, you will have a chance to approve the cost first: Espresso Translations will email you a detailed quotation for the batch, with terms and conditions of business and simple instructions on how to authorize the translation.
Receiving completed translations
As soon as a translation job is finished by Espresso Translations, it will be ready to be delivered to your website.
Having your completed translations delivered to your site
Depending on your configuration, translations will be delivered automatically or can be manually fetched from your WordPress admin panel.
To check your configuration settings, open WPML->Translation Management and click on the Multilingual Content Setup tab. Find the Translation Pickup mode section and check the selected option.

The Translation Service will deliver translations automatically using the XML-RPC option implies that a translation will be delivered to your website automatically as soon as it is ready.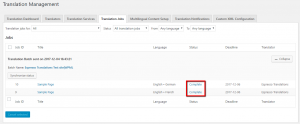 The site will fetch translations manually option implies that completed translations can be downloaded from the Translations Dashboard (WPML->Translation Management) by using the Check status and get translations button at the bottom of the page.

Canceling translation jobs
Although you cannot cancel individual translations from WPML, you can delete an individual job or an entire project from Espresso Translations by contacting your Espresso Translations Project Manager.
NOTICE: Be aware that cancellation requests for previously submitted work should be sent as soon as possible since Espresso Translations cannot cancel translation work that has already been completed: unless your commercial terms state otherwise, you will be charged for the work completed.
Having your canceled translations returned to your site
Depending on your Translation pickup mode configuration, when a project is canceled, information will be returned to your site automatically or after you have manually checked for canceled translations by clicking the Check status and get translations button in the Translation Management Dashboard.
Thus, if you select the Translation Service will deliver translations automatically using XML-RPC option, all you need to do is wait for its delivery.
If you select The site will fetch translations manually option, you will need to click on the Check status and get translations button.


When a project is canceled, it is removed from the Translation Jobs tab in WPML.

FAQ
Translations are ready but haven't been delivered to my site. What should I do?
Go to the Translation Jobs tab and click the Synchronize status button next to the batch you want to fetch. This will trigger a synchronization with Espresso Translations' servers and all translation jobs belonging to that batch will be downloaded to your site in a few minutes.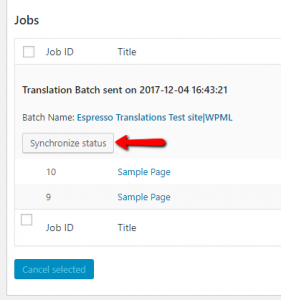 You may also have to click the Check status and get translations button at the bottom of the Translation Dashboard page if the XML-RPC is not available for your site.