Gengo provides fast, affordable and quality translations by native speakers located worldwide. With translators located all around the world, and over 35 languages currently available, turnaround times are consistent no matter when you place your order.
Last year, Gengo community of over 15,000 native speakers—located in 140+ countries—translated more than 130 million words.
Getting Started with Gengo
To send content for translation in Gengo, make sure you have the following plugins installed on your website:
WPML Multilingual CMS – the core plugin
WPML Translation Management – this plugin lets you connect to Gengo
WPML String Translation – this plugin lets you translate interface strings
You can download them from your wpml.org account. If you do not have an account yet, you can create one simply by choosing between WPML Multilingual CMS or Multilingual CMS Lifetime plans.
Gengo will be visible on the WPML->Translation Management->Translators tab, which is available only after WPML registration. The whole registration process will take only a few seconds.
If you need help with the WPML plugin configuration, you can use the getting started guide or simply ask a question on the support forum.
Table of Contents
Connecting your Site with Gengo
Step 1: Creating a Gengo Account
Step 3: Connecting WPML to your Gengo Account
Sending Content for Translation
Connecting your Site with Gengo
You can enable Gengo as a translation service with WPML in three simple steps.
Step 1: Creating a Gengo Account
If you already have an account, you can move on to the next step.
To create an account, visit the Gengo Homepage and click the Sign In button.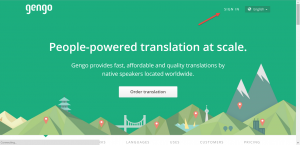 At the bottom of the login form, please click the Don't have an account yet? link.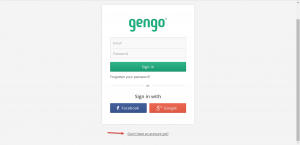 Select the Create Customer Account and fill in your data. If you prefer, you can also use Google+ or your Facebook account.
If you submit the form, you will receive an email with a confirmation link that you need to follow to use Gengo a translation service.
Step 2: Generating API Keys
To connect WPML with your Gengo account, you need to generate private and public keys.
Please sign in to your Gengo account, click on your name in the upper right corner, and select Settings from the dropdown menu.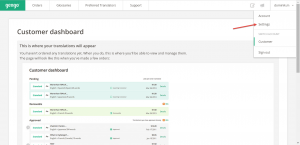 From the sidebar menu, select API settings. The public key will be visible by default. To display the private key, please click the Show button.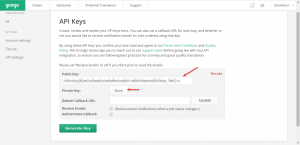 If you want to generate a new pair of keys for WPML connections, simply click the Generate Key button.
Copy both keys so you can access them easily for the final step below.
Step 3: Connecting WPML to your Gengo Account
Go back to your WordPress admin panel, select WPML -> Translation Management from the menu, and switch to the Translation Services tab.

Locate the Gengo service from the list and click the Activate button next to it. As soon as the page reloads, the Gengo service will appear at the top of the page.

Click the Authenticate button. Then, in the subsequent popup, enter your Public and Private keys.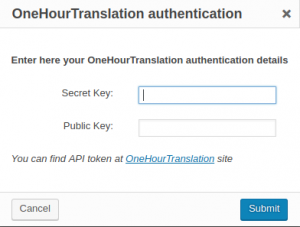 Click the Submit button and after a few seconds, Gengo will appear as an active and authenticated service.

Congratulations! Your Gengo account is now connected to your WordPress instance.
Sending Content for Translation
Before sending content for translation, please ensure you add credits to your Gengo account. The translation process is available only when there are enough funds.
To start a translation, open the Translation Dashboard page (WPML->Translation Management) and select the posts and pages you want to translate using the checkboxes in the first column.

Scroll to the list of languages, select the languages to which you want to translate, and click the Add selected content to translation basket button.

After the page reloads, a new tab called Translation Basket will appear at the top of the page. On this tab is a list of all the items (posts, pages, strings) and translation languages you added to the basket.
Here you can verify the content you wish to translate, remove posts and pages added by accident, and change the "Batch name". "Batch name" will be visible as a project name in Gengo. When ready, simply click Send all items for translation to send everything to Gengo.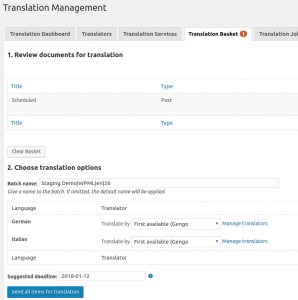 As soon as WPML sends all the information, a confirmation will appear at the bottom of the screen.

Click on the Translation Jobs tab at the top of the page and you will see a list of all the jobs you have sent for translation so far.
The content of the basket you have just sent should be visible at the top of the list. Click on the batch name to open the corresponding project in Gengo.

Your customer dashboard contains a list of all pending and approved jobs.

After a translator finishes a job, it will be available for review. Once all the jobs in a batch are reviewed, they will be made available to WPML. However, if you do not review your jobs within this time, they will be considered reviewed and will be available to WPML.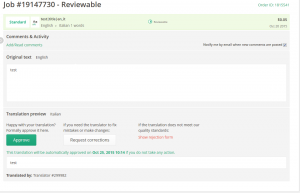 Receiving Translations
When the translation is ready in Gengo, it can be delivered to your website. Depending on your configuration, either WPML will deliver the translations automatically, or you must fetch them manually.
To check your configuration, open WPML->Translation Management and switch to the Multilingual Content Setup tab. Locate the Translation Pickup mode section and note the selected option.

If you have selected Translation Service will deliver translations automatically using XML-RPC, the translation will be delivered to your website automatically when it is ready in Gengo. This means you simply wait until the translation is complete.
If you have selected The site will fetch translations manually, each time you want to download translations, you must first open Translations Dashboard (WPML->Translation Management) and click the Check status and get translations button at the top of the page.

The current job status is visible on the Translation Jobs tab under the Status column.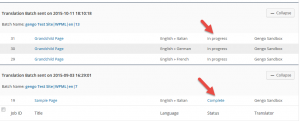 Jobs marked In progress are those for which the translation is yet to be delivered. For jobs marked as Complete, the translation has already been delivered and you can click on the Complete link to view it.
Canceling a Translation
If for some reason you do not want to translate pages sent from WPML to Gengo, please remember the following:
You cannot manually delete jobs from the Translations Job tab on your website.
You can only cancel the project and jobs in Gengo.
Gengo only allows canceling jobs in string segments. For a job to be properly canceled in WPML, all string segments must be canceled. Gengo support will be able to help you in case all job strings are not canceled correctly.
Jobs listed on the Customer dashboard under the subtitle "Reviewable" can be canceled. Click on the "Details" link of a reviewable job to open a dialogue with the job details.

Details of a job contain translation texts and communication between you and the translator. Here you can approve a translation, request a correction, or request rejection if you are not happy with the translation. If you want to cancel a job, click on "Show rejection form".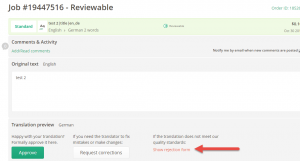 Here you will have to fill out some basic data about the reasons for rejection.

After filling out the form and submitting it, Gengo support staff will review the request and decide whether to proceed with the rejection or not.
If your rejection request is accepted, Gengo support will cancel everything that is required to cancel that particular job on WPML. For example, if you cancel a Gengo job corresponding to the title of a post and your rejection is accepted, Gengo support will also cancel any Gengo job that corresponds to the body of the post and categories. This way, the job will return to a "Not translated" state in WPML. This also means that when sending strings for translation, canceling one would result in Gengo support canceling all others were included in that same batch.