One of WPML's strongest points is SEO. Let's see how you can fully optimize your multilingual sites for search engines, in different languages.
Because WPML uses different pages for different languages, these pages get their individual SEO attributes. You can optimize your sites for search engines in different languages, as if you were building completely separate sites. Of course, managing all languages from one database is a lot easier than actually running different websites for different languages.
The more information you provide Google, the better Google can understand what your site is about and drive qualified traffic to it.
If you are new to SEO, I recommend reading the introduction tutorial to multilingual SEO. It starts with the very basics and includes advice on how to do SEO for single-language sites as well as multilingual sites.
Domains and Languages
SEO starts with your site's domain and permalink structure.
Extreme SEO means that you might want to even create different top-level domains for different languages in your sites. For example, if you sell green bananas, you might want to have your content in:

English: green-bananas.com
Spanish: bananas-verdes.com

To do this with WPML, enable languages per domains. You will need to set up your DNS and web server to channel all traffic to the same WordPress install. Have a look at the FAQ on server setup for languages in domains for complete how-to instructions.
A simpler way to set up your languages is to use languages in directories. Although this doesn't include SEO-optimized domains, it still packs valuable language information for Google in your site's URLs.
You'll have:

English: green-bananas.com/
Spanish: green-bananas.com/es/

This tells Google that your Spanish content is under directory 'es'. Don't worry. WPML tells Google that your root domain includes English.
Using the WordPress SEO Plugin for Multilingual SEO
Many themes include basic SEO settings. However, we (as well as millions of WordPress users) enjoy the WordPress SEO plugin, by Yoast. WordPress SEO and WPML are fully integrated, providing you a simple and convenient way to optimize your site for Google, in different languages.
In a nutshell, WordPress SEO has some global attributes and some per-page attributes.
For example, the homepage title and meta descriptions are global attributes.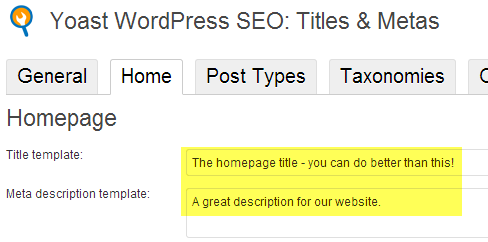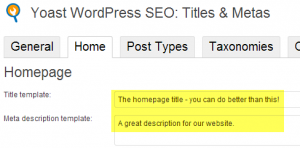 You can translate them using WPML's String Translation screen: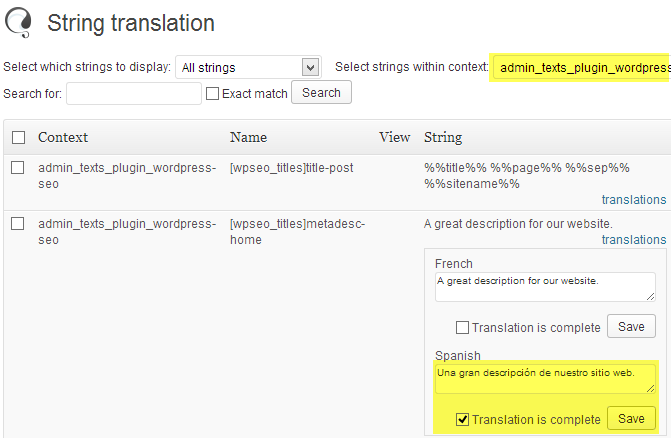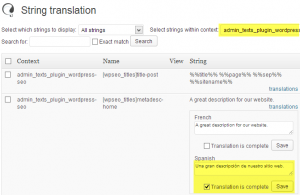 For posts, pages and custom post types, WordPress SEO adds its own box to the content-editing screens. There, you can enter the focus keywords, SEO title and meta description.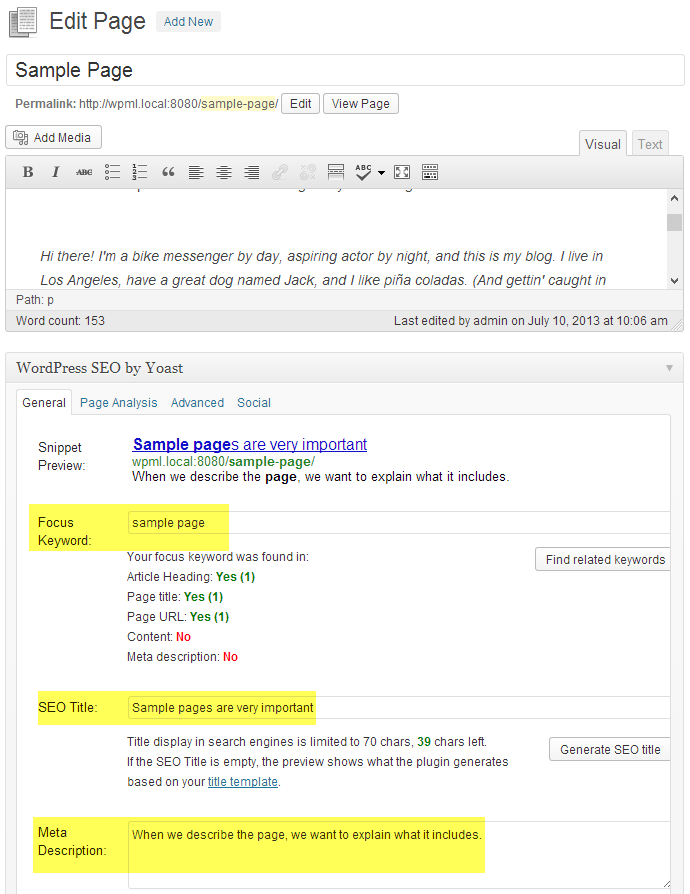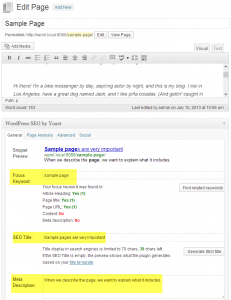 As WPML stores translations in different pages, these pages will naturally have their own SEO attributes. When we translate, we enter the page title, body and all SEO attributes.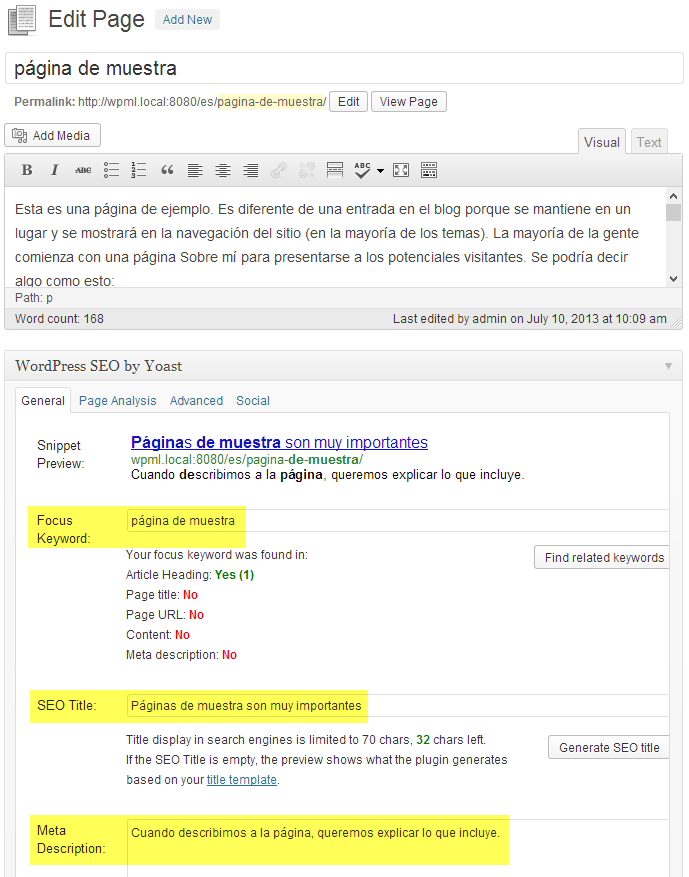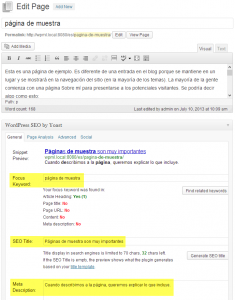 For a complete tutorial, have a look at using WordPress SEO with WPML.
WPML Tells Google About Languages and Translations
When it comes to Google, being verbose is best. Yes, Google's algorithms are very smart, but it's better to include all language information in the page content, so that Google doesn't need to guess.
WPML includes two vital pieces of information in every page:
The language of the page
Links to translations for that page
For this to happen, you don't need to do anything. WPML does this automatically for you.
If you open the source of any page, you will see the page header with the language information. For example:

English content: xmlns="http://www.w3.org/1999/xhtml" lang="en-US">
Spanish content: xmlns="http://www.w3.org/1999/xhtml" lang="es-ES">

BTW, you can control the locales that WPML sets. If you want to tell Google that your content is meant for a different country, you can set a different Google Locale for every language. To do this, go to WPML->Languages and click on the Edit languages link.
And, a bit down the page source, you will also see a group of inter-language links. They will look something like:

<link rel="alternate" hreflang="es-ES" href="http://wpml.org/es/" />
<link rel="alternate" hreflang="de-DE" href="http://wpml.org/de/" />
<link rel="alternate" hreflang="fr-FR" href="http://wpml.org/fr/" />
<link rel="alternate" hreflang="pt-BR" href="http://wpml.org/pt-br/" />
<link rel="alternate" hreflang="ja" href="http://wpml.org/ja/" />

Armed with this information, Google knows what language every page is written in and where it can find the translations for that content.
When you also provide Google with good and informative titles and meta description, you're giving Google everything it needs to fully understand your site, in all its languages. Multilingual traffic follows.
What's your experience with multilingual SEO? Leave your comments and we'll get back to you.