We're continuing to work on WPML 4.6, but in the meantime, we wanted to help clients experiencing issues with the Advanced Translation Editor by releasing some important fixes as soon as possible. This update also includes completely new and improved Translation Queue and Translation Jobs tables.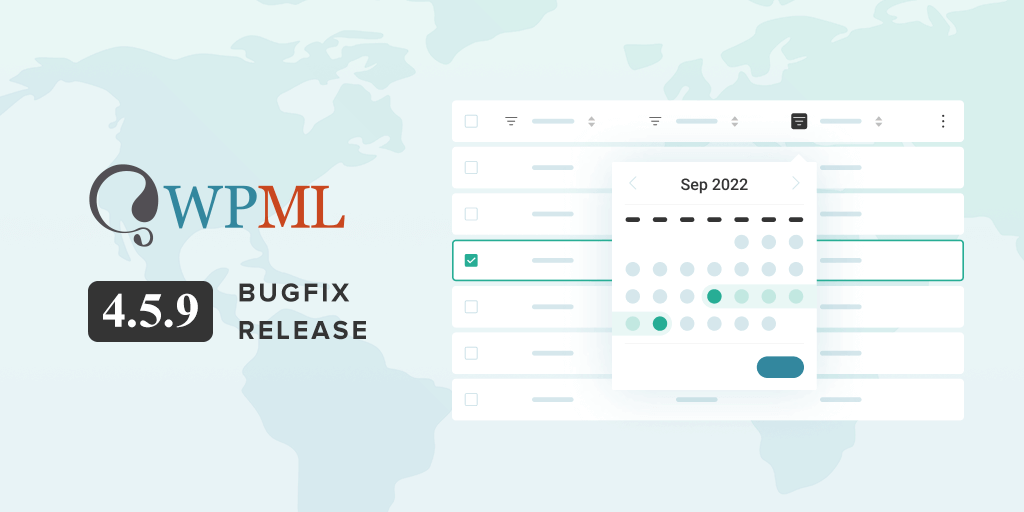 Fixes for the Advanced Translation Editor
We decided to release this update to fix various issues that could appear when using the Advanced Translation Editor. WPML 4.5.9 includes fixes to the following issues:
Translations get stuck and the troubleshooting logs state, "Started attempt to download XLIFF file. The process did not finish," and, "The uploaded XLIFF file doesn't belong to this system."
New translation jobs are created whenever you open a completed translation job in the Advanced Translation Editor
Translation jobs open in the WordPress native editor when they should open in the Advanced Translation Editor
Translation jobs are created with invalid job ID
Translation jobs are stuck in the Pending Review status
When using Translate Everything with a lot of attachments, the Translation Management Dashboard gets stuck on Calculating…
You get an error message, WPML didn't manage to translate, when the user doesn't have a valid username and email in their profile (however, we are still working on a similar issue when the user is a site admin)
After site migration or changing the site URL, the site action notice doesn't appear.
See our full changelog for all the bug fixes included in this release.
Improved Translation Queue and Translation Jobs Tables
With this release, you'll notice better filtering and more details in the Translation Queue and Jobs tables.
Translations Queue
You can access the Translation Queue by going to WPML → Translations. This shows content that is available to your user for translation or review.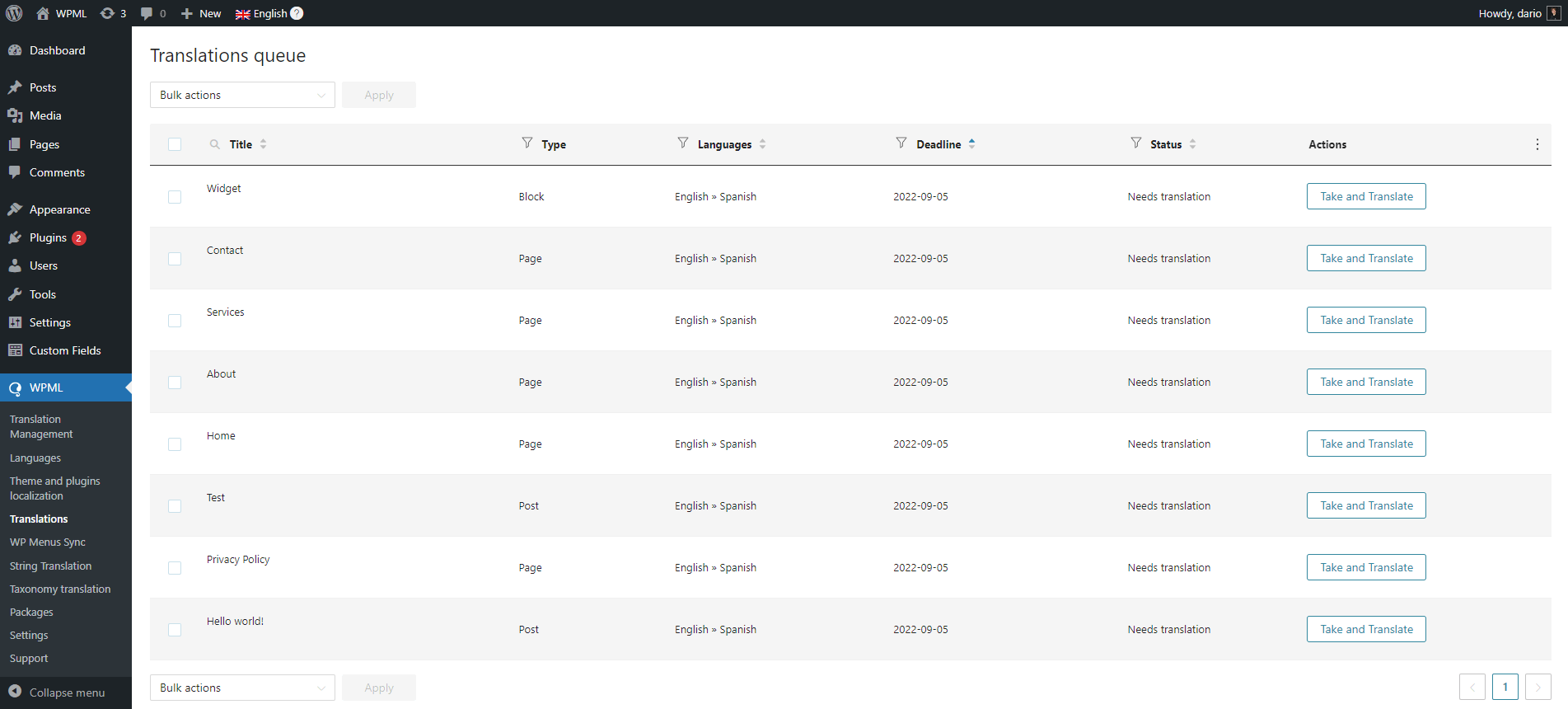 You can now click the filtering icons for most of the columns, and filter translation jobs easily.

You can also select exactly which columns in the table you want to see. Simply click the three-dotted icon at the top-right part of the table and select your options.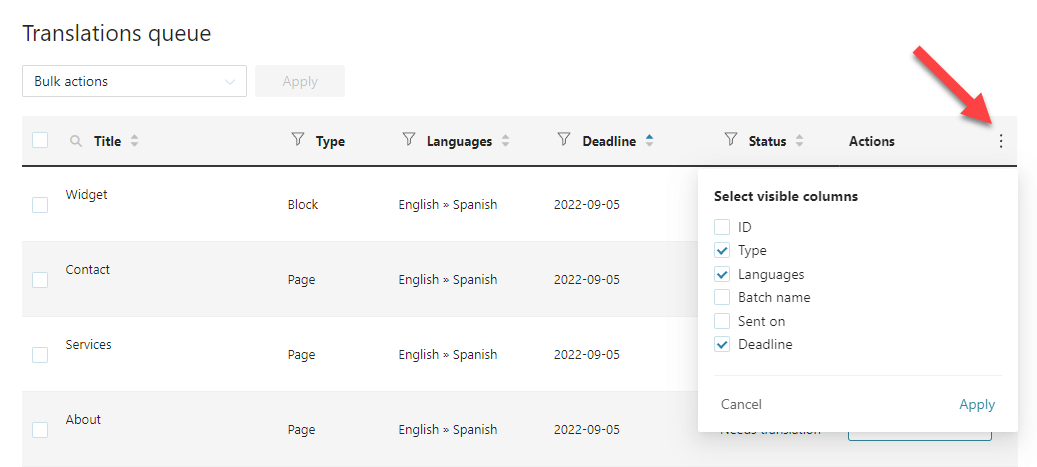 Translation Jobs
Finally, you will find that the Translation Jobs table features the same new look and features. This table shows all jobs, both completed and in progress. Translation Managers and site admins can access it by going to WPML → Translation Management and clicking the Translation Jobs tab.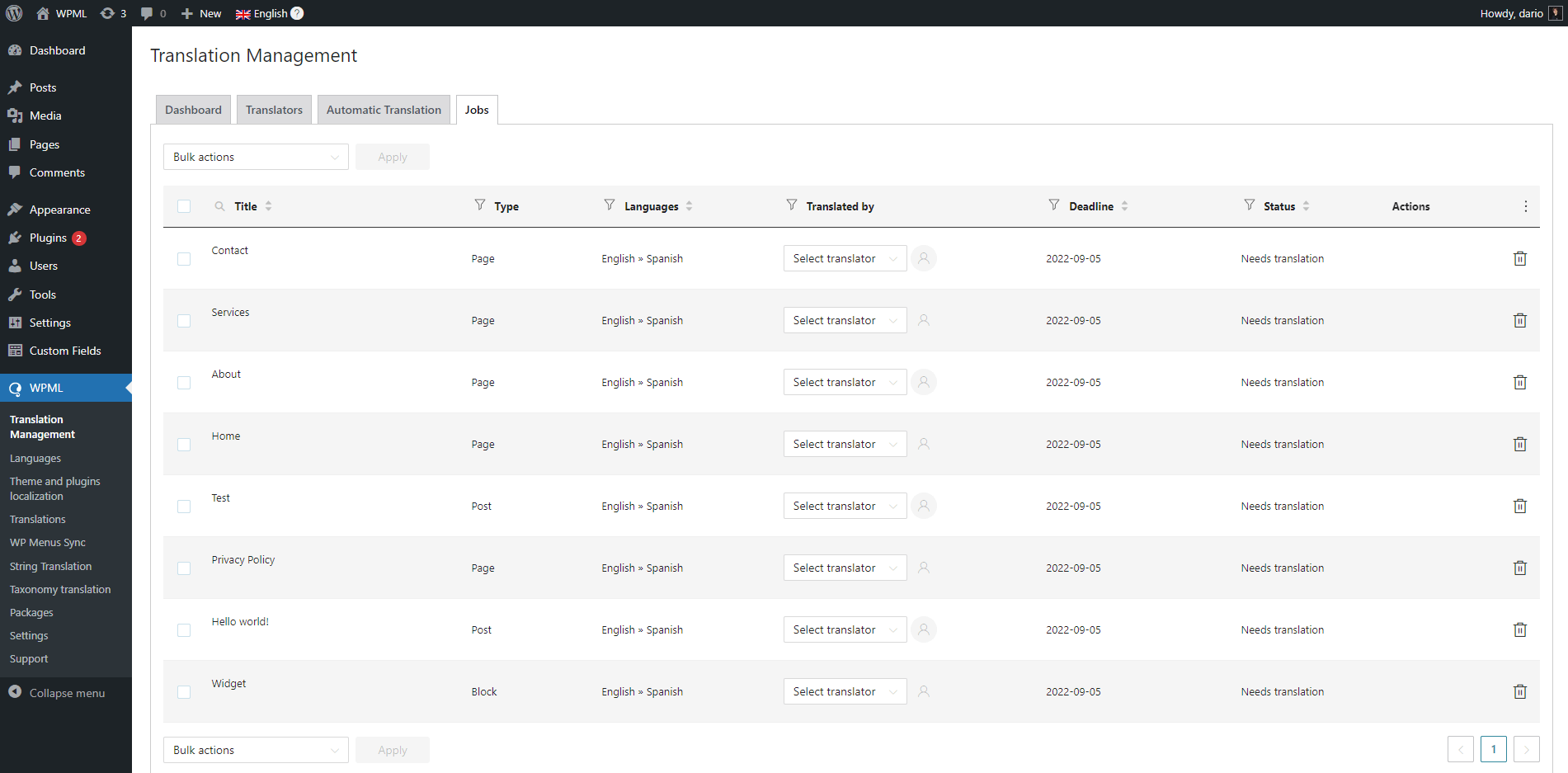 WPML SEO 2.1.0
WPML also released an update for the WPML SEO glue plugin. This update fixes a number of issues regarding compatibility between WPML, Yoast, and Rank Math including:
Removing hidden languages from taxonomy sitemaps
Fixing an issue to copy the product primary category to translations
Adding support for canonical URL in author archives pages
Converting the taxonomy breadcrumb link
And more. Please see the changelog for all the fixes included in this release.
How to Update to WPML 4.5.9 and WPML SEO 2.1.0
As with all of our releases, we are rolling these releases out gradually. Go to Plugins → Add New and click the Commercial tab. If you don't see the updates available, click Check for Updates.

You can also download this update from the Downloads page in your WPML account.
Questions or Comments?
We are finalizing work on some great features for WPML 4.6, so stay tuned! If you have any questions or comments about this release, leave a comment below and we'll reply.