设计者: Elegantthemes — 访问 eList
主题 eList 5个多月前测试过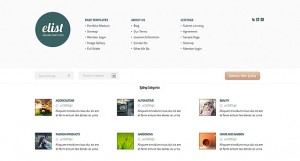 eList is a verstile Directory WordPress Theme. Using eList, you can create an online directory of any type, and allow your visitors to submit new listings from the front end. The theme also comes with eCommerce integration, allowing you to charge your visitors for new or featured listings.
与WPML兼容, 经过WPML团队测试。 经作者确认,新更改不会影响兼容性。

Theme's Category:
Directoy & Listing
版本 3.0.8 最后测试于: 17/10/18
Themes designed by Elegantthemes
Extra takes the Divi Builder framework and extends its advanced Drag & Drop builder power to work on your homepage and categories with a brand new set of post-based modules.

Divi Builder的设计将用户体验置于首要地位。 该构建器将各元素变为可视化的积木,让任何人都能理解和编辑他们的页面结构,而无需接触任何代码。

Tidalforce comes with a large array of options which can be used to edit the look and feel of your design straight from the wp-admin control panel.