设计者: Elegantthemes — 访问 Explorable
主题 Explorable 5个多月前测试过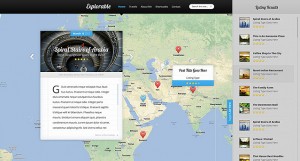 Explorable is a location-based theme that pins your posts on a map. With the ability to create location-based listings, the theme becomes a great tool for building travel blogs, local business directories, travel guides and more. Combined with user star ratings, a full fledged blog and a fully responsive design; the possibilities are endless!
与WPML兼容, 经过WPML团队测试。 经作者确认,新更改不会影响兼容性。

Theme's Category:
Directoy & Listing, 旅行
版本 1.9.9 最后测试于: 18/10/18
Themes designed by Elegantthemes
Extra takes the Divi Builder framework and extends its advanced Drag & Drop builder power to work on your homepage and categories with a brand new set of post-based modules.

Divi Builder的设计将用户体验置于首要地位。 该构建器将各元素变为可视化的积木,让任何人都能理解和编辑他们的页面结构,而无需接触任何代码。

Tidalforce comes with a large array of options which can be used to edit the look and feel of your design straight from the wp-admin control panel.