设计者: Catch Themes — 访问 Catch Responsive Pro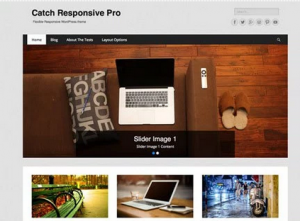 Catch Responsive Pro is a flexible and customizable WordPress theme suitable for almost any kind of professional website. It comes with a wide variety of options.
与WPML兼容, 经过WPML团队测试。 经作者确认,新更改不会影响兼容性。

Theme's Category:
多用途
版本 4.3.5 最后测试于: 21/05/19
Themes designed by Catch Themes
Catch Base Pro是一个简单、干净,响应迅速的入门级WordPress主题。

Adventurous Pro is a Simple, Clean, Minimal, Lightweight, Box-Shaped and Full-Width Responsive WordPress Theme.

Simple, Clean & Responsive WordPress Theme based on HTML5, CSS3.