Today, we released WPML 4.6.5. This version gives you full compatibility with the soon-to-be-launched WordPress 6.3 and bids farewell to support for PHP 5.6 in favor of PHP 7+.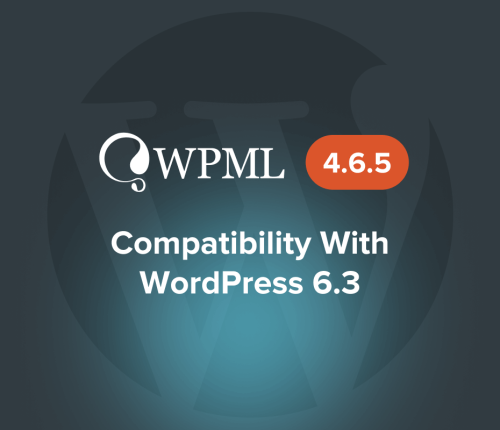 Launching tomorrow, WordPress 6.3 aims to enhance your Site Editor experience. It's also set to introduce major usability and performance enhancements, making it a much-awaited release for the WordPress community.
Here's just an overview of what you can expect:
New Command Palette: a fast, easy way to access various WordPress functions and tasks
Caching improvements: this means quicker loading times and a smoother user experience
Accessibility enhancements: compatibility with assistive technologies, improved keyboard navigation, and more
WPML's Compatibility with WordPress 6.3
Our development team has been closely monitoring the WordPress 6.3 development cycle. We ran comprehensive tests on all WordPress 6.3 beta versions and release candidates. WPML 4.6.5 fixes and addresses any issues we found along the way.
If you update to WordPress 6.3 and run previous WPML versions, you may experience a flickering and indefinite loading of the Language Switcher block in a Navigation created with the Site Editor. This only affects the backend of your site.
WPML 4.6.5 resolves this issue. To avoid it, we recommend updating to WPML 4.6.5 immediately, without waiting for the gradual release to reach you.
Other Fixes and Enhancements in WPML 4.6.5
Alongside compatibility with WordPress 6.3, WPML 4.6.5 brings fixes and general improvements to elevate your user experience. These include:
Fixing a fatal error caused by Site Kit by Google.
Improvements for popular page builders like Beaver Themer and Elementor for a smoother workflow.
WPML 4.6.5 also resolves other bugs and glitches.
Updating to WPML 4.6.5
We're rolling out WPML 4.6.5 gradually. To get it right away, navigate to Plugins → Add New on your site, click the Commercial tab, and hit Check for updates.
If the update isn't visible immediately, check again later as it may take some time to propagate to all WPML-powered websites.
Questions, Feedback?
Your insights help us make WPML better. If you have any feedback or thoughts you'd like to share, let us know in the comments section below.
If you encounter any issues with WPML 4.6.5, please let our Support team know.