We just released the initial, alpha version of WPML Export and Import, our newest add-on plugin that's set to redefine how you import multilingual WordPress content.
Introducing WPML Export and Import
The traditional way of importing multilingual content into WordPress can feel like navigating a maze.
You need to balance separate import files, go through various settings, and stay alert for duplicate images or misconnected taxonomy terms. Plus, the workflow depends on the import plugin you use.
In essence, it's a multi-step process that requires precision. And mistakes? All too easy to make.
WPML Export and Import introduces a completely new approach. Instead of syncing with a specific import plugin, it modifies the language information after the content import. This allows you to enjoy:
Simple import process – Import your multilingual content, then let WPML Export and Import handle the language specifics later.
Compatibility with any import plugin – Use your favorite import plugin or experiment with various ones. WPML Export and Import supports all.
How Does WPML Export and Import Work?
WPML Export and Import leverages WordPress's native meta fields to set the language of your imported content and connect translations.
To get started, all you need to do is:
Add specific language columns to your import file. Indicate the language code of the items you're importing and provide a shared value across your multilingual items, like a product SKU. This will allow WPML Export and Import to match your default content and translations.
Import your multilingual content. Pick the plugin or tool of your choice – WPML Export and Import won't interfere with the workflow.
Run WPML Export and Import. Navigate to WPML → Export and Import, click one button, sit back, and watch WPML Export and Import work its language magic.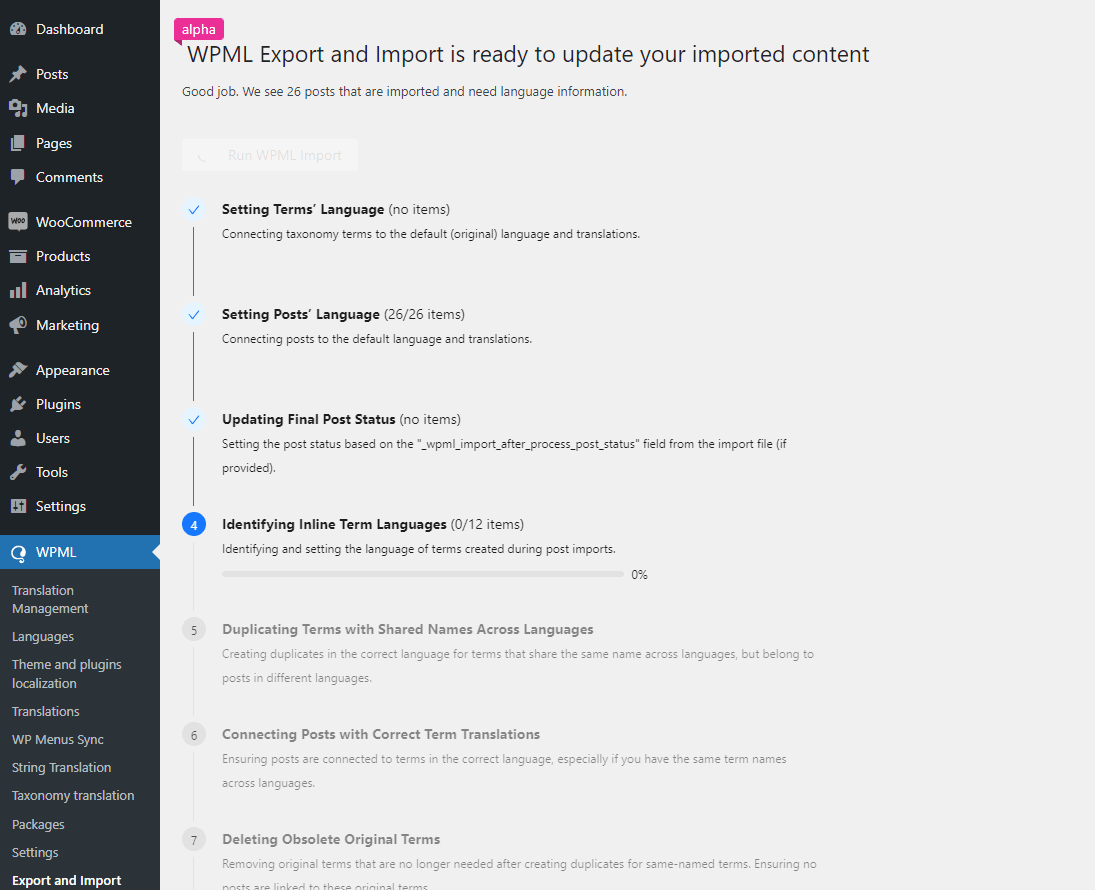 See the WPML Export and Import documentation for more details.
Help us Make a Plugin that Works for You
At this early alpha stage, it is easy for us to adapt WPML Export and Import to different workflows and needs. If you encounter scenarios we haven't anticipated, we can still make changes based on your feedback.
Test WPML Export and Import on your development site and tell us:
How was your experience?
Did you encounter any challenges?
Any suggestions for enhancement?
Which import plugin are you using?
By sharing your experiences, highlighting challenges, or suggesting improvements, you're ensuring that WPML Export and Import will seamlessly integrate with your workflows right from its first major release.
Get Started with WPML Export and Import
To start testing WPML Export and Import, go to your Downloads page, click Download WPML manually, and scroll down to the WPML Export and Import plugin.