We're ready with a beta version of WPML 2.3.0. This version includes a number of new features and bug fixes.
The Beta is available for anyone who purchased the Multilingual CMS package. Log in to your WPML account, click on Downloads and scroll down. You'll see this download at the bottom of the page.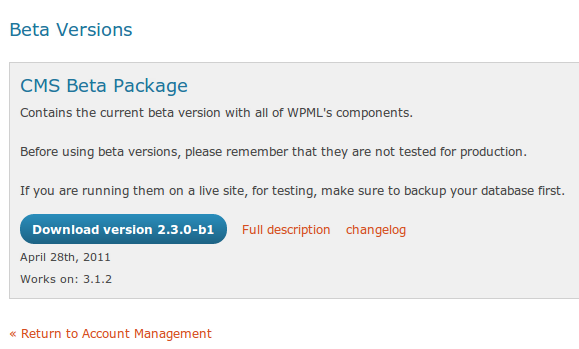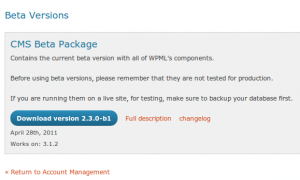 There's only one file to download. It's a single ZIP that contains all of WPML's components.
What's New
Content-language switching in the Admin bar
Some themes and plugins need to display content per language. With this release, you can choose which content to display for anything under the WordPress Admin.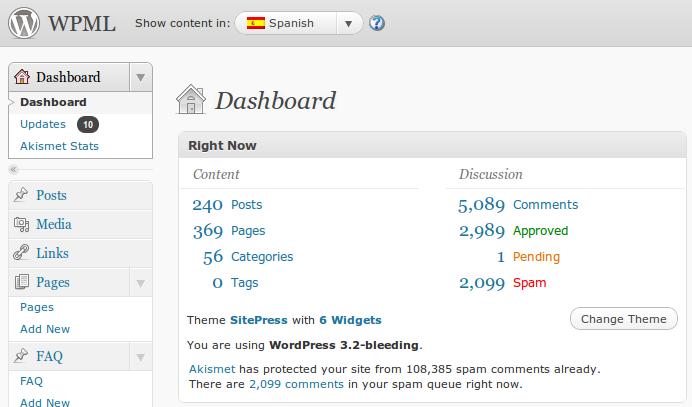 This language switcher doesn't change the language of the Admin interface (it's set in a different place). It selects which language to display content in.
Take for example a theme that let's you choose pages, or categories in its Admin screen.
Until today, you could only see content in the default language. Now, you can choose which language to display in. We've noticed the need for this when working with the new Woo Widgets in Canvas. Until now, you couldn't create different custom widgets for pages in other languages. This new language switcher makes it possible.
Usability improvements to the Translation Editor
We placed the edit and 'original content' boxes of the Translation Editor inside iframes. It sounds like a small technical change, but the implications are big. The Translation Editor can now handle any content without ever breaking. This is similar to the way the normal WordPress editor works.
So, if you had trouble switching between HTML and Visual modes, or problems editing different kinds of content, try it again. This time, it should work.
Media Translation — early version
There's a new plugin in this release, called WPML Media. It's the latest addition to WPML and will be available in both the Multilingual Blog and Multilingual CMS versions.
This plugin, finally, allows duplicating images and other media across different languages.
If your theme uses the WordPress Gallery and Featured-Image features, this plugin is for you. In a single click, you'll get uploaded images to appear in translations.
Sometimes need the same image and sometimes a different image for translations? No problem!
You can always delete the auto-duplicate attachments and upload different images per language.
This plugin is still under development. The basic functionality is working, but there are several known issues and missing functions. Early feedback is welcome.
Bug Fixes
Along with the new features, we've also crushed some annoying bugs in this release (thanks to everyone who reported them in the forum).
Better support for some themes for setting home-page by page name
Title for recent comments widget wasn't translated
Custom post types didn't show in search if not set as translatable
Walker problem fixed
Affiliate validation was broken
Slower Release Cycles
Remember the mess our previous release caused? We do and we'd like to avoid it.
Sometimes, we fix one problem and it triggers another. We do our best to test, but the possibilities are endless. There's a huge combination of WordPress versions, server setup, theme, other plugins and your data.
We recommend that you set some time to test how your site behaves with the new beta versions and let us know. We'll wait for feedback before we move forward with a release.
To test, you should create a duplicate site. You can easily do this offline on your PC. What I do is:
Download the MySQL dump
Download the entire /wordpress directory (yes, WordPress itself, all uploads, the themes and plugins)
Set it up locally and test with new versions
I don't do it only before upgrading WPML on our sites, but also before I upgrade other major plugins and the theme. In our case, it includes WPML, W3TC and Shopp. Other plugins can cause issues too, but far less dangerous than these ones.
Before the next release, we'll have more betas with more new features and more bug fixes. We're planning to have WPML 2.3.0 out in about 2 weeks. Getting feedback from you will help us all.