Looking to grow your business, rank better in search engine results, or reach more clients? Adding a blog section to your site is a great way to accomplish all those goals and more! See how easy it can be with Astra Pro and WPML.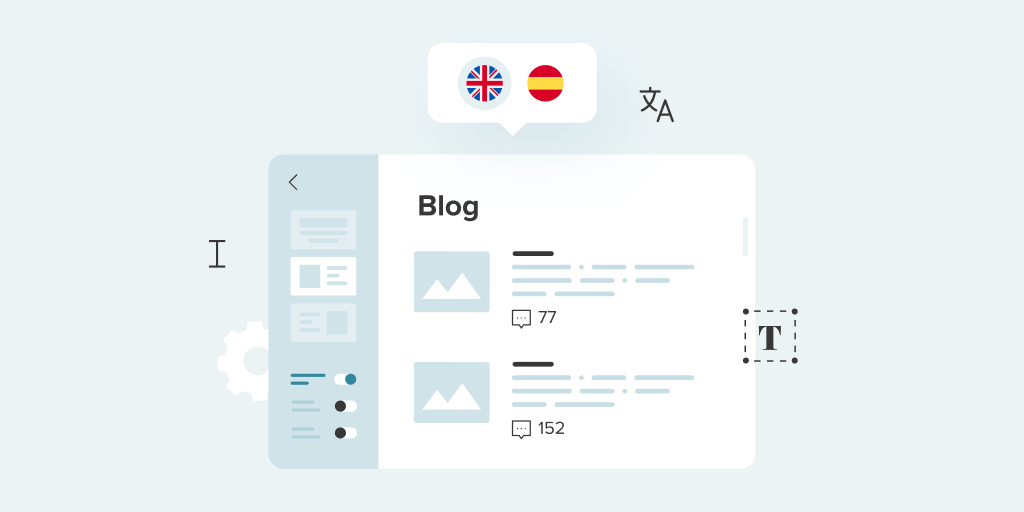 Despite the increasing popularity of video and podcasting, blogging is still alive and well. In fact, about 409 million people read around 20 billion blog posts each month.
Blogging has a much lower barrier to entry compared to videos and podcasting, yet it can provide many great benefits to your site and your business as a whole.
Benefits of Blogging
Here are some great benefits you can get from your blog:
1. Improve Your Site's SEO
Blogging is one of the best ways to improve your SEO.
When you write high-quality content on your blog, people are more likely to share it on their own sites. Not only does this increase your site traffic, but it also increases the number of backlinks to your site. This helps improve your position in search engine results.
According to OptinMonster, websites that also have a blog are shown to have 434% more indexed pages. This makes it easier for potential customers to discover your site using the keywords your posts target.
2. Build a Relationship with Readers and Partners
A lot of marketing and outreach is about relationships, and blogging is still a key way to build them.
Blog comments are a great way to engage directly with your customers and clients. You can learn what products they're looking for, what pain points they have, and what features they need.
You can also use your blog to build beneficial relationships with partners in the same industry. Organize a guest post exchange or write a special post about them, and you can gain exposure to a different audience and backlinks to your site (just like we're doing here).
3. Show You're an Expert
Chances are you know a lot about the industry you're in. Share that knowledge on your blog and start building your site as the go-to place for quality information on the topic. It shows you're a credible, trustworthy business in the industry and you know what you're talking about. Then, when your readers need to make a purchase, your site will be the first place they visit.
How to Build a Blog Audience
To get the benefits of blogging, you have to get people to pay attention first. Here are a few ways to get started with building an audience:
Create regular blog posts – The first and most important tip for building a blog audience is to regularly post interesting and engaging blog posts. Give human visitors and search engines something to read and you're on your way.
Write for the reader – A blog is your opportunity to have your say, but it's your readers that will consume it. Find out your ideal audience, consider their interests or pain points and write with them in mind.
Share on social media – There are lots of WordPress plugins that can automatically share posts on your channels, but nothing beats the human touch. Share posts, monitor social and engage in conversations with readers.
Get yourself out there – Guest post, engage in conversations on social, comment on forums and generally get your name out there.
Become an expert in your niche – People respect experts and are much more likely to follow someone with demonstrated expertise in a given subject. Mastering your topic also provides plenty of opportunities for post ideas too.
How to Create a Blog Section on Your Site
Now that you know how to build an audience and why to create a blog section, let's build it!
A WordPress theme controls the look and feel of your website. It includes all the files, code, settings, images, graphics and everything needed to create its look. You should choose a theme that works great for your whole site and supports a separate section for your blog.
One great option is Astra theme. It's fast, lightweight, and fully optimized for SEO. Plus, the Pro version comes with a Blog Pro module specifically for building a customizable blog section. To enable the additional customization options after installing Astra Pro, go to Appearance → Astra Options and activate the Blog Pro module.
To build your site's blog:
Go to Pages → Add New and create a new page for your main blog page.
Set this new page as your blog page by going to Settings → Reading. Change the Posts page as the new blog page you just created. You can also set how many posts you want to show.
Add your blog page to your menu by going to Appearance → Menus.
Customize the look of your blog page by going to Appearance → Customize and click Blog. From here, you can adjust your blog archive and single post template layouts, meta data, title and featured image sizes, and more.
That's it! You now have a great looking blog page that updates automatically when you add your next blog post.
How to Make Your Blog Multilingual
There are a multitude of reasons why we think you should translate your blog:
English is spoken by just 25.9% of internet users – According to Statista, Chinese is spoken by 19.4%, Spanish by 7.9% and Arabic is spoken by 5.2% of users. If your target market includes non-English speakers, you need to include them.
People appreciate the effort – People just want to be understood. Communicating with them in their own language helps with that. Many non-English speakers genuinely appreciate the effort, which builds loyalty.
SEO in multiple languages – Translated pages will all compete in search engines for that language. That means you could rank for English, Spanish, French and all the languages you translate your blog into.
Stand out from the crowd – There are millions of blogs out there and you have to find as many ways to stand out as you can. Quality content only takes you so far, but translated quality content could really make you shine.
Do business across the world – If you're starting a blog as a venture or to complement your business, a multilingual blog improves brand awareness in international markets.
With WPML, translating your site's blog is easy, and you can start reaching new customers in more countries right away.
The quickest and easiest way to translate your site with WPML is to use the Translate Everything Automatically mode. This mode automatically translates your entire site and keeps the translations up to date automatically as you edit or add new posts. WPML's automatic translation features are powered by DeepL, Google Translate, and Microsoft Azure to provide great translations for a variety of language pairs.
To translate your site using Translate Everything Automatically:
Install and activate WPML. Please note: you need a Multilingual CMS or Multilingual Agency account to use automatic translation.
Follow the setup wizard to choose your site's languages, URL format, install other compatibility components, and more. On the Translation Mode step, choose Translate Everything Automatically to translate your whole site automatically.
After finishing the setup wizard, sit back and relax as WPML translates your whole site!
If you want to review your translations during the setup wizard, go to WPML → Translations to check your translations and make sure they all read correctly.
In just a few minutes, you have a fully translated site, including your blog:
You may still need to translate a few smaller strings, such as the "Take Action" button in our example. These can be translated by going to WPML → String Translation.
If you don't want to translate your whole site at once, WPML also allows you to:
Choose which pages to translate
Translate content yourself (using automatic translation or translating from scratch)
Add translators as users of your site
Send content to a professional translation service
No matter your workflow, WPML has an easy translation method for you.
Wrapping Up
Adding a well-designed blog section to your website can benefit your business in multiple ways. And making that blog multilingual can help you benefit internationally, too. Astra and WPML can make it easy to start a multilingual blog in just a matter of minutes.
Once you have your blog set up, be sure to stay consistent with the content that you produce, put in the time and effort required, communicate with your audience, and engage in conversations. As your audience grows, so will the benefits for your business.
Do you have an active blog yet? What are some of the benefits you've noticed since starting it?