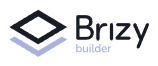 משאבים שימושיים
Brizy תואם WPML. תוסף זה נבדק באופן יסודי וניתן להשתמש בו לבניית אתרים רב-לשוניים ללא בעיות.
יש לתרגםתוסף זה באופן ידני.
נבדקה לאחרונה בתאריך: מאי 22, 2020
Brizy is an easy-to-use drag and drop page builder.
It comes with many design elements such as text, buttons, images, icons, video, maps and more!
בעיות ידועות