Today we released a beta version of WPML 4.10.0. This includes the ability to select currencies and payment options based on customer location.
Introducing new location-based features
A few weeks ago, we asked which location-based features would be the most beneficial for you. Thanks to your feedback, we started with two of the most important features:
The ability to select currencies based on a customer's IP address or billing address. If a customer's country does not match any configuration, the default currency will be used instead.
The ability to specify payment options based on a customer's IP address or billing address.
Also included in this version
Fixed an issue with the WooCommerce Bookings email string not updating in the settings screen.
Fixed attribute label translation in German as a secondary language.
Fixed an issue with sale prices not ending in secondary currency if same sale dates uses as the default.
Fixed an issue where no products would appear in the secondary language shop page if the default language shop page contains special symbols
This release also includes fixes for a number of PHP errors and notices, compatibility improvements with WooCommerce Bookings reminder emails, and more. Please see our changelog for a full list of updates.
Install the beta version
There are two ways of downloading this beta: manually or through the beta channel.
Please note: This software is still in development. We do not recommend installing this version on a production site.
Installing manually
Go to your WPML Downloads page. In the Choose Channel dropdown, choose Beta. Download the ZIP file and add it to your site.
Installing through the beta channel
Go to Plugins → Add New, and then click the Commercial tab.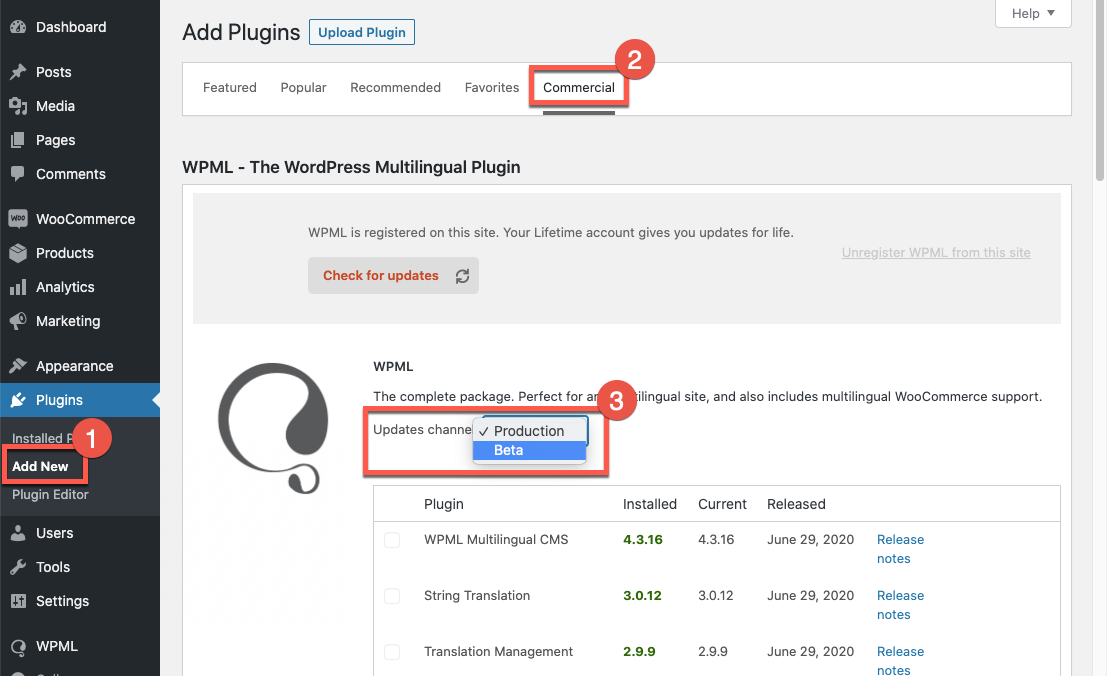 Under the Updates channel option, use the drop down menu to select the channel to switch to the Beta channel. Finally, click the Switch button in the dialog that appears. See our documentation for more details.
We need your feedback
Install the beta and let us know how it works for you in the comments below!