We just released updates to the WPML glue plugins that let you create multilingual forms with Gravity Forms, WPForms, Ninja Forms, and Contact Form 7.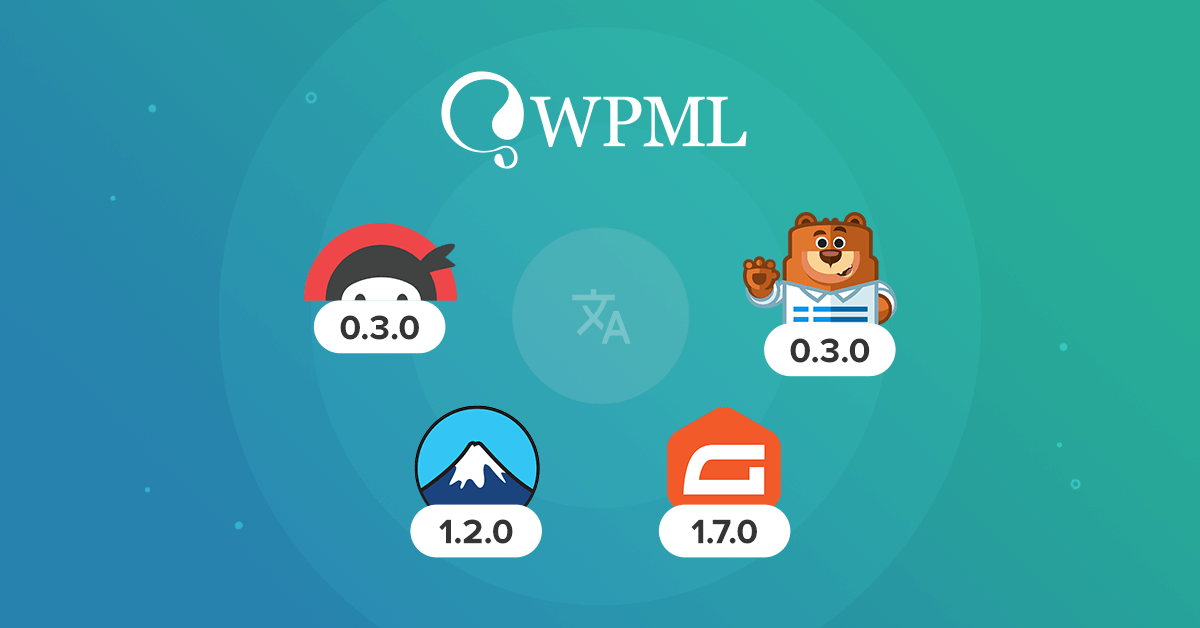 WordPress form plugins Gravity Forms, WPForms, Ninja Forms, or Contact Form 7 all let you create powerful contact forms. But to make the forms multilingual with WPML, you need a glue plugin.
Updates to all four glue plugins are available.
Gravity Forms Multilingual
For this release of Gravity Forms Multilingual, our focus was on improving compatibility and bug fixing.
Improvements include:
Ability to translate sub-field labels in messages
Added support for translating dropdown choices in the Product Quantity field
Added support for WooCommerce Multilingual and the Polls, Gravity Flow and User Registration add-ons
We fixed issues related to:
Translating confirmation messages
The conditional logic
Setting the right language for custom fields defined in the theme
For a list of all the changes, see the Gravity Forms Multilingual 1.7.0 changelog.
WPForms Multilingual
The WPForms Multilingual version 0.3.0 makes a number of fields translatable, including:
HTML blocks
Content field type
The form_name smart tag in confirmation and notification emails
The redirection URL
This update introduces fixes to the translation of form previews. And, you can send notification emails to users in their selected language.
We also added support for WPForms add-ons. You can now:
For a list of all the changes, see the WPForms Multilingual 0.3.0 changelog.
Ninja Forms Multilingual
This release of Ninja Forms Multilingual introduces new filters that let you exclude fields from translation and register settings for translation.
It also includes support for translating the Repeatable Fieldset and texts coming from the Multi Step Forms add-on.
For a list of all the changes, see the Ninja Forms Multilingual changelog.
Contact Form 7 Multilingual
With this update to Contact Form 7 Multilingual, you can easily translate placeholder texts in the Advanced Translation Editor or using automatic translation.
This release also provides translations for default messages in forms created in a secondary language.
For a list of all the changes, see the Contact Form 7 Multilingual changelog.
Download and Update
We release updates gradually. If you don't see an update available but don't want to wait, you can go to the Plugins → Add New page.
From there, enter the Commercial tab and click on the Check for updates button. Select your form glue plugin and click to update it.
Feedback
Do you have any feedback or questions? Leave a comment here and we'll get back to you!