デザイン Greatives — 閲覧 Osmosis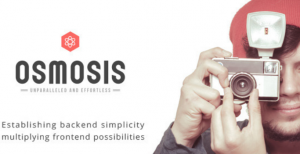 Osmosis is an unparalleled and effortless multi-functional WordPress Theme. It offers stand-out-from-the-pack options and superior aesthetics; become the designer you have always dreamt of and impress the world simply and smartly.
WPML チームによりテスト済み作成者によると互換性を影響するような新しい変更はありません, WPML対応

Theme's Category:
Eコマース, ブログ, ポートフォリオ
バージョン 4.0 テスト最終日: 17/04/19
Themes designed by Greatives
Movedo is a creative and multi-purpose WP theme. It includes a series of new features, such as ultra-dynamics parallax, radical safe button, moldable typography, and device style.

Bladeは単純明快で柔軟性とシンプルさを特長とする多機能WordPressテーマです。

Reload is a modern, responsive WordPress theme. It's a multipurpose, cross browser compatible theme with simple and clean design.