POZENA is a Polish localization and translation service which has more than 20 years' experience adapting small to medium-size businesses to new language markets. It has more than 400 clients in 22 different countries.
スタート方法 POZENA
To send files for translation to POZENA, you first need to set up WPML on your WordPress CMS.
If you do not have a wpml.org account yet, you can create a new one by simply choosing between our WPML Multilingual CMS or Multilingual CMS Lifetime plans.
Once you get access to your wpml.org  account, go through our detailed step-by-step guide on how to download and install WPML. Please, remember to register your site to receive automatic updates and gain access to POZENA services.
If you need any help with the WPML plugin configuration, you can go through our getting started guide or just ask a question on our support forum.
Next, login to your wpml.org account, and download and install the following plugins:
WPML Multilingual CMS: the core plugin.
WPML Translation Management: this plugin will allow you to connect to POZENA.
WPML String Translation: this plugin will allow you to translate interface strings.
Also, consider the following additional plugins according to your needs:
WPML Media Translation
WPML Sticky Links
WPML CMS Navigation
WooCommerce Multilingual
Any other WPML components, which may be required by particular plug-ins you have installed on your website
Make sure the theme your website is using is listed as fully compatible with WPML.
Lastly, confirm all third-party plugins used in your website are listed as fully compatible with WPML.
Understanding your translation service
The core service provided by POZENA is professional multilingual translation. This service comprises the following steps: receiving your content through WPML, analyzing your content, providing you with a free non-obligation quotation, performing all professional translations as ordered and returning translations back through WPML to your website.
The translation service does NOT normally include any work on your WordPress CMS, your WPML installation, and configuration, or your IT/web design troubleshooting. At no point in the process does POZENA require access to your WordPress CMS. POZENA takes no responsibility for clients' technical errors and their consequences. The party normally in charge of this is clients' web developers. Also, you can always refer to the WPML support forum to get technical support.
POZENA may well be able to provide IT support related to using WPML, related web design issues and SEO, however, these services are not in the scope of the core translation provision. The need for these must be communicated and any services must be agreed before the start of translation and shall be quoted independently.
Linking your site to POZENA translation service
Once all the required plugins have been installed and activated, all you need for connecting WPML to the translation service is your POZENA API Token.
Requesting a POZENA account
You can request a POZENA account simply by visiting the POZENA homepage and either filling out  any of the contact forms, or by using webchat for instant assistance.
Alternatively, you can simply email WPML@pozena.com with your website address, the scope and languages of your required professional translation, and your contact details including your phone number.
Receiving your API Token
After submitting your request, a member of the POZENA team will analyze all your information and contact you to discuss your project requirements in detail. Once you've discussed your project, your POZENA team member will email your unique API Token to you. You will need this API Token to be able to connect with POZENA through WPML
Activating and authenticating POZENA
Login to your WordPress website, visit the WPML->Translation Management admin page and click on the Translation Services tab.


Scroll down to Available Translation Services and click Activate to activate POZENA.
Once the service is activated, click on the Authenticate button. This is where you will need your API Token obtained in the previous step.
A popup window will appear where your POZENA API Token can be entered or pasted. After entering the value, click on the Submit button.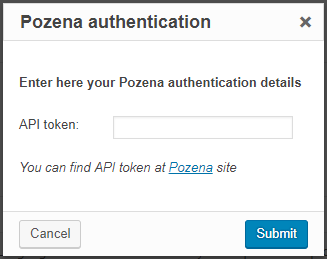 Congratulations! Your POZENA account is now connected to your WordPress account.
Sending your content for translation
In order to send content to POZENA, first make sure you XLIFF option is set up correctly. Go to Translation Management and click on the Multilingual Content Setup tab.


Scroll down to the XLIFF files options section, select the 'Do nothing' option and click the Save button.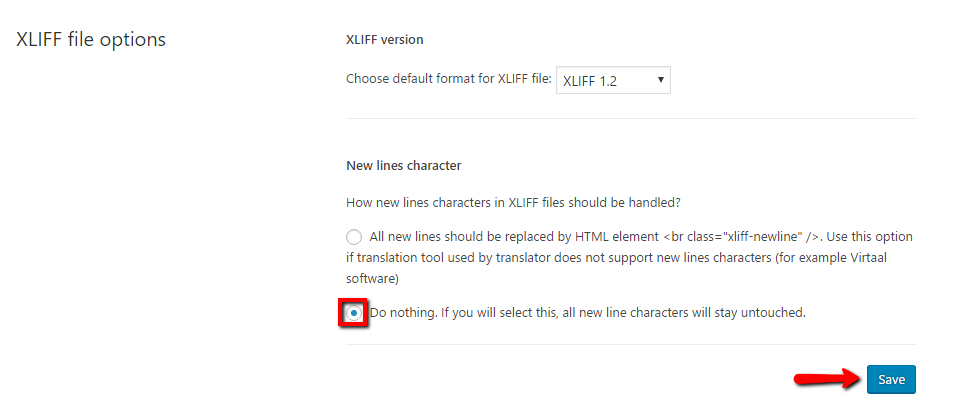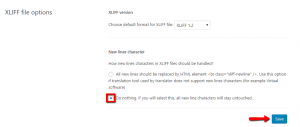 Now, you are ready to send content for translation.
To send pages for translation, go to the Translation Management module (WPML->Translation Management).
Select the pages you want to have translated by clicking the checkboxes in the first column. Next, select the target languages by checking the boxes, and click the Add to translation basket button.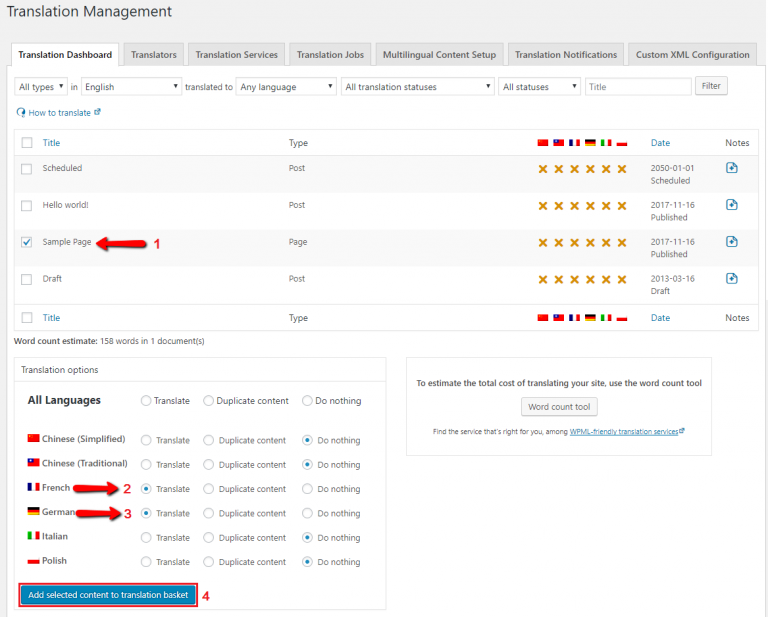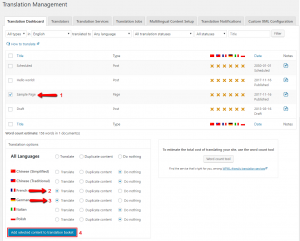 Go to Translation Management and click on the blinking tab at the top of the page, with the name Translation Basket. Upon clicking there, you will find the list of all the pages (jobs) that you have added to the basket, as well as the languages these items are to be translated into.
Here, you can verify the content you wish to translate, remove pages that you might have mistakenly added, and change the Batch name. The Batch name will be visible under the Translation Jobs tab and will help you to find projects. When you are ready, simply click the Send all items for translation button to send your files to POZENA.
When the translation basket's contents have been successfully sent to POZENA, you will see a confirmation message, as shown in the following figure.

Click on the Translation Jobs link you are given in the confirmation message, or click on the Translation Jobs tab at the top of the screen. From the next administration screen, you can see the Batch you just sent for translation.
Receiving quotation and authorizing translation
Once your translation basket has been transmitted, POZENA will be notified immediately and will proceed to carry out detailed analysis of the batch. Then, one of following two scenarios will be considered:
If this is your first order with POZENA, and/or you have no prior commercial agreement in place, and/or you specifically requested this to happen, no chargeable work would start automatically. Instead, you will be asked to first approve the cost: POZENA will email you a detailed quotation for the batch, with the terms and conditions for the business and simple instructions on how to authorize the translation.
Even if you have a valid business account with POZENA with established terms in place, POZENA will still email you the details of each job (e.g. the exact cost and deadline) for information purposes, but will also proceed with the translation work immediately.
Receiving completed translations
As soon as a translation job is completed by POZENA, it also becomes ready to be delivered to your website.
Having your completed translations delivered to your website
Depending on your configuration, translations will be delivered automatically or can be manually fetched from your WordPress admin panel.
To check your configuration settings, open WPML->Translation Management and click on the Multilingual Content Setup tab. Find the Translation Pickup mode section and check the selected option.


The Translation Service will deliver translations automatically using XML-RPC option implies that a translation will be delivered to your website automatically as soon as it is ready.
The site will fetch translations manually option implies that completed translations can be downloaded from the Translations Dashboard (WPML->Translation Management) by using the Check status and get translations button at the top of the page.


Canceling translation jobs
Although you cannot cancel individual translations from WPML, you can delete an individual job or an entire project from POZENA by contacting your POZENA Project Manager.
NOTICE: Be aware that cancellation requests for previously submitted work should be sent as soon as possible. Since POZENA cannot cancel translation work that has already been completed, unless your commercial terms state otherwise, you will be charged for the work completed, and a cancellation fee would also be levied.
Having your canceled translations returned to your site
Depending on your Translation pickup mode configuration, when a project is canceled, your information will either be returned to your site automatically, or it will be returned after you have manually checked for canceled translations by clicking the Check status and get translations button on the Translation Management Dashboard.
Thus, if you select the Translation Service will deliver translations automatically using XML-RPC option, all you need to do is wait for its delivery.
If you select The site will fetch translations manually option, you will need to click on the Check status and get translations button.


When a project is canceled, it's removed from the Translation Jobs tab in WPML.
FAQ
Translations are ready but haven't been delivered to my site. What should I do?
Go to Translation Jobs tab and click on the 'Synchronize status' button next to the batch you want to fetch. This will trigger a synchronization process with POZENA servers, and all the translation jobs belonging to that batch will be downloaded to your site in a few minutes.
You might also have to click Check status and get translations button at the bottom of the Translation Dashboard page if the XML-RPC is not available for your site.
I need to discuss my project with POZENA. How do I contact client services?
Please use any of the methods of contact available on https://www.pozena.com/en/contact/ . You may speak to one of our friendly and professional team members, in English, German, or Polish. Currently, our team members can communicate in these three languages only.
I'd prefer someone to assist me with my first steps with WPML technology. Can POZENA help with that, too?
Certainly. Please contact POZENA and discuss your query.
---
他の人の意見を参照
There are no reviews yet.