Per Product Shipping
http://www.woothemes.com/products/per-product-shipping/
Extension Description
Per product shipping allows you to define different shipping costs for products, based on customer location.
Fixed Issues
A wpml-config.xml file was added to this plug-in, as well as a filter that allows you to put the product in the correct language when trying to match for the corresponding shipping rule.
Setting Shipping rates
When editing a product, some new options will appear under the "Shipping" tab. From here, the user will be able to select the "Per-product shipping" option and add as many shipping rates as he/she wants. These rates will be applied only for this specific product.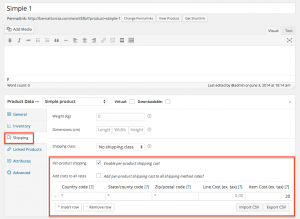 Frontend
When a user adds a product with "Per-product shipping" rates to the cart, a new shipping method will appear, displaying the proper rate. This rate will be also converted to the current currency if the multi-currency option is enabled in WCM.