עוצב על-ידי GoodLayers — בקר Infinite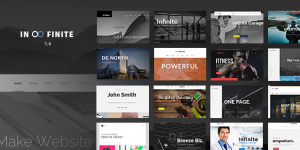 A Responsive Multi-Purpose WordPress Theme.
נבדקה על-ידי צוות WPML. המחבר מאשר שאין שינויים חדשים המשפיעים על התאימות., תואמת ל-WPML

קטגוריית ערכת העיצוב:
רב-תכליתית
גרסה 3.0.0 נבדקה לאחרונה בתאריך: 18/04/19
Themes designed by GoodLayers
Total Business is a powerful multi-purpose WordPress theme for businesses. It is specially designed for a wood factory, plastic factory, steel factory, metal factory, a furniture company, creative agency, web designer, graphic designer, photographer.

Grand College is a theme for School, University, College or even your business. It's clean and modern. You can change almost every color easily via the admin panel and much more.

Premium magazine Wordpress theme.