デザイン Elegantthemes — 閲覧 Divi
テーマ Divi 5ヶ月以上前にテストされました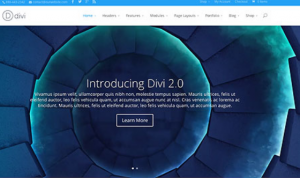 The Divi Builder はユーザー体験を最優先に考えて制作されました。 このビルダーはコードを使用せずにページ構造を理解し、編集するために要素をビジュアルブロックに変換します。
WPMLチームによりテスト済み, WPML対応 WPML チームによりテスト済み

Theme's Category:
多目的
バージョン 3.2 テスト最終日: 17/10/18
Themes designed by Elegantthemes
Extra takes the Divi Builder framework and extends its advanced Drag & Drop builder power to work on your homepage and categories with a brand new set of post-based modules.

Tidalforce comes with a large array of options which can be used to edit the look and feel of your design straight from the wp-admin control panel.

This simple, yet professional, design comes widget ready, gravatar ready.