Diseñado por Elegantthemes — visita Divi
El Tema Divi fue probado más de 5 meses atrás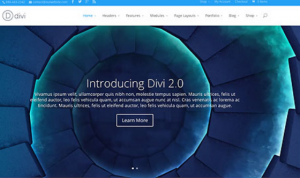 Divi Builder fue diseñado con el usuario como primera preocupación. El constructor transforma los elementos constitutivos en bloques visuales, lo cual permite comprender y editar la estructura de su página sin modificar una sola línea de código.
Compatible con WPML, Probado por el equipo de WPML. Probado por el equipo de WPML

Theme's Category:
Multipropósito
Versión 3.2 Última prueba realizada el: 17/10/18
Themes designed by Elegantthemes
Extra takes the Divi Builder framework and extends its advanced Drag & Drop builder power to work on your homepage and categories with a brand new set of post-based modules.

Aggregate proporciona una infinidad áreas para contenido que ya incluyen widgets y presenta todo de una forma clara y legible. Es un Tema de estilo revista para blog.

Tidalforce comes with a large array of options which can be used to edit the look and feel of your design straight from the wp-admin control panel.