I had the pleasure of joining and presenting in a meetup in Saigon this Saturday. The event was packed with 110 attendees. We learned a lot and had a great time getting together.
I've been very curious about the WordPress community in Vietnam. Why, of all places, Vietnam? I'm not 100% sure. My family and I visited here last year and we felt a great energy and spirit. So, Andrea (WPML lead developer) and I landed here on Friday, joined the meetup on Saturday and toured around on Sunday.
It's growing. Fast.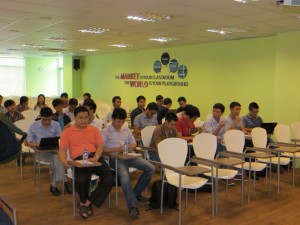 The previous meetup we joined had some 55 registrants and 40 people actually showed up. This meetup had 165 registrants and 110 people showed up. We actually had to close the registration, a few days before the event, because the venue could not hold more people. It was a good decision, as all seats were filled and there wasn't place for even one more person at lunch.
We spent a lot more effort on this meetup. We can easily see that the community is growing, and in a good direction. Colleagues explained to us that many young Vietnamese are learning IT and computer science. I guess we'll see many more developers joining the community in the near future.
People are eager to learn and improve
Andrea's presentation was a real challenge. It was all in English and covered the advanced topic of:
(The link above points to a ZIP file, which includes the presentation material. It has a powerpoint slideshow, PDF with links to code snippets and the final plugin, created during the presentation. Start with the readme.txt file)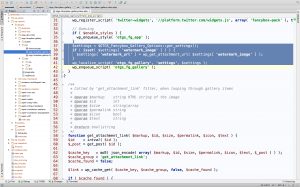 Following this session would have been difficult for anyone, let alone with a language barrier. Still, the audience was captivated. People took notes and followed and I'm sure it will be put to good use.
There are many ways to implement custom functionality in WordPress sites. Andrea explained how to do it in a clean and modular way, so that it's later easy to maintain and evolve. People immediately understood the importance and I hope that this will help develop sites better in the future. We're going to refine this presentation and offer it in other WordPress meetups and camps.
The business part interests everyone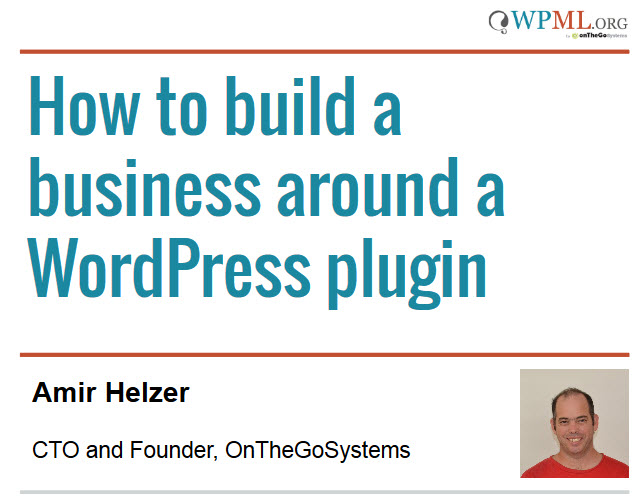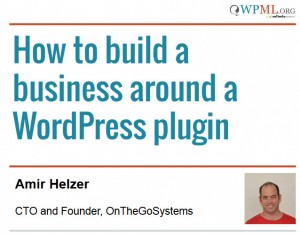 My presentation about building a business around a WordPress plugin (it's a PDF attachment) was "technically challenged", but turned out just fine. The power went out. Together with it, went down the projector, audio and air conditioning. If I could choose, I'd have the projection and audio down, but the air conditioning on. You wouldn't believe how fast a closed room in a building in Saigon, can heat up when there's no air conditioning…
Anyway, rants aside,
Lam Thanh Phong Paul saved me by translating the entire presentation to Vietnamese.
We talked about how choose the product, how you can tell if it has a business potential, how to promote and market it. A lot of things which we developers take for granted, are less obvious when clients look at our products. We discussed how things look from the client's point of view and how you can improve your business prospect by making things clear to your potential clients.
We also discussed the importance of keeping clients happy, as THE key ingredient in building a sustainable business.
The Q&A part of my presentation was actually it's highlight. At that point the session turned from a "lecture" to a real discussion.
Most of all, people were interested in how it feels to be in a distributed company. Some asked how it is to manage this and many asked how it feels to work. At this point, Andrea helped out by describing his daily routine. Like everyone else in OnTheGoSystems, Andrea works in remote. He manages a team of developers and works together with our support team.
The conclusion to this discussion was that trust is the key ingredient. Trust allows us to work remotely. Employees know that they can trust their managers and the company. Managers know that they can trust all employees. This allows us to delegate work and manage assignments in "high level". People get significant projects and they are responsible for them. The more responsibility people demonstrate, the higher they go.
People were especially interested to learn how we, as a company, know who we can trust. After all, a everyone promises the sky when interviewed.
The routine that we've adapted for ourselves include:
Long and focused training for all new employees
Work in strong teams, where people can help each other
Everyone starts from the basics and is promoted according to the capabilities that he/she demonstrates on the job
We set goals, evaluate how they are achieved and give honest and objective feedback
I hope that this helped. I know that many people in Saigon are looking to create their own businesses, related to WordPress development. Of course, everyone now knows that we're always hiring and I hope that they remember us, if they look for a good job in a good company (at least, we think so).
Leave room in your stomach for the afterparty
In the spirit of sharing helpful tips, I really suggest to eat a light lunch if you're ever going to a Vietnamese meetup. For the afterparty, we went to a local place for 'beer'. Yes, right. Just beer.
Turns out that beer goes great with seafood, fried rice, vegies and fruits.
Saigon WordPressers should all thank Dat Hoang, Lam Thanh Phong Paul, Man Vo and Agnes Bury who organized this event. We are all looking forward to the next events.
PS: we enjoyed organizing and participating in this event very much. If you are planning on hosting WordPress gatherings in your area and are interested in having similar sessions, by all means, contact us.