To build a fully multilingual site, you need WPML to work with your theme. Maintaining compatibility with popular WordPress themes has always been important to us.
The process goes like this:
A customer needs help making a theme and WPML compatible.
The theme-author confirms he can work with us, by applying to our go-global program.
We create an account in WPML for the theme author and the theme author sends us the theme. Now, we start working together to see how things work and what needs doing.
At the end, we fix whatever needs fixing and produce a language configuration file for the theme. This file lets customers build fully multilingual sites with that theme and WPML with zero configuration. Everyone's happy 🙂
We've been running this process successfully over the last few years. We list results in our Theme Compatibility list, as well as on our Essential Multilingual Plugins page.
We want to show our gratitude to theme authors who've taken the time to work with us and maintain compatibility with WPML. This post will be the first, in a series of weekly posts about WPML-compatible themes.
Featured themes this week
Our first bulletin members are two ThemeForest players: U-Design, a powerful theme with over 17000 sales now, and Meta Agency / Business / Corporate – clean and stylish theme from another Elite author.
U-Design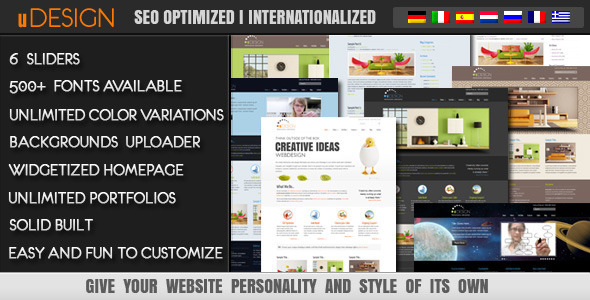 U-Design is a very powerful theme which suits both, users with no programming background as well as advanced developers. It will help you build your site in no time to your liking with minimal effort. It empowers you to set any color to elements such as backgrounds, links, text, menu links, etc. You can completely change the look and feel of your site in seconds. You can also choose from over 500 fonts, including Google Font Directory and Cufón fonts. This number will grow with time since many new fonts are being added to the Google fonts library. The theme also features 6 (six) Home page sliders for you to choose from.
Meta Agency / Business / Corporate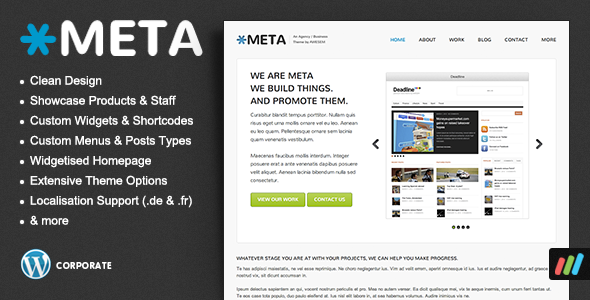 Meta is a Powerful, Professional, Premium WordPress Agency / Business / Corporate theme. It comes packed with an impressive array of custom options and widgets allowing you to control various aspects of your site from within the convenient WordPress admin panel.
Whether you're a web or marketing agency, freelancer, start-up, small business or a large corporation, Meta has you covered and will showcase your business services, products, portfolio or work samples. Using the theme options and widgets you control content layout, show testimonials, references and client logos, pull in your latest tweets, show your latest video, display your latest photos, and much, much more.
What does our theme compatibility cover?
To us, compatibility means that we're handling everything we see. On the first iteration, we check the theme and WPML together with the theme author. We do our very best to make things run smooth. If there's an issue, both us and the theme author dive-in, debug and resolve problems.
We can't guarantee that you'll never run into any issue, but we'll do our best to resolve them as fast as we possibly can. The close cooperation that we receive from the theme author makes this possible.