Smartcat is an all-in-one platform connecting business and translators into a streamlined content delivery loop. It's simply called Connected Translation and brings all the components to your fingertips: Connectivity, Management, Scalability, Continuous Delivery and Payments.
Contenido
Comenzar con Smartcat
To send the content for translation to Smartcat, please ensure that you have the following plugins installed on your website:
WPML Multilingual CMS – the core plugin
WPML Translation Management – this plugin will allow you to connect to Smartcat.
WPML String Translation – this plugin will allow you to translate interface strings
You can download them from your wpml.org account. If you do not have an account yet, you can create a new one by choosing WPML Multilingual CMS or Multilingual Agency plans.
Smartcat will be available on the  Translation Services tab found on the WPML -> Translation Management page. This page is available only after registering WPML. The entire process takes a few minutes.
If you need any help with the WPML plugin configuration, go through our getting started guide or simply ask a question on our support forum.
Connecting your website to Smartcat
Once all the required plugins have been installed and activated, all you need to connect WPML to the translation service is your Server URL, API Key and Account ID.
Creating an Smartcat account
To get your Server URL, API Key and Account ID, simply create a Smartcat account by visiting the Smartcat website and clicking the Create Account button at the right upper corner of the screen.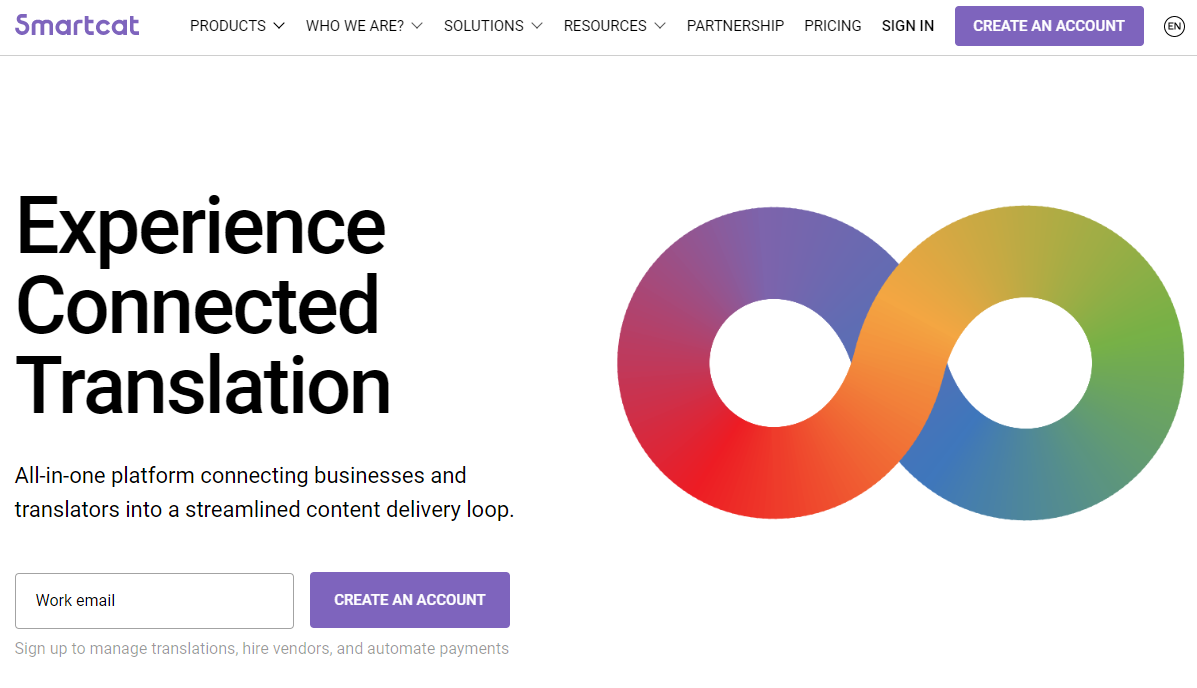 Once your account is created, go to the Settings → API.
Generate an API Key (you can create multiple keys) and use it (as a password) with your Account ID (as a user name) to access the API.
The Server URL will usually end in api/integration.
To learn more about Smartcat API, visit Smartcat Help Center.
Activating and authenticating Smartcat
Login to your WordPress website, visit the WPML->Translation Management admin page, and click on the Translation Services tab.
Scroll down to the Translation Management Systems section, locate Smartcat and activate it.
Once the service is activated, click the Authenticate button. Here, you will need the Server URL, API Key and Account ID obtained in the previous step. Next, click Submit.
After a few seconds, Smartcat will display as an authorized service.
Congratulations! Your Smartcat account is now connected to your WordPress account. You are now ready to send content for translation.
Sending your content for translation
To send pages for translation, go to the Translation Management module (WPML->Translation Management).
Select the pages you want to translate by clicking the checkboxes in the first column. Next, select the target languages by checking the boxes, and click the Add selected content to translation basket button.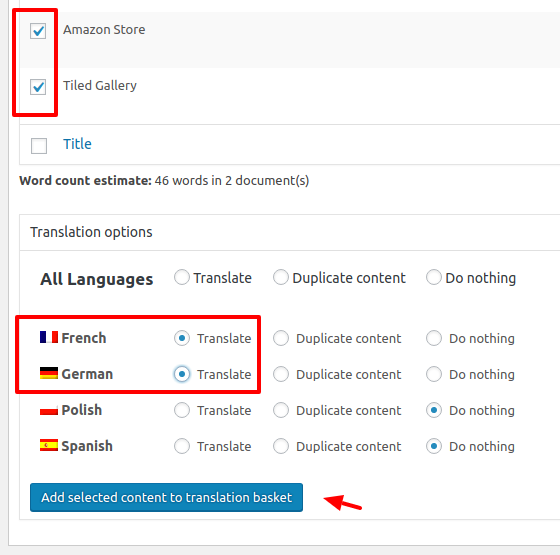 Go to Translation Management and click on the blinking tab at the top of the page, which is called Translation Basket. On this tab, you will see a list of all the pages (jobs) that you added to the basket, as well as the languages these items are to be translated into.
Here, you can verify the content you wish to translate, remove pages you accidentally added, and change the Batch name. The Batch name is visible on the Translation Jobs tab and will help you find projects. Think of a batch as the technical scope of a purchase order. You can refer to the batch names when communicating with your translation provider, which they will also see. When you are ready, simply click the Send all items for translation button to send everything to Smartcat.
When the translation basket's contents have been successfully sent to Smartcat, you will see a confirmation message and a link to Smartcat dashboard.
Receiving completed translations
As soon as a translation job is finished by Smartcat, it will be ready to be delivered to your website.
Depending on your configuration, translations will be delivered automatically or can be manually fetched from your WordPress admin panel.
To check your configuration, go to WPML -> Settings, locate the Translation Pickup mode section and verify the selected option.

When automatic delivery is selected, translations will be delivered to your website automatically as soon they are complete. At any time, you can check the status of translation jobs.
If you choose the option to fetch translation manually, you can download completed translations from the WPML -> Translation Management page. Click the Check status and get translations button at the top of the page.

Canceling translation jobs
If for any reason, you want to cancel the translation of the pages sent from WPML to Smartcat, bear in mind that:
You cannot manually delete or cancel jobs from the Translation Jobs tab on your website.
The project can be canceled only by Smartcat. To do this, please contact Smartcat directly.
Depending on your Translation Pickup mode configuration, the cancellation request can be sent to your website automatically through XML-RPC. Otherwise, you must click the Check status and get translations button on the Translation Dashboard tab to refresh the status and see the changes.
As a result, WPML will remove all canceled jobs from the Translation Jobs tab.
---
Mire lo que dicen los demás
There are no reviews yet.