We just released a minor update for WPML and WooCommerce Multilingual, which resolves a number of issues that came up after the major WPML 4.2 release last week.
Problems Updating WPML
Due to changes between WPML versions, some sites can have an error with the installation ZIP file. Long story short, there's a simple workaround for this problem.
Go to Dashboard->Updates and click on the Check Again button. This flushes out the updates history.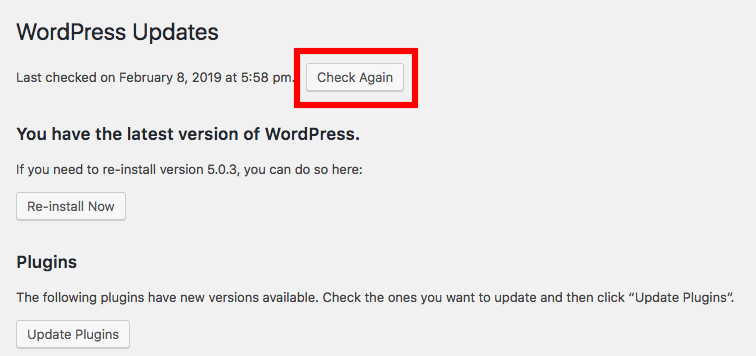 If you received an error about bad ZIP file and your WPML account is valid and your site is registered, this action should resolve the problem.
WooCommerce Multilingual issues
WooCommerce Multilingual 4.4.1 fixes a number of critical errors:
Fatal error with Composite products
Fatal error with Woocommerce Product Addons
Fatal error when bundle product is false
Empty cart error with enabled option to clean cart when switching currency
Issue with trailing comma in product gallery handling
Other fixes in this update
Resolved a problem that appears with WPML + Divi + Yoast SEO when editing pages
Fixed the Translation Management wizard which was not showing when Toolset Layouts is active
Handled an exception in the UI when adding/removing a language
Fixed the "sent date" for translation jobs that are resent
Fixed an issue with icons in Translation Management not being displayed properly
Now only the correct strings will show in the String Translation table and not strings that belong to other translators
Fixed a PHP notice when editing a WooCommerce product
Canceling automatically old remote jobs which could not be migrated
Prevent "variable mismatched detected" error in admin caused by String DB Caching
Fixed a fatal error when loading JED files from 3rd part plugins
Download and Update
As always, we recommend doing a backup before updating WordPress, the theme and plugins. This is a limited release which doesn't add new functionality and doesn't modify existing functionality. It only fixes a number of problems. We recommend to update your sites and always run the most stable and secure version of WPML and all other plugins.
Feedback? Questions?
If you have any questions ideas and suggestions, please add your comments and we will get back to you.