In this guide, we'll walk you through the process of turning your WordPress sites multilingual. You'll see which plugins to install, how to configure them and how to translate your site's content.
Before we get started, let's clear some doubts:
Yes. You can have multiple languages in one WordPress site.
Yes, can you translate everything yourself and you can use automatic translation.
No, you don't need to build multiple websites – one for each language.
1. Plugins to Install for Multilingual WordPress Sites
To translate every part of your site, you need to install WPML. WPML is a modular plugin, which allows you to install the exact components that you need for different websites.
You will need the Multilingual CMS version of WPML. Start by installing the core WPML plugin. For most websites, you should also install WPML String Translation and WPML Translation Management. Then, depending on what theme and plugins you use, you will need to install different WPML components.
WPML includes an automatic installation and update mechanism. All you need to do is install the core plugin and register it. Then, navigate (in the WordPress admin) to Plugins → Add new → Commercial. There, you will see the entire list of WPML components and you can choose the ones that your site requires.
2. Adding languages to WordPress
Without any "multilingual" plugin, WordPress allows you to choose the language of the site, but only one language. WPML lets you add as many languages as you need to the same site.
Right after you install WPML, go to the WPML → Languages menu. First, you will choose the site's current language.

Then, WPML's setup wizard will let you choose the other languages that the site should have.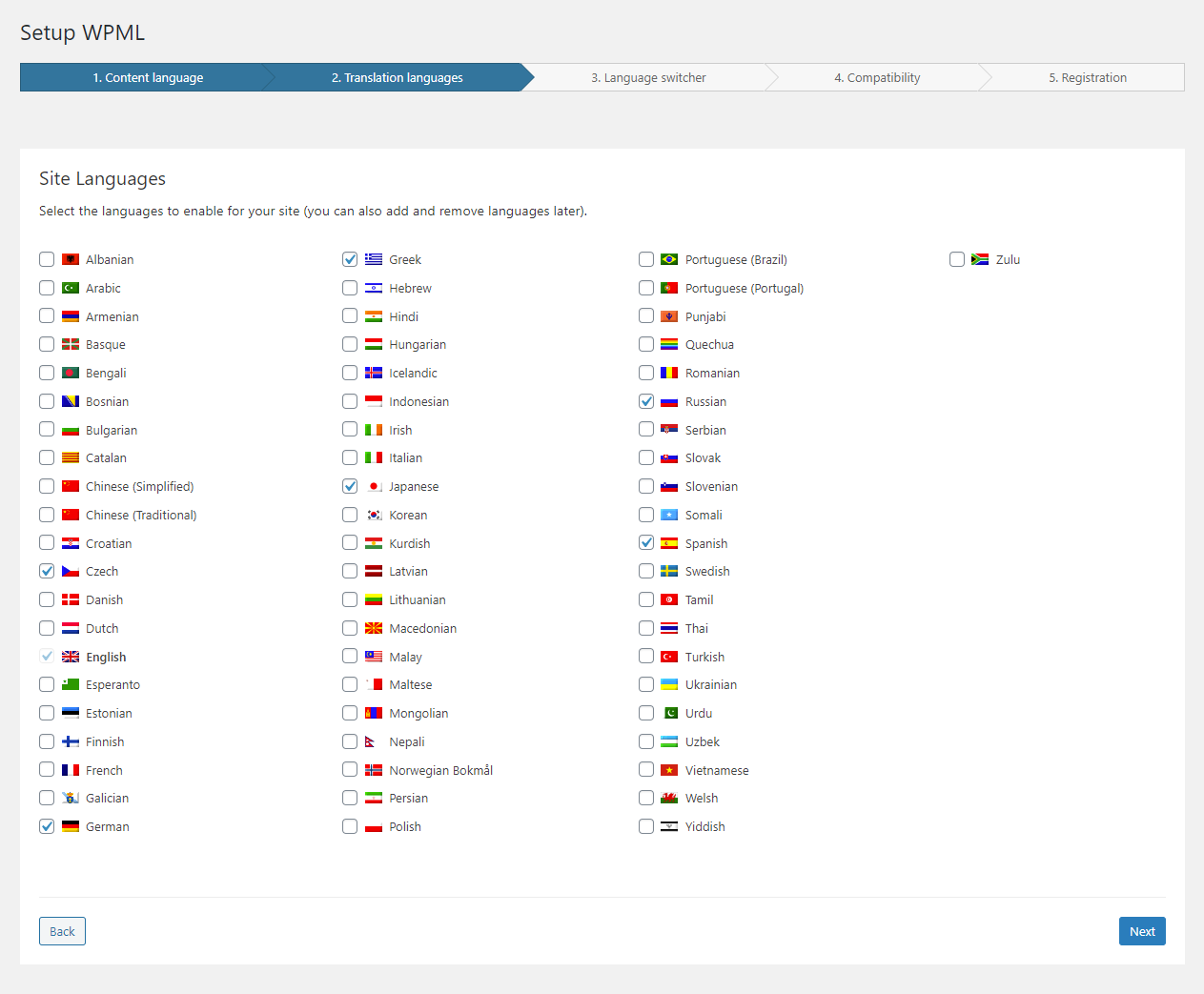 3. Choosing how Languages Appear in the URLs
WPML will add language information to all the URLs on your site. This allows translations to appear in unique URLs.

For friendly URLs and good SEO, we recommend that you use "languages in directories" or "languages in domains". You can learn the full details in our guide on language URL options.
4. Adding Language Switchers to Your Site
Language switchers allow visitors to choose in which language they want to read your site. WPML lets you add different kinds of language switchers, which fit into the design of any WordPress site.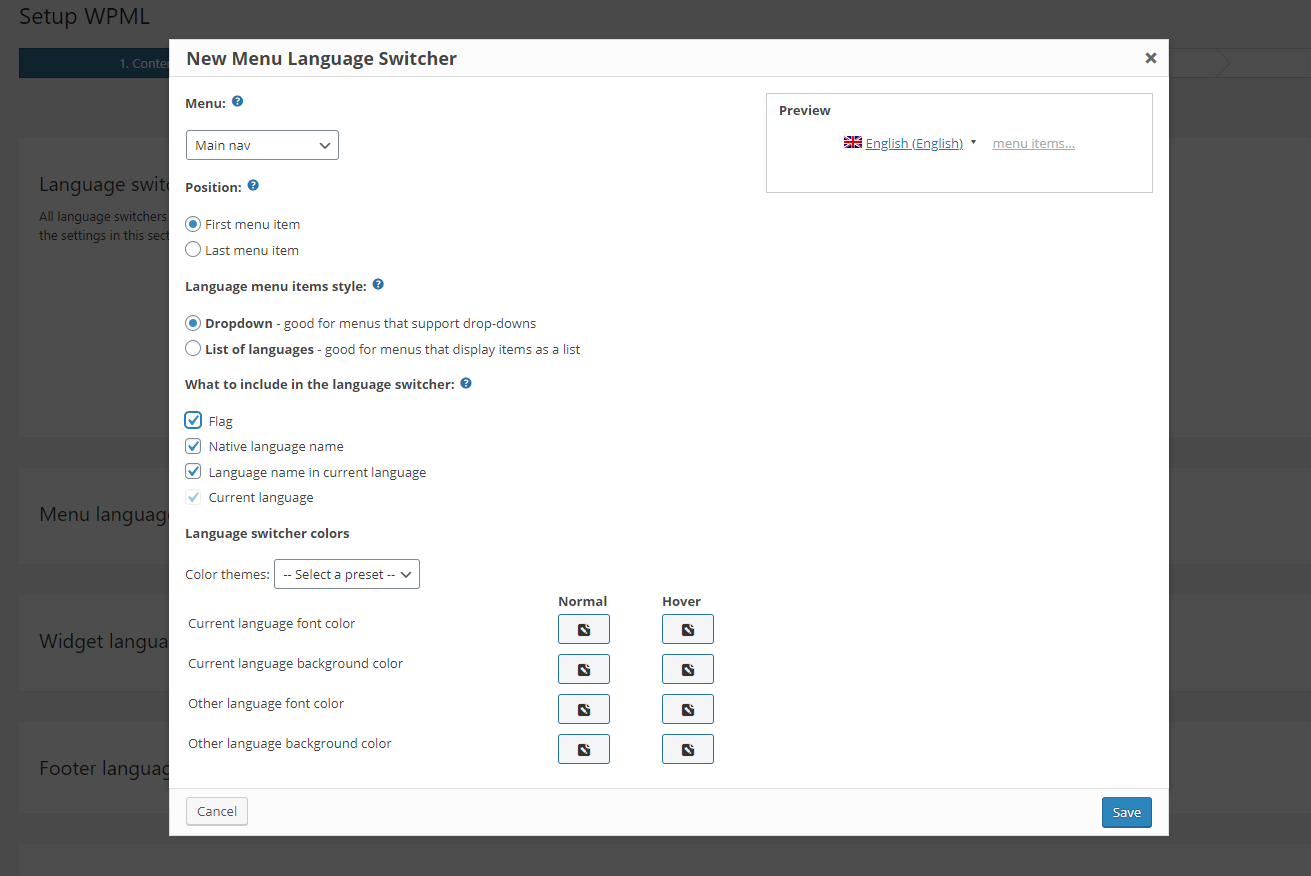 You can add language switchers to menus, as widgets, to pages and posts and to the site's footer. You can also create your own custom language switcher and add it to any PHP template.
5. Translating The Site's Content
Now that your site has several languages and a nice language switcher, it's time to start the real work. It's time to translate the content.

WPML makes it easy to translate your site's content. You can translate it yourself, use one of many excellent translation services that are integrated with WPML or use automatic translation.

When you translate yourself, we recommend that you use WPML's Advanced Translation Editor.
WPML's Advanced Translation Editor includes everything that you need to translate quickly and accurately. You will see the source and the translation side-by-side. When you translate a sentence, you'll see just the texts without HTML code. To apply HTML styling, you will use safe markers. This way, your translation can never break the site's markup.
Translation services offer superior quality with human translation and review. When you're running business sites and you want to project the most professional image, you should definitely consider paying for high-quality professional translation.
In recent years, automatic translation has made huge progress. Today, automatic translation produces good results between many language pairs. Please keep in mind that it's still automatic and it still requires supervision. We recommend that you manually review everything that comes back from automatic translation. When needed, you can always edit and improve the translation.
6. Translating Taxonomy
WordPress uses taxonomy to organize content. WPML makes it easy to translate taxonomy.
When using WPML's Translation Management, you don't need to worry about translating taxonomy. WPML will include the taxonomy terms with the posts that you're translating.
If you want, you can translate taxonomy separately using WPML's Taxonomy Translation. This screen shows you a global picture of your site's taxonomy and terms. You will be able to translate any term to any language from one place. This is convenient to make sure that different terms are always translated in a consistent way.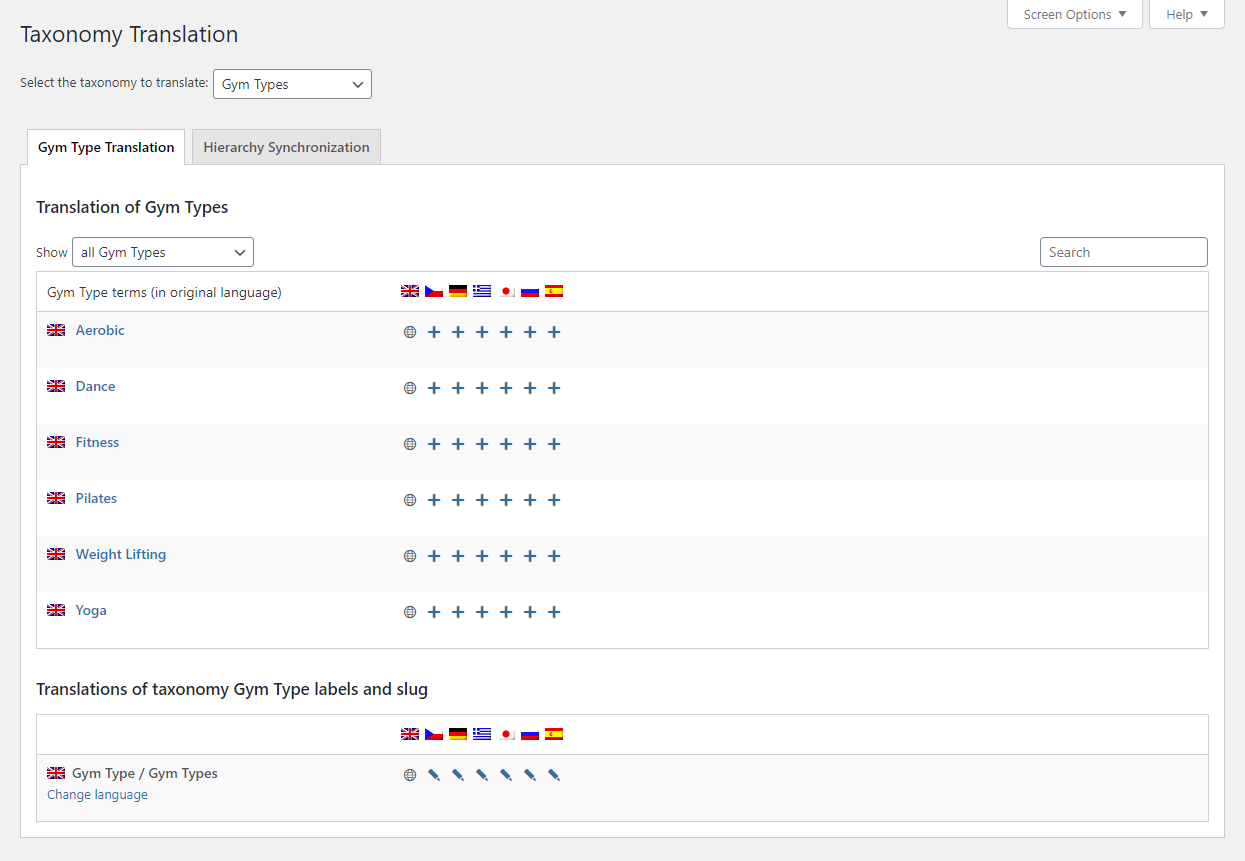 7. Translating Menus
WPML has a dedicated tool that allows you to translate your site's menus.
You will be able to translate menus manually and to sync menus automatically. This means that whenever you edit the menu in the site's default language, WPML can immediately update the menus in all other languages.
8. Translating Strings
Your WordPress site has texts that are not part of any post, field, or taxonomy. These texts can come from plugins, themes, and even WordPress itself (like the site's tagline). WPML's String Translation allows you to find and translate all these texts.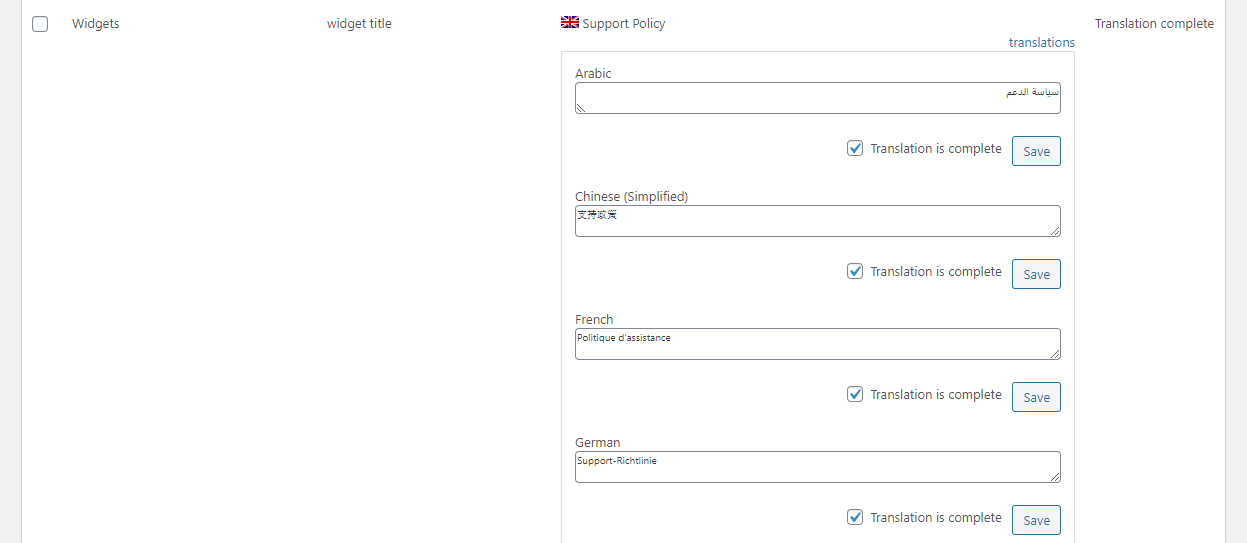 When translating strings, WPML has some handy tools to help you:
You can see where strings are coming from, so you'll understand what they mean
WPML can automatically register strings for translation
You can export and import string translation as .po files
You can even translate strings that are stored inside the "options"
Even though WPML's String Translation is a powerful plugin, it doesn't add any load to your site. WPML will store all its translations in .mo files and will not access the database to load translations.
9. Doing SEO for Your Multilingual Content
Having a multilingual site is great, but having that site deliver traffic is even better. Fortunately, WPML takes care of all the technicalities so that your SEO work can focus mainly on strategy and content creation.
Read our full guide on multilingual SEO to learn how it works and what you need to do.
Appendix – What's new in 2020
A lot has changed in WordPress, Google, and in the translation industry. Now, it's even easier than before to build and run multilingual WordPress sites. It's also more important to do it right.
WordPress in 2020 – the Gutenberg Editor Becomes the Standard
At the beginning of 2019, WordPress got a new editor called Gutenberg. After a bumpy start, Gutenberg is now the de-facto standard for new WordPress sites. According to Gutenstats, Gutenberg editor now powers more than 30 million sites.
The next step for the Gutenberg project is to support the entire page and not only "the content" area. So, when you build a multilingual WordPress site, Gutenberg compatibility needs to be high on your list.
Google in 2020 – Accurate and Native Translation Becomes Critical for SEO
According to numerous researches (for example, in searchenginejournal.com), Google now understands your site's content more than ever before. Google expects your content to be clear, accurate, and readable. For multilingual sites, this means accurate and native translation.
If previously you could get away with poorly translated content and compensate for it with many keywords, it's not going to work in the future.
Your translations need to be first clear to people. This means:
Not just translation – but localization. You should translate the texts and adapt numbers, dates, and even prices to the local language.
Accurate translation
Clear language information on the page and in the URL