WordPress 3.1 includes a host of great new features. WPML 2.1.2 makes them all multilingual.
WordPress 3.1 continues the trend that started in version 3.0. It's fast becoming the most powerful open-source CMS available today. This time, the changes are less obvious in the GUI, but very significant for anyone building complex sites.
In this post, I'll go through these new features and explain how WPML 2.1.2 works to make them multilingual.
Note: WordPress 3.1 includes more new features than listed here. I'm talking only about features that WPML interacts with.
Internal Links Box in the Editor
When you click on the link icon, you get the link-target box. WP 3.1 adds a drop-down menu of pages and posts to link to. This saves time going to the public site and looking for URLs.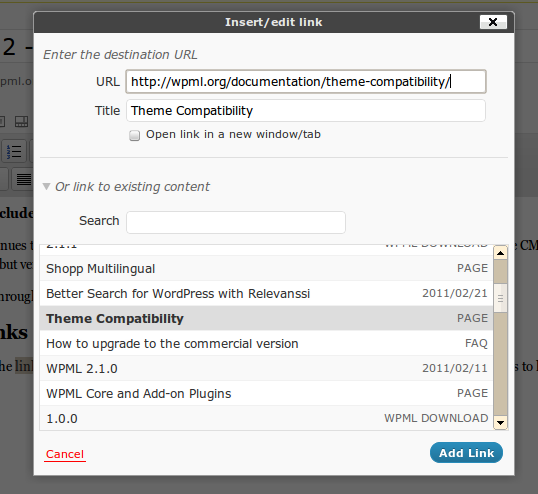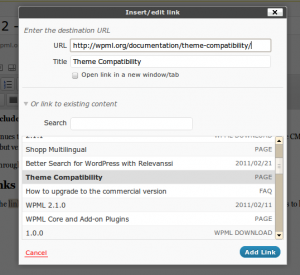 WordPress shows you a list of all posts, pages and custom types. You see the title and the content type and choose in a single click.
WPML hooks to that list and filters it, so that you'll only see items in the current language. BTW, if you also enable WPML's Sticky Links, all URLs you insert will become sticky and unbreakable.
Post Formats
Many times, you want to classify posts by what they are and where they go in the site. The post formats defined in WordPress 3.1 are:
Default (like today's posts), aside, chat, gallery, link, image, quote, status, video, and audio.
Technically speaking, post formats are just taxonomies that have a reserved name and appear in the post-edit GUI in a special location. However, the implications for themes are huge.
Post formats create a common way for themes and authors to understand each other. A theme author can design how each part of the post will look and behave. Authors will then create posts, assign formats to them. The entire page will display like the designer intended and have the content that webmasters want. No hacks, no tricks and a common language for all.
It also means that users can easily switch themes and all their data means the same.
WPML 2.1.2 added an option to synchronize post formats between translations. Go to WPML->Translation Management->Multilingual Content Setup and choose if you want to sync post formats.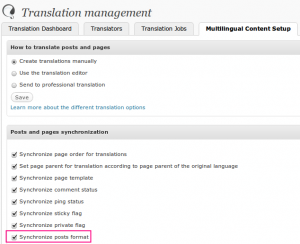 Custom Post Archives
WordPress 3.0 made custom post types usable and popular (they theoretically existed before, but were difficult to use).
In this release, you can have a index page for custom types too.
The index page (referred to as archive) is a powerful feature. This means that custom types will be listed similarly to blog posts. The possibilities here are vast, allowing you to create your own mini-blogs, for custom data, within the site.
WPML adds the required language URLs to custom post archives.
WordPress 3.1 Bug Fixes
This release of WPML also fixes a number of bugs that popped up with WordPress 3.1:
Translation controls don't appear in the list of pages.
Query by categories failed in widgets.
Author profile URLs missing language attribute.
Notices in language switcher on different custom type pages and in attachments.
Other Changes, not Related to WordPress 3.1
We managed to squeeze in a few more new features into this release, all intended for better usability.
Support for WordPress Galleries
When you insert the gallery tag, you now get a fully functional and working gallery. Visitors can move between image to image and stay in the same language.
This is the beginning and not the end. We know that we need to allow translations to share media. Right now, to show the same images, in a gallery, in several languages, they must be uploaded multiple times. We have this on our todo list for sometime in the near future.
Copy from Original Buttons
When you're translating content that includes images, links or embedded objects, it's convenient to be able to copy directly from the original without going back and forth between languages.
We've added this feature to WPML 2.1.2.
If you're translating using the regular WordPress editor, you'll see a new Copy from original language button.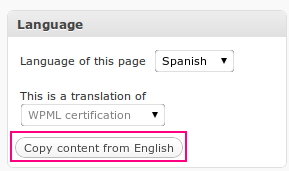 To protect you from potential loss of work, this button is only enabled when the translation is blank. Click on it and WPML copies the content from the original language onto the translation.
The same button also appears in WPML's Translation Editor for each field (not just the body).
Upgrading to WPML 2.1.2
If you already have a WPML account, you should see this upgrade in the WordPress Admin panel. You can also upgrade manually by logging in to your account and download from there.
To migrate from the older versions on WordPress.org, you'll need to first purchase WPML. Then, have a look at the upgrade instructions.