Conçu par Anariel Design — Découvrez Didi
Le thème Didi a été testé il y a plus de 5 mois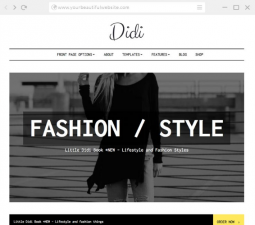 Didi est un thème moderne et réactif dont le seul objectif est de présenter votre contenu de la meilleure façon possible, quelle que soit la taille de l'écran.
Compatible avec WPML, Testé par l'équipe de WPML. L'auteur a confirmé qu'aucune des nouvelles modifications n'impacte la compatibilité.

Theme's Category:
Blog, eCommerce
Version 1.1.5 Dernier test le : 31/07/18
Themes designed by Anariel Design
Veganos is a clean and responsive free WordPress theme. It's perfect for creating food-related websites like recipe websites, blogs, magazines and more.

Liber est un thème WordPress réactif optimisé pour les sites Web de restaurants et bars.

Thème caritatif interactif pour WordPress.