Many of our clients buy WPML to build multilingual websites for their clients. This new release of WPML makes renewal payments easier and more sensible.
When you build a website for yourself, naturally, you are willing to pay for the "recurring expenses." However, when you're building sites for your clients, often it makes better sense for your client to pay them.
Now, you can invite your clients to pay for renewals of the WPML plugin on their site. Having clients renew their accounts solves problems for both you and your clients.
Your clients will receive updates to the WPML plugin, no matter whether your account is valid or has expired. They will never have stability or security issues from using outdated versions of WPML.
You will not need to pay when you're not getting paid for the site's maintenance.
Your clients will pay $39 per year for WPML.
When your clients follow your invitation to assume renewal payments, we will credit you $20 per renewal and add one bonus site to your account. It's as if you get that site for free from us plus a $20 commission. If your renewal discount exceeds your renewal payment, we will pay you the difference. (BTW, this is great for folks with old Lifetime accounts. Everything that you transfer to your clients is immediately counted as payment to you!)
You can invite your clients to pay their own renewals from the Sites page in your WPML.org account.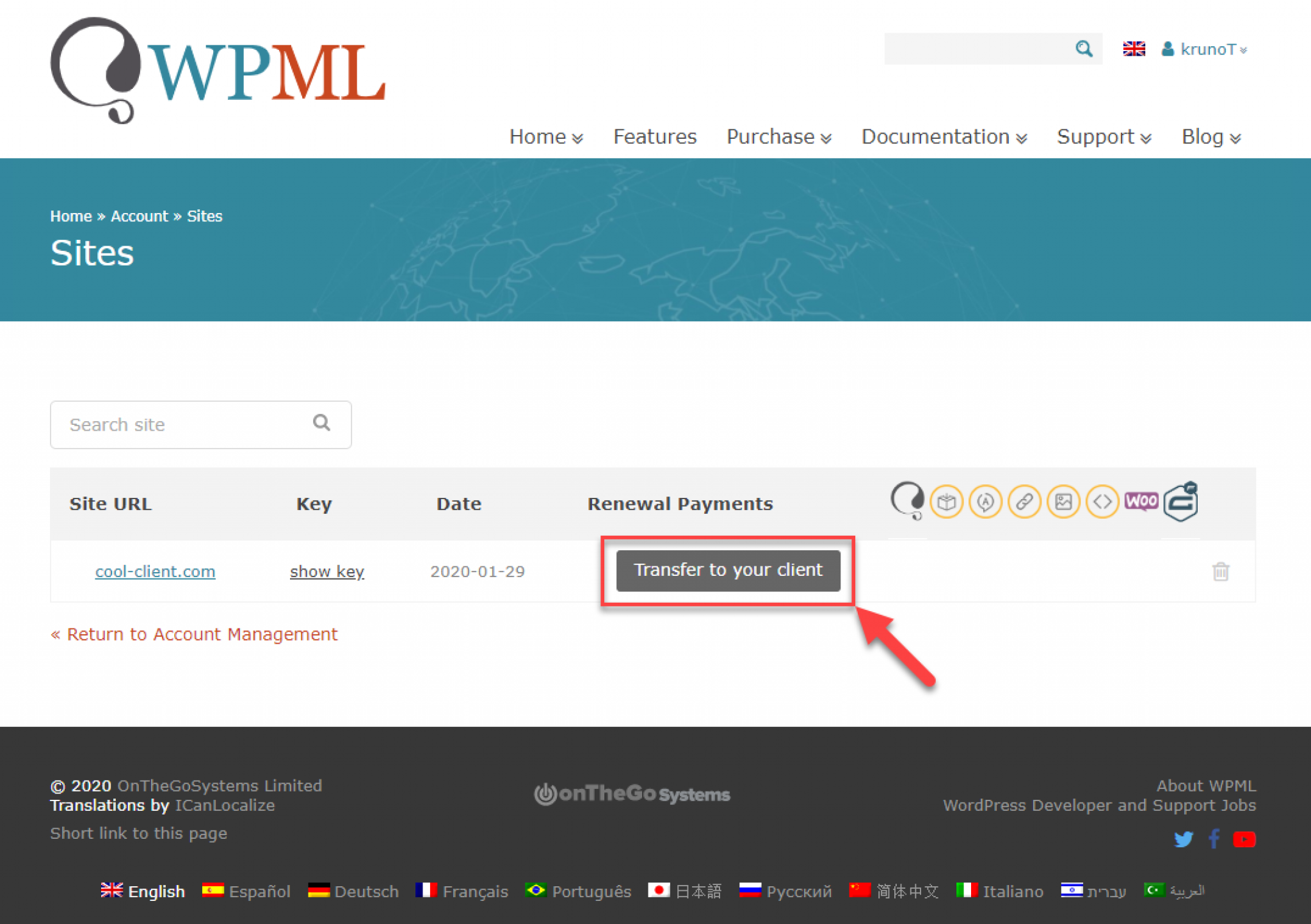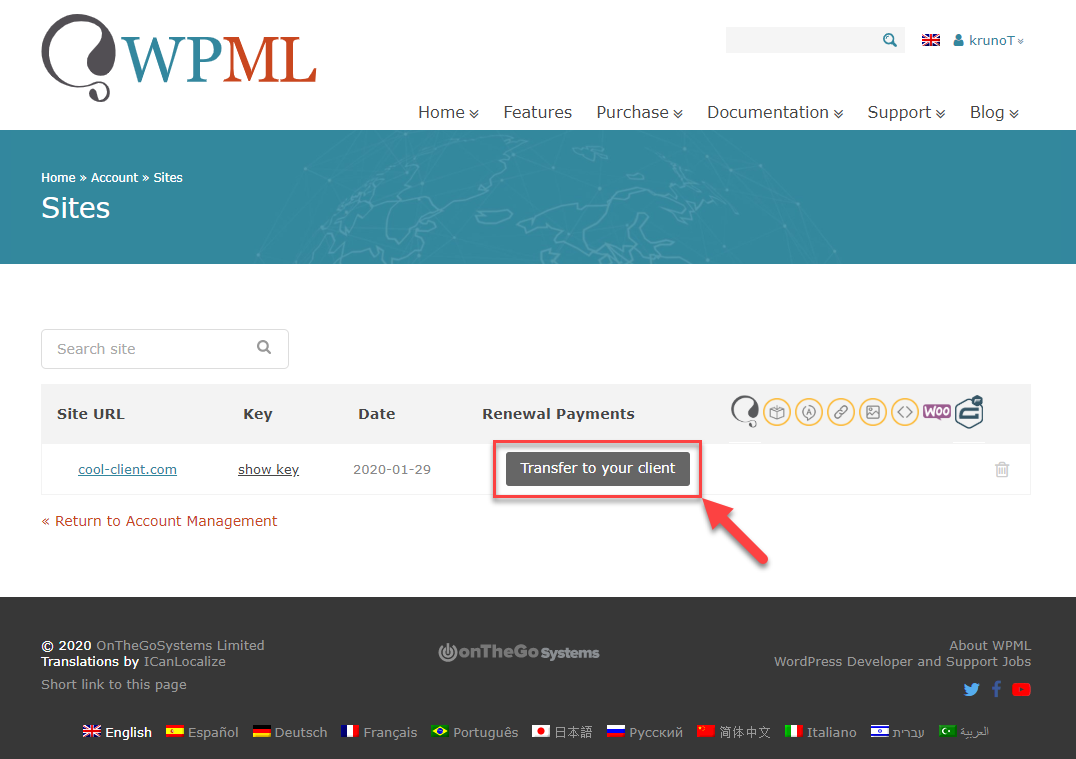 For step-by-step instructions, read about Transferring Account Renewals to Your Clients.
Other Improvements in this Release
Compatibility
Added support for translating Divi's Global Modules via WPML's Translation Editor
Resolved compatibility issues with Cornerstone's layout elements
Added support for Elementor's Table Contents widget
Fixed a compatibility issue with WooCommerce Tab Manager not translated when using the Advanced Translation Editor
Performance
Significant performance fixes when publishing or updating a post
Resolved a performance bottleneck when saving draft posts and the Advanced Translation Editor is enabled
Addressed a performance issue with the Woodmart theme
Reduced usage of cache memory
Improved support for Redis caching
Features
Implemented the Translation Memory feature for exported XLIFF files. Now if a string has already been previously translated, its translation will be pre-populated in the XLIFF files
Added removal of related pending translation jobs when permanently deleting a post.
Added support for the "Additional content" field in WooCommerce emails.
Added support for Divi Layouts in order to translate them via Translation Management.
Allow uploading flags in SVG format.
Bugs
Added automatic detection in order to preload the MO file from a domain.
Fixed loading of custom string translations when a language locale is custom and unusual.
Fixed an issue when a text domain was unloaded and reloaded later.
Fixed an issue preventing users from editing a post with the Blocks Editor in a secondary domain when Languages per Domains is configured.
Fixed an issue with a taxonomy archive query when the taxonomy is set to display-as-translated and a term is translated but the children are not.
Resolved an exception where the filtering in Translation Manager Dashboard was not working on Pantheon hosting.
Added support for the wpml_language_selector_widget shortcode in WPML's Root page.
Enabled the option to pre-load a theme MO file in order to handle the case when some strings are being translated before "load_textdomain" is called by the theme.
Fixed the overdue translation jobs email report.
Resolved some issues when receiving translations from Translation Services using XML-RPC.
Fixed an issue when an ATE job download is stuck in the queue due to an outdated download link.
Fixed a status inconsistency when sending translation jobs to a remote service and the workflow is failing on the client's side before committing the batch.
Fixed the dynamic WooCommerce blocks which were not converted in the current language.
Fixed an issue with multiple AJAX calls on the front page if few tabs opened in different languages for non-logged users.
How to update
We push out WPML releases gradually. If your sites haven't received this update yet, give it some time and you'll see the update in a few days.
To skip the queue and get the update right away, go to the Plugins → Add New page, click the Commercial tab and then click the Check for updates button.
You can also download the plugins manually from your WPML account.
Feedback? Questions?
Leave your comments and we'll get back to you.