Bought WPML to build sites for clients? You can transfer the renewal payments to them.
Watch the following video to see how great this works for you and your clients.
For every website for which your client pays renewal, you receive:
$20 credit for your own account renewal
Another free site that you can build with WPML
For example, if you have a Multilingual CMS account and two of your clients are paying their own renewals, the yearly cost of your renewal goes down to only $19 (from $59). You can create 5 sites with your account (instead of three).
When your credit is higher than your yearly renewal cost, we will pay you the difference. If you have a Multilingual Agency account and 10 of your clients are paying their own renewals, you won't have to pay for any account renewal. Instead, we will pay you $81 every year.
Which WPML accounts can transfer renewals to their clients?
WPML clients with Multilingual CMS and Multilingual Agency accounts can transfer renewals to their clients. Additionally, we even allow clients with the WPML Lifetime accounts to do this and earn money for each transferred renewal.
How much will my clients pay and what will they get?
Your clients will pay $39 for the yearly renewal of one site. They will have access to all of WPML's components, as well as our downloads and support. Their one-site account will be locked to the URL that you registered.
What happens if your own account on WPML.org expires?
This is one of the best things about moving renewal payments to your clients. In case you're no longer using WPML and your account expires, your clients will continue receiving updates automatically. As long as they continue paying for their own renewal, they will retain access to updates, downloads, and support.
How to transfer renewal payment to your clients
To receive all these benefits, you need to invite your clients to pay for their own renewals.
Go to your WPML account and click on Sites.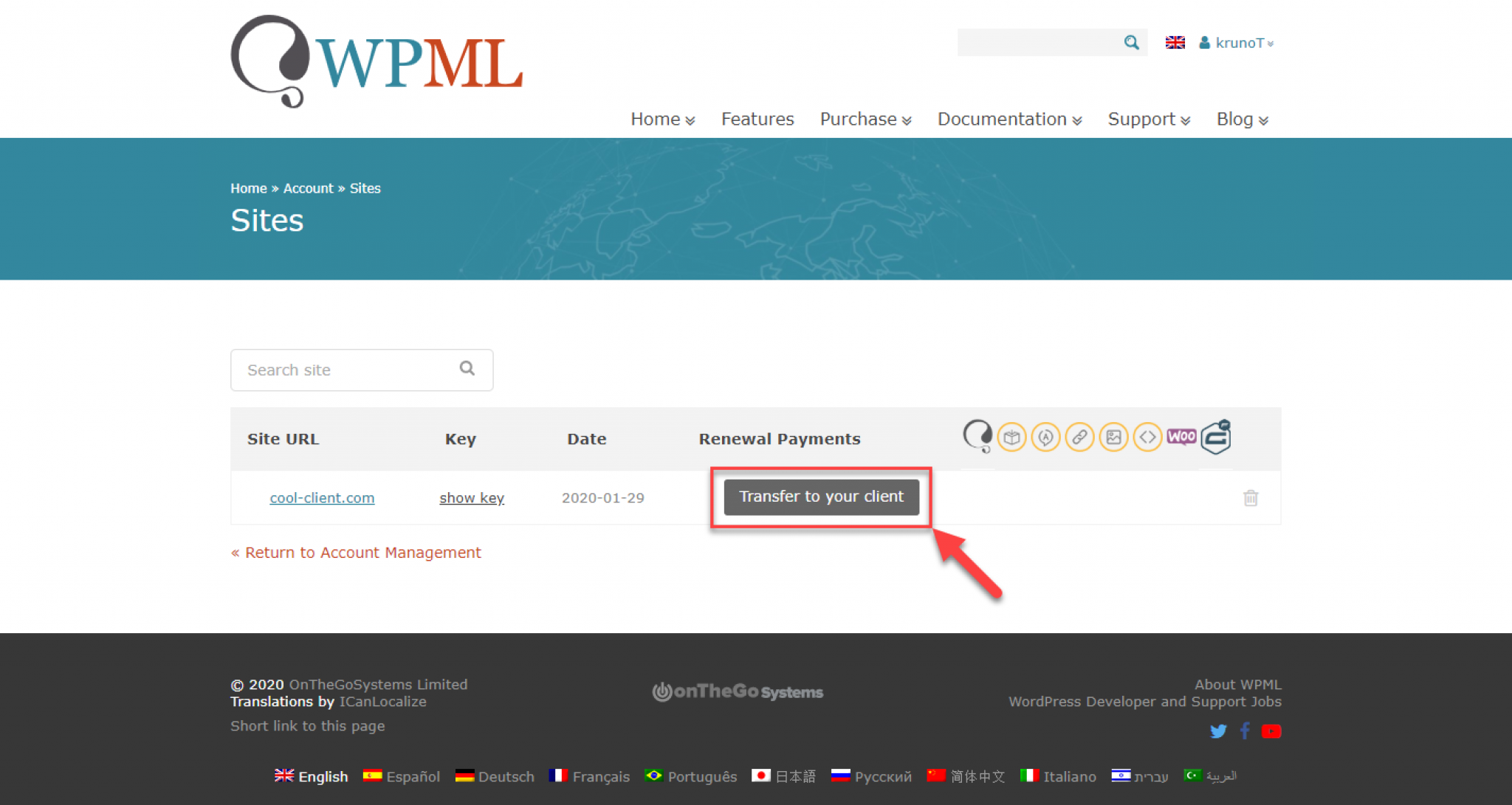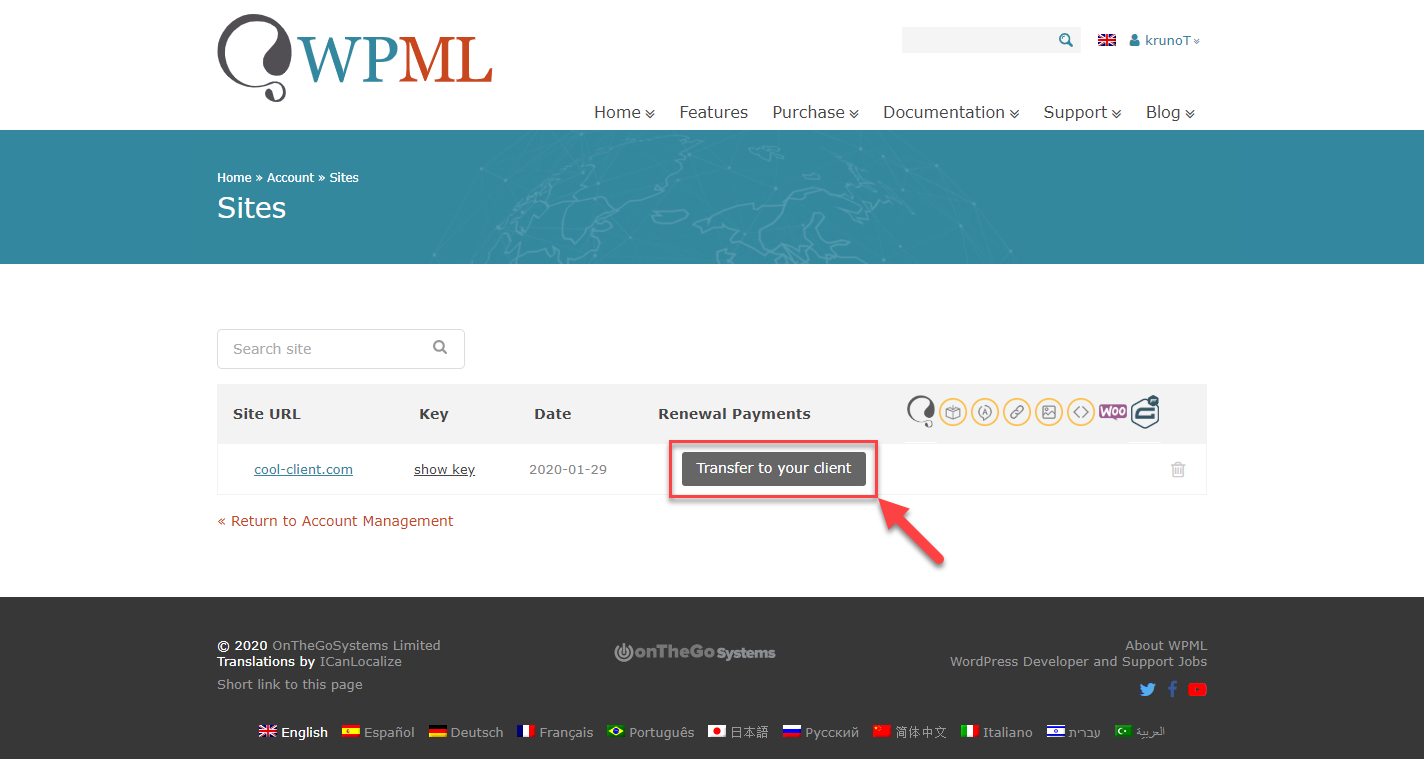 Click on the button to invite your clients to pay for renewal next to each of the sites that you've registered.
You'll see a dialog with a URL to share with your clients and a list of facts you can share with them.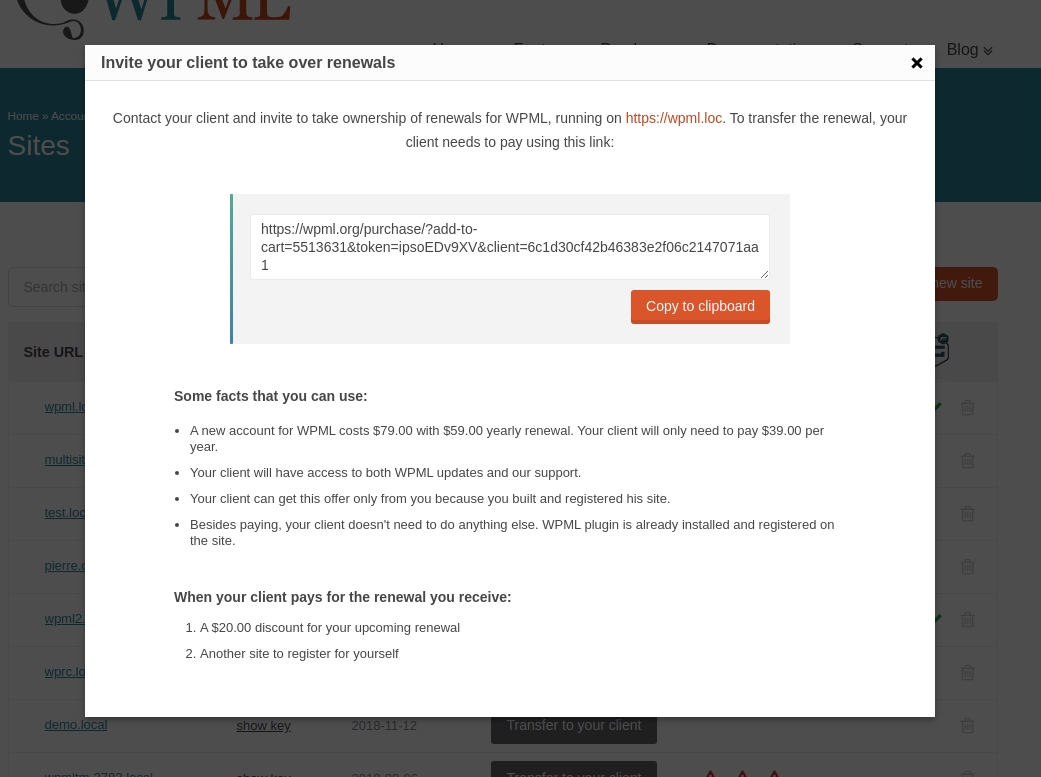 Write an email to your client inviting them to take over their own renewals.
Once your clients have accepted your invitation, you will see that they are paying for the renewal.