Gestaltet von Elegantthemes — besuchen Sie Extra
The Theme Extra wurde vor mehr als 5 Monaten getestet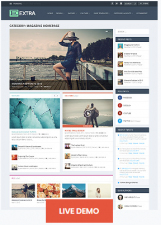 Extra takes the Divi Builder framework and extends its advanced Drag & Drop builder power to work on your homepage and categories with a brand new set of post-based modules.
Getestet vom WPML-Team, Kompatibel mit WPML

Theme's Category:
Mehrzweck
Version 2.17.2 Zuletzt getestet am: 18/10/18
Themes designed by Elegantthemes
Aggregate enthält tonnenweise Bereiche, die bereit für Inhalte und Widgets sind, und verwaltet alles übersichtlich und gut lesbar. Theme im Magazinstil für Ihren Blog.

Bei der Erstellung des Divi Builder stand die Benutzererfahrung an vorderster Stelle der Prioritäten. Der Ersteller verwandelt Elemente in visuelle Bausteine, sodass alle die Struktur ihrer Seite verstehen und bearbeiten können, ohne eine einzige Zeile

Tidalforce comes with a large array of options which can be used to edit the look and feel of your design straight from the wp-admin control panel.