Designed by Pojo — visit Stream
The Theme Stream was tested more than 5 months ago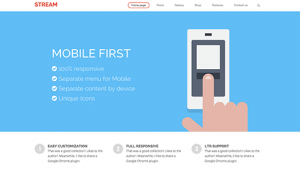 An innovative and colorful designed theme, especially suited for start-ups.
Compatible with WPML Tested by WPML team

Theme's Category:
Blog, Portfolio, eCommerce
Version 2.4.0 Last tested on: 18/02/16
Themes designed by Pojo
One Page WordPress theme is designed with a modern flair and is particularly suitable for app and start-up websites.

A particularly styled theme, suited for business, portfolios or WooCommerce.

A modern theme, great for business, portfolios and WooCommerce.