We're excited to introduce "Translate Everything" – a top-requested feature that takes automatic translation to the next level. Translate Everything makes translating your content faster, easier, and cheaper than ever before, and makes keeping translations up to date a total breeze.
Since publishing this post, we released WPML 4.5.1 and 4.5.2. These include bug fixes and minor improvements, especially for Multilingual Blog license users. Be sure to update to the latest version for the best experience with WPML.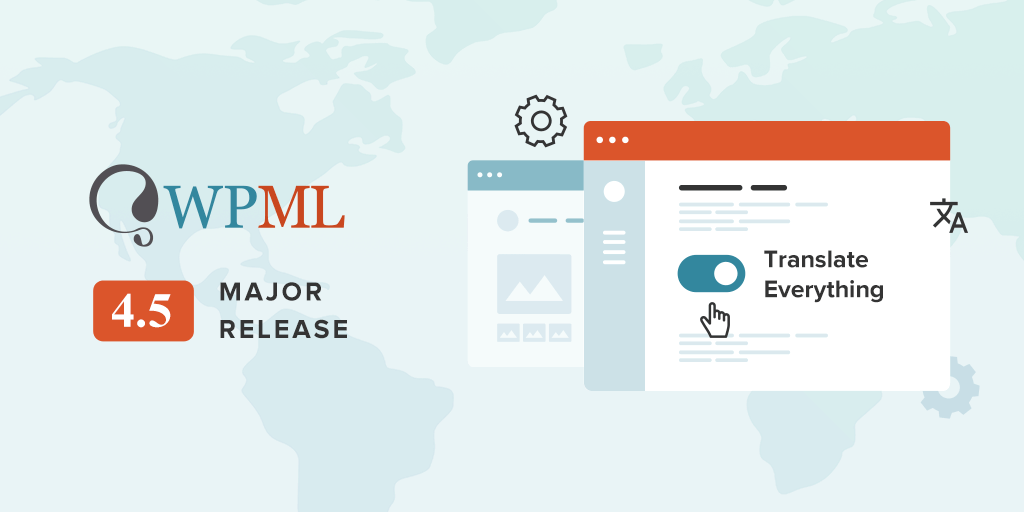 After nearly a year of development and months of testing, we're excited to release WPML 4.5! This is WPML's biggest release ever, and it comes jam-packed with loads of new features. Here are some of the highlights:
Translate Everything Automatically & Review Before Publishing
WPML 4.5 expands the automatic translation feature, allowing you to translate all your posts, pages, custom post types, products, taxonomy, custom fields, and more, simply by enabling the new Translate Everything mode.
See how it works in this short video:
Translate Everything mode immediately translates your content in the background as you publish it or edit existing content. This saves you tons of time and money, and ensures your site's translations always stay up to date.
You can also hold your translations for review before or after publishing and check how each translation looks on the front-end of your site.
Hire External Translation Reviewers
What if you don't speak the language you're translating your site into? No problem! Also new to WPML is the Translation Reviewer Directory. This helps you find qualified external reviewers with WPML experience that speak your site's languages. These reviewers will double-check that everything sounds natural and correct. Plus, since the reviewers aren't translating your content from scratch, their rates are reasonable enough to fit any budget.
New Payment Options for Automatic Translation
Automatic translation remains the most affordable and quickest way to translate your site, and now you have two payment options for your added convenience.
Pay As You Go
You can still sign up for an automatic translation account and pay for the number of credits you actually use each month, just as before. If you don't use automatic translation, you don't have to pay anything. Plus, you get 2,000 credits each month just for having an automatic translation account.
Prepaid Packages Without a Subscription
As of today, you can also purchase prepaid packages of 40,000 and 200,000 credits (you must be logged in to view the page). These credits never expire and can be assigned to any of your registered sites.
To see a full breakdown of these two different options, check out our page about pricing for automatic translation.
Clients who purchase a new Multilingual CMS or Agency account starting from September 29th a package of automatic translation credits included for free with their purchase.
More Site Keys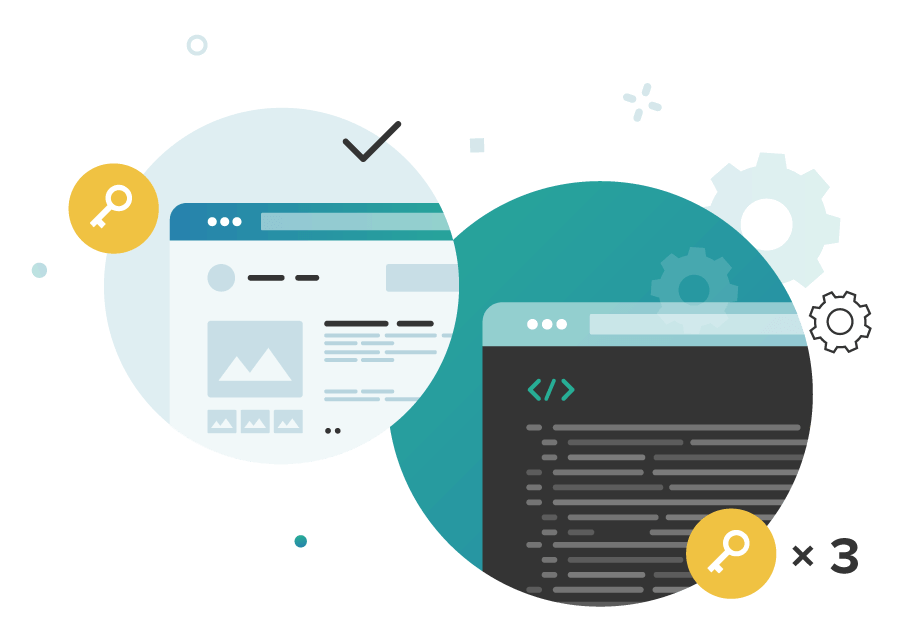 Don't worry about "wasting" your site keys on development sites. All WPML accounts (both new clients and existing clients) get extra site keys specifically for development sites.
| Account type | # of production keys | # of development keys |
| --- | --- | --- |
| Blog | 1 | 3 |
| CMS | 3 | 9 |
| Agency | Unlimited | Unlimited |
Fewer Plugins to Manage
The Translation Management add-on is now included in WPML's core plugin for Multilingual CMS and Agency accounts. This means one less plugin to install and keep up to date while maintaining all the same functionality you had before.
The Translation Management tabs are also more intuitive to make navigating the WPML plugin easier.
Don't use Translation Management? No worries. WPML only loads the code that handles the features you use, so it won't slow your site. For example, if you don't use a translation service or automatic translation, it won't load the code that handles translation services or automatic translation.
New Setup Wizard
We've completely revamped the WPML setup wizard so that making your site multilingual is straightforward and simple. Plus, now that the Translation Management add-on is part of the WPML core plugin, all the setup is part of one streamlined process.
If you create a custom or country-specific language, you can now map it to a pre-configured language as you create it in the setup wizard or in WPML → Languages. This allows you to use automatic translation and spell check with your custom languages. Now, you only need to make minor edits instead of translating from scratch.
Bug Fixes, Compatibility Updates, and More
For a full list of everything included in this release, check out the changelog.
We're Already Running WPML 4.5 on a Production Site
Our site Adelance has been using WPML 4.5 for the last two months. This allowed us to "field test" the WPML 4.5 features and work out any issues before releasing it to clients. It also gave us first-hand experience as our own client, and we're confident and excited about the results.
Translating and reviewing this site takes about 10% of the time it previously took us to translate ourselves from scratch. The results in both Spanish and Hebrew are at least as good as before. Automatic translation really excels with straightforward texts written in conversational language.
Plus, it keeps our translation costs much lower than before. This means we can translate the entire site without worrying about breaking the budget.
How to Install WPML 4.5
As with other major releases, we are deploying WPML 4.5 gradually. You will see the update on your site as it becomes available.
To skip the queue and get this update right away go to Plugins → Add New, click the Commercial tab, and then use the Check for updates button.
Of course, you can also download WPML 4.5 manually by going to your WPML account's Downloads page.
Give WPML 4.5 a Try and Let Us Know How We Did
Now, we'd like to hear from you!
What kind of site do you have, and how do you think WPML 4.5 will help you?
Before trying WPML 4.5, do you feel like you know what to expect and what the new features are?
After trying WPML 4.5, what do you like most and least about release?
Are there any issues this release doesn't address that you'd like us to prioritize next? Please include links to relevant support tickets.
We rely on your feedback to help shape our releases, so please be sure to share your feedback in the comments below!