Diseñado por Greatives — visita Movedo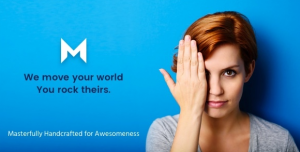 Movedo is a creative and multi-purpose WP theme. It includes a series of new features, such as ultra-dynamics parallax, radical safe button, moldable typography, and device style.
Compatible con WPML, Probado por el equipo de WPML. Los cambios nuevos no afectan su compatibilidad, según lo declarado por el autor.

Theme's Category:
Multipropósito
Versión 3.0.3 Última prueba realizada el: 20/05/19
Themes designed by Greatives
Tema multipropósito que se adapta a las pantallas de los distintos dispositivos.

Osmosis es un Tema multifuncional para WordPress, muy fácil de usar y único en su especie. Ofrece muchas opciones ya integradas y estética superior. Conviértase en ese diseñador que siempre soñó ser e impresione al mundo de una forma simple e inteligen

Blade es un Tema multifuncional y claro para WordPress en el cual coexisten por igual flexibilidad y simplicidad.