Gestaltet von Greatives — besuchen Sie Movedo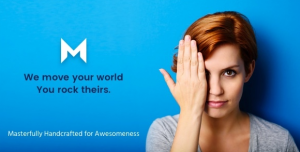 Movedo is a creative and multi-purpose WP theme. It includes a series of new features, such as ultra-dynamics parallax, radical safe button, moldable typography, and device style.
Getestet vom WPML-Team. Vom Autor wurden keine Änderungen gemeldet, die sich auf die Kompatibilität auswirken., Kompatibel mit WPML

Theme's Category:
Mehrzweck
Version 3.0.3 Zuletzt getestet am: 20/05/19
Themes designed by Greatives
Responsives Mehrzweck-Theme

Osmosis ist ein beispielloses und unkompliziertes Mehrzweck-WordPress-Theme. Es bietet Optionen, die sich von der Masse abheben und erstklassige Ästhetik. Werden Sie der Designer, der Sie in Ihrem Träumen schon immer sein wollten, und beeindrucken Sie

Blade ist ein geradliniges, Multifunktions-WordPress-Theme, in dem Flexibilität und Schlichtheit vereint sind.