Conçu par Greatives — Découvrez Movedo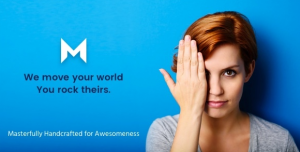 Movedo is a creative and multi-purpose WP theme. It includes a series of new features, such as ultra-dynamics parallax, radical safe button, moldable typography, and device style.
Compatible avec WPML, Testé par l'équipe de WPML. L'auteur a confirmé qu'aucune des nouvelles modifications n'impacte la compatibilité.

Theme's Category:
Polyvalent
Version 3.0.3 Dernier test le : 20/05/19
Themes designed by Greatives
Thème adaptatif polyvalent

Osmosis est un thème WordPress multi-fonction, inégalé et ne demandant aucun effort. Il propose des options hors du commun et une esthétique magnifique. Devenez le designer que vous avez toujours rêvé d'être et impressionnez le monde simplement et inte

Blade est un thème WordPress multifonction, simple d'utilisation, dans lequel la flexibilité côtoie la simplicité.