Are you enjoying WPML? Tell the world about it and earn a nice affiliate commission for every new customer that you bring.
WPML's affiliate program is open only to WPML clients. We truly believe that you can only recommend a product that you're actually using. If you run a very popular blog and you want to use our affiliate program (you're not a client), please contact us.
Log in to your WPML account and click on the 'Affiliate' link.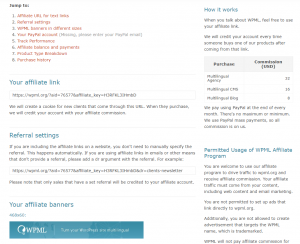 On that page, you will see:
Your affiliate text link
A collection of affiliate banners
A place to enter your PayPal email, so that we can pay you
Your affiliate balance
How it works
Whenever you refer to people to WPML, through your affiliate link, we create a cookie in their browsers. The cookie doesn't expire. It will only be set if this is the first visit to WPML.org.
Then, when this visitor becomes a client, we detect the cookie and associate the new account with yours, remembering that you brought this new client. Your affiliate account is immediately credited with every new purchase.
Using text links
You can link to us using a regular text link. Your affiliate link is displayed at the top of your affiliate page.
You can include such links to any page in WPML.org. Remember to add the aid and affiliate_key arguments to the URL. For example, my own affiliate link to our 'Purchase' page would be:
http://wpml.org/purchase/?aid=2&affiliate_key=hkZY0cb9tCUA
From past experience, we know that the most conversions happen when linking to both the homepage and purchase page.
Using banners
If you have available banner space, you're welcome to use the WPML banners we've prepared for you.
There are banners in six sizes and in fifteen languages (more coming soon). Just above the banners you'll find a language switcher (not the top-right of the screen, the one over the banners). This language switcher controls the language of the banners.
The banner graphics comes from our CDN (content distribution network). It's a high-speed network with no bandwidth cap and terrific uptime. You're welcome to use the images from there, or download them and serve from your own server.
Below each banner, you'll find a link that include your affiliate info, the localized ALT and TITLE attributes and a link to the image. If you want to link to anything else than the home-page, feel free to edit the HREF attribute.
Permitted Usage of WPML Affiliate Program
You are welcome to use our affiliate program to drive traffic to wpml.org and receive affiliate commission. Your affiliate traffic must come from your content, including web content and email marketing.
You are not permitted to set up ads, except on your own website, that link directly to wpml.org. For example, you are not permitted to use Google Adwords or banners on other people's websites, that link to WPML.org.
Additionally, you are not allowed to create any advertisements that target the WPML name, which is trademarked.
Please respect our trademarks and intellectual property at all times. This means you are not permitted to use "WPML" in your domain names. You are not permitted to build sites in a way that could potentially mislead visitors into believing that they are on an official WPML site. You cannot use our logo without explicit permission from us, neither on your sites nor anywhere else. Lastly, you should not use our brand colors in a way that could likewise be misleading to potential customers.
WPML will not pay people violating these guidelines any affiliate commission. If you are not sure, ask us.
Getting Paid
We pay via PayPal mass payments once per month, at the beginning of the month. Mass-payments means that you're getting the full amount without seeing any PayPal fees (we pay them).
Be sure to enter your PayPal email, so that we can actually send your payment. If we don't have that email, we'll keep holding your due payment, until we can send it.
At the table in the bottom of the affiliate page, you'll see your current balance, your total earnings (from day one) and when you last got paid.
All set?
We hope that this is enough to get started. If you need anything else, please contact us.
Become an affiliate and connect to your account to get your affiliates link.