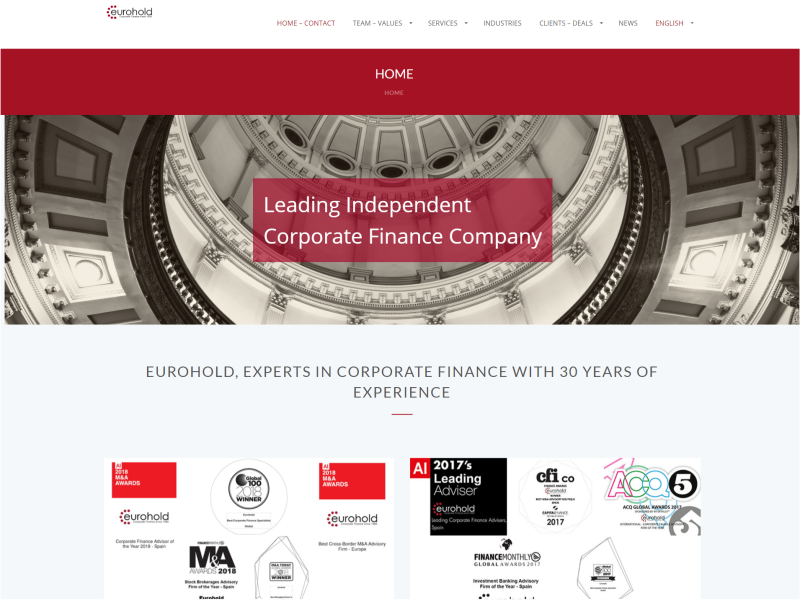 FINANCE - WordPress Solution with WPML
Leading Independent Corporate Finance Cy in Spain offering a full range of corporate finance services to global companies, private companies, private equity funds (M&A, consulting, strategic financing).
Design of the corporate website, Hosting, Maintenance…
The website is targeted worldwide, therefore it needed to be multilingual.
--- ES
SERVICIOS FINANCIEROS  - Solución WordPress con WPML
Eurohold: más de 25 años prestando servicios de Corporate Finance a Multinacionales, Private Equity y Empresas privadas en más de 100 países.
Los diseñadores web de TodoBravo Diseño Web Madrid han creado una Web Corporativa con WordPress a medida en 4 idiomas y con funcionalidades avanzadas de Geolocalización, un Blog de noticias y varias funcionalidades específicas…
Visitantes desde todo el mundo en tan solo unas semanas.
Madrid / Barcelona / Londres / Berlín / París…
https://www.eurohold.com/
How to build a multilingual brochure website with Toolset and WPML
Report a problem