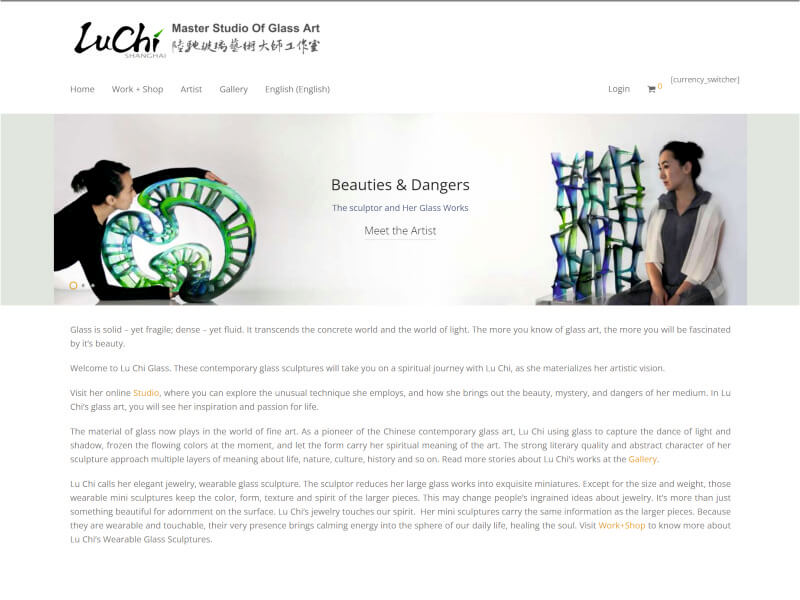 THE CHALLENGE
Lu Chi is a pioneer and leader of the Chinese contemporary glass art movement, and became the first professional glass artist in China Mainland. Lu Chi's sculptures have been collected by top public museums such as Victoria & Albert Museum in London, China Art Museum in Shanghai, and also by exclusive hotels, such as Four Seasons in Beijing, Hyatt in Macau and so on. Lu Chi extended her work from sculptures to wearable pieces of art. Therefore, she needed an online platform to sell goods worldwide. The shop must cover Mainland China and the rest of the world. The performance must be equally good on both sides of the great firewall.
OUR SOLUTION
The client had already tried to build a shop and a website based on Chinese hosted solutions. But those solutions were not flexible enough, outdated, slow, and somehow expensive.
We decided to use exclusively the standard WordPress, WooCommerce and WPML and implemented them according to the client's needs. The only changes made were done at the level of CSS and just a few lines of code.
We adapted a set of carefully chosen WordPress plug-ins to make the website 100% functional and attractive.
We implemented a gallery and a shop.
We integrated Western and Chinese payment providers.
The website is in English, Traditional and Simplified Chinese.
https://www.luchiglass.com/
Report a problem