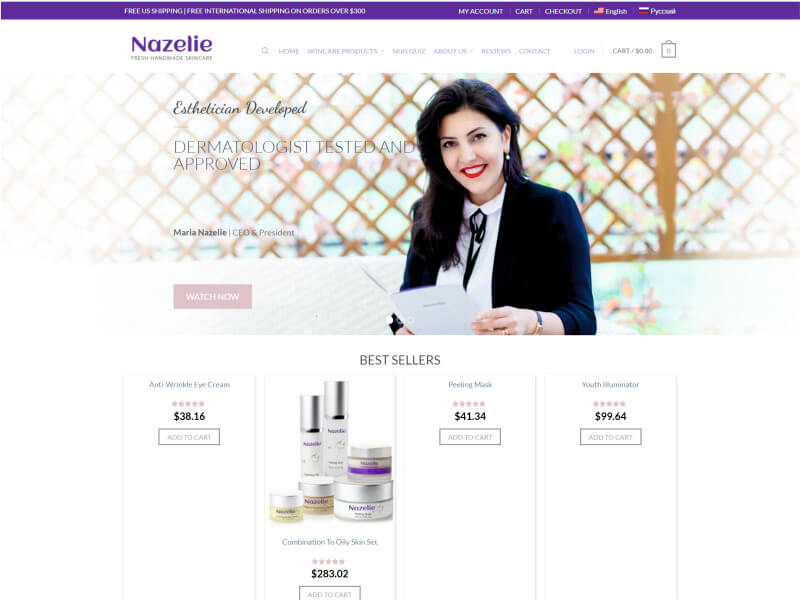 The secret is simplicity combined with intelligence. Skincare made from time-tested recipes of pure, natural ingredients, proven to treat, soothe, hydrate and heal in formulas smart enough to help your skin be radiant.
BEFORE
A significant part of their orders is coming from Russia & Russian speakers (the owner is originally from Russia). Statistics confirmed that a significant amount of visitors were coming from this region. Unfortunately, a bounce rate among this group was quite high, meaning that people were leaving the webshop quite fast after opening it. This loss of potential customers happened due to the fact that the webshop was in English with only one static page in Russian.
The client felt that the design needed to be better aligned with the brand image and fit the most recent trends in the cosmetics industry.
Besides the webshop, Nazelie sells their products on Amazon. Orders from the webshop and Amazon were handled separately and data was not synchronized. Fragmented processes led to extra manual work and inconvenience for the customer service department.
Communication with (potential) clients was organized through online chat (VCita) and email, which were also not synchronized.
AFTER
We chose to build a new webshop on WooCommerce, the #1 eCommerce platform worldwide. WooCommerce offers various functionalities - for a fraction of both cost and time - compared to custom-built webshops. New functions are coming with plugins, pre-made programs that can be separately purchased and connected to a webshop. Among others, the following functions were added:
Social login, liking and sharing with the aim to support promotions through Facebook, Twitter and other social media.
Affiliate program aiming to motivate bloggers to write about Nazelie products and generate more sales.
In-shop promotions and a persistent cart aiming to increase webshop conversion rate.
Fully functioning bilingual setup helps to improve conversion rate among Russian visitors.
Orders from Amazon are now synchronized with the main database and are being processed centrally from within the webshop. This helps to reduce time and prevents the loss of data.
It is also important that WooCommerce is easy to work with. Creating and translating pages, products, blog posts does not require special knowledge and now can be done by Nazelie managers easily.
https://web.archive.org/web/20181202002457/https://nazelie.com/
Report a problem