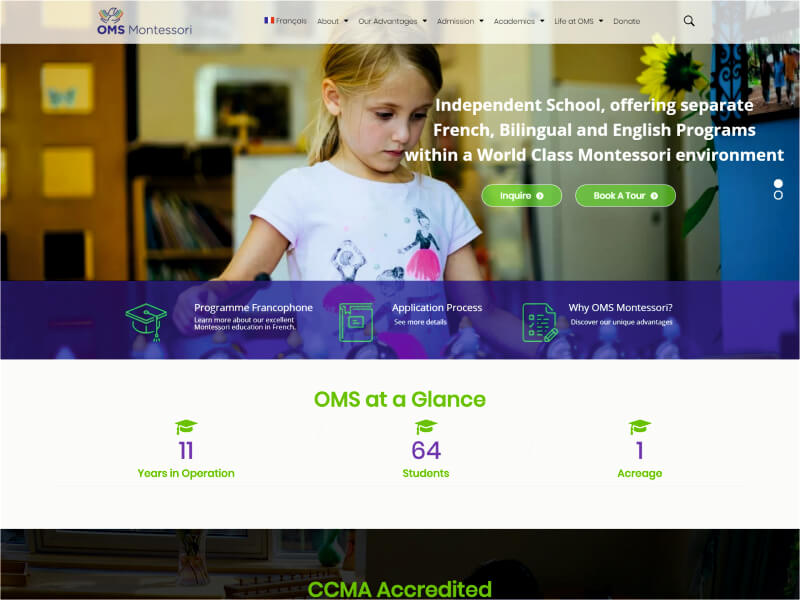 OMS Montessori is an Ottawa school whose teaching approach is based on the Montessori method. It welcomes preschool and elementary school children in French, English or bilingual programs. This school's mission is to encourage motivation, continuous learning, perseverance, independence, collaboration and joy through the principles of the Montessori approach.
The chosen theme for developing the site is Thimpress's "Ivy School". A complete reorganization of the pages and the contents was done by our team in collaboration with Muriel Chavaroche, instigator of the project at OMS Montessori. The site had to be completely multilingual to highlight the possibility for children to follow the program in French or in English. The design also had to be adaptive in order to optimize the display on mobile devices. Finally, we made it easy to increase and increase requests for information and visits by making the "Ask for Info" and "Visit Our School" buttons visible on all pages.
It was a real pleasure for all our team to work to give better visibility to this wonderful educational project!
https://www.omsmontessori.com/
How to build a multilingual education website with WPML
To build a multilingual education website with Toolset like this one you will need to:
To translate your education website with WPML you will need to
If you are assigning translations you will want to follow the steps above but you will need to send content for translation.
Report a problem