Multilingual Compatibility Testing Tool
The WPML Multilingual Compatibility Testing Tool easily tests your theme and plugins for compatibility with WPML.
After you run the testing tool, any text strings that are ready for WPML are marked with a Prefix Tag (usually WPML_). Any strings that are still showing their original text, were not recognized as translatable and need some fixing in your PHP theme file.
Only run this testing tool on a development server, never run on a LIVE site. The changes made are not reversible. This tool will scan your theme PHP files and perform tests on all the strings and rewrite those files. You view the results by looking back at your theme pages to see the prefixed or non-prefixed strings on your test site. In this sample screenshot, see the two incompatible strings at the bottom, all the rest are tagged as OK. (Circles not included!)
Right from the admin screen, the testing tool can:
Mark good theme strings by adding a prefix tag in front of the text
Mark good plugin strings by adding a prefix tag in front of the text
Scans your custom post types, taxonomies and fields also
Helps you when creating a wpml-config.xml file
Scanning theme and plugins
1. Be sure the WPML, String Translation and Translation Management plugins are all installed and activated. Upload and activate the WPML Tester plugin, it will appear on the admin menu, start here.
2. The first task to do is to scan for strings in your themes, click on the first button to take you over to the WMPL Theme and plugins localization page.
3. Scroll down to the "Strings in the theme" section. Click the "Scan the theme for strings" button. When it's finished, return to the WPML Tester page from the admin menu.
4. Back at the WPML Tester page, the next section is Theme localization. Select your active theme, or use the All themes option. Select the language you want to test and click on the Translate button. If you want to change the prefix before the strings and run again, you should click on the Update button.
Selecting "All Themes" will perform this process on all your installed themes and WordPress general strings and widgets.
5. You can repeat this same process for Plugin localization.
Plugin localization compatibility testing is the same as the theme.
Scanning for custom types, custom taxonomies and custom fields
Simply click the Scan button here and this will let you quickly review all custom post types, custom taxonomies and custom fields that you may include in wpml-config.xml. You can read more about it by viewing the Language Configuration Files.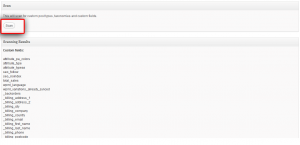 If you need any help, please use our technical forum.
Download the current version:

WPML Compatibility Testing Tool