We are very happy to release the first version of WooCommerce Gateways Country Limiter. If you need to enable payment gateways per country, you this plugin is for you.
If you run a global e-commerce site, you might have already discovered that some payment options are only available in very specific countries and other payment options are available almost everywhere, but not in some countries.
Now, there's a simple way for you to choose in which countries each payment option is available.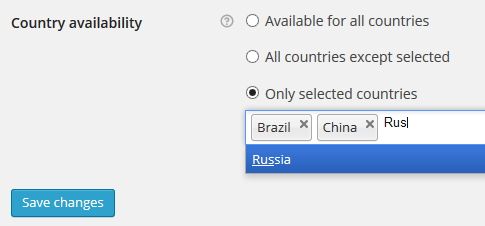 WooCommerce Gateways Country Limiter adds a 'Country availability' section to every payment gateway.
By default, the gateway will be available everywhere (like before you enabled the plugin). You can change it to only offer the payment option for specific countries or exclude it from other countries.
Simple 🙂
Once customers change their billing address, in the WooCommerce checkout page, the payment options, at the bottom of the same page, will update.
WooCommerce Gateways Country Limiter is available right now. You can download it from your WPML.org account.
The plugin is included, without additional charge, to WPML clients. As it can also run without WPML, we will also offer it as a separate purchase (soon).
Questions? Ideas? Leave your comments here and we'll get back to you.