Today, we released the beta version of ACF Multilingual 2.0. This release includes a one-step multilingual setup for custom fields, an easy way to translate field labels, and more.
We listened to your feedback about ACFML and read through your support tickets. It mostly all came down to two things:
Make the multilingual setup for custom fields clearer
Make it easier to translate field labels
With ACFML beta 2.0, we're making this happen, and more.
To make the final version even better, we need your help to test this beta and offer your input.
New Setup and Translation Options
In previous versions of ACFML, you could only set the translation preferences for custom fields on a field-by-field basis. With ACFML beta 2.0, you can configure the multilingual setup for custom fields in just one step.
The new ACFML setup wizard lets you choose between two pre-set translation options for each of your field groups:
Same fields across languages – In this mode, your field group is the same across all languages. You can use WPML's Advanced Translation Editor to conveniently translate field labels and content.
Different fields across languages – This mode is for field groups that need to have different field configurations across different languages. In this mode, you can use the native WordPress editor to translate your fields.
Now, you only need to select one of these modes and ACFML will automatically set the recommended translation preferences for the fields inside the field group for you.
Previously, you needed to individually set the translation preferences
With ACFML 2.0, you only need one click to select the pre-configured translation options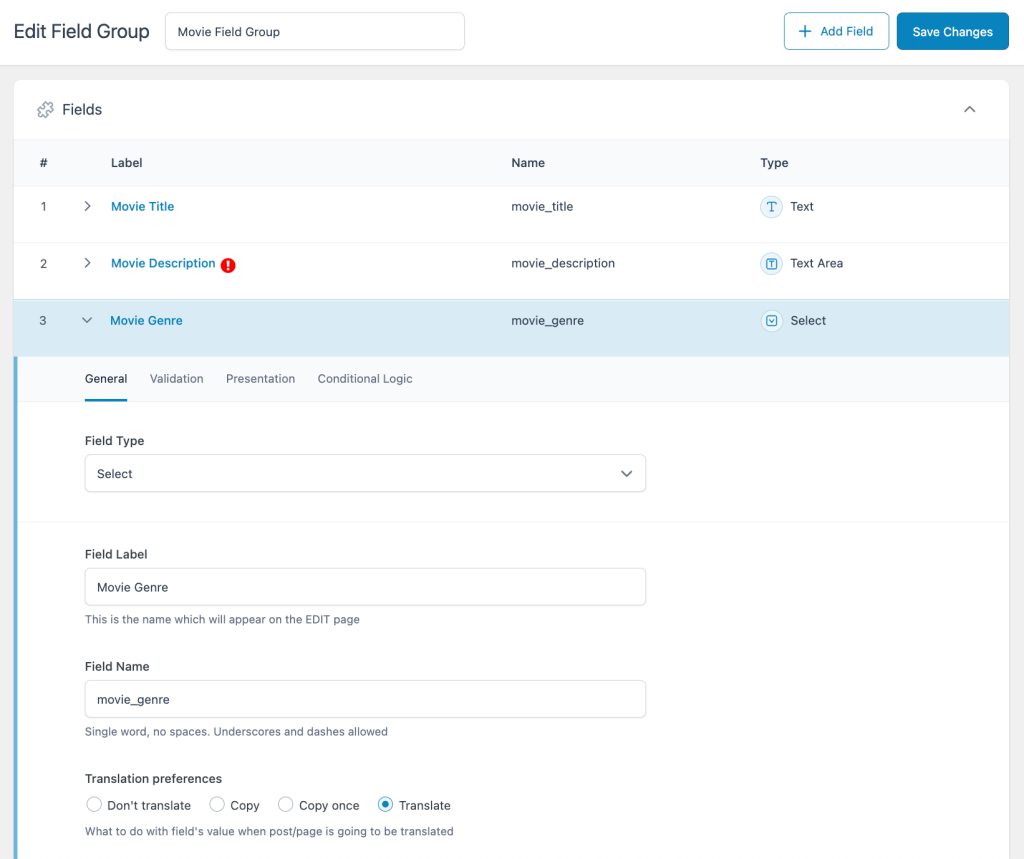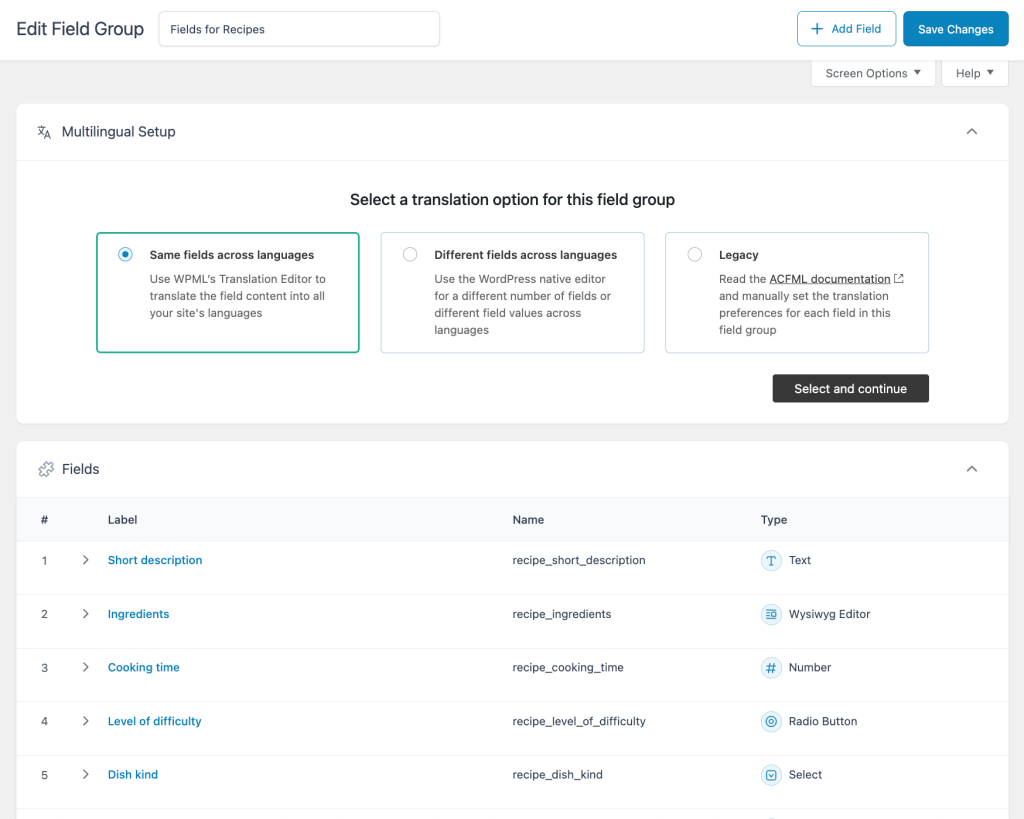 If you want to continue manually setting the translation preferences for each individual field, you can choose the Legacy option.
Easily Translate Field Labels and Labels for Choices
Up until now, translating field labels and labels for Choices has been complex. You had the option of adjusting the function in your theme's files to make the labels translation-ready. Or, you could translate labels by setting the Field Group custom post type as Translatable, but this was known to cause issues.
ACFML 2.0 beta brings an improved way of translating field labels and labels for Choices. Now, you can simply go to WPML → String Translation to translate both your field labels and labels for Choices.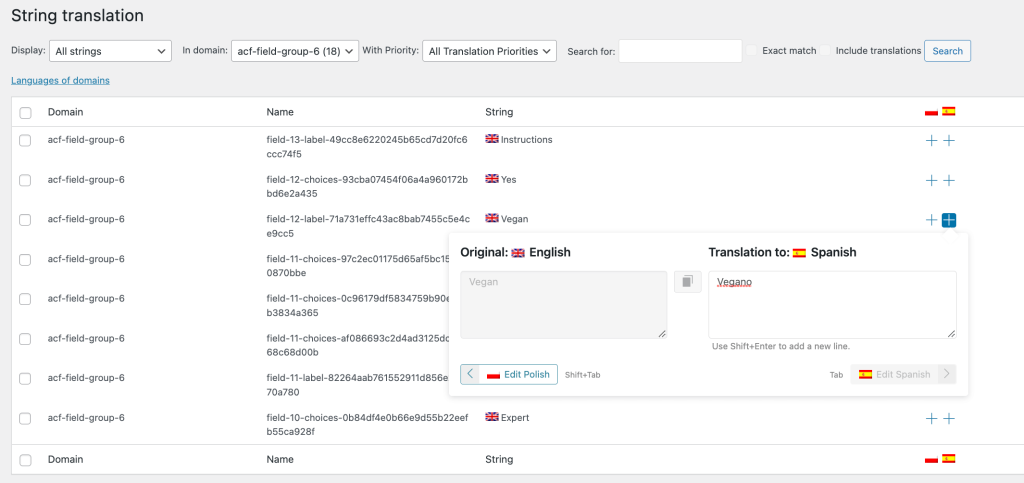 In the upcoming WPML 4.6 release, you'll see even bigger improvements. It will be possible to translate field labels in the Advanced Translation Editor. Stay tuned for more details about this feature!
How To Install the ACFML 2.0 Beta Version
You should only install this beta version on a test or development site, never on a live production site.
From your site's dashboard, go to Plugins → Add New and click on the Commercial tab. Click the Check for updates button and then use the Updates channel dropdown menu to switch to Beta. Finally, in the dialog that appears, click Switch to update your site to the latest available beta version.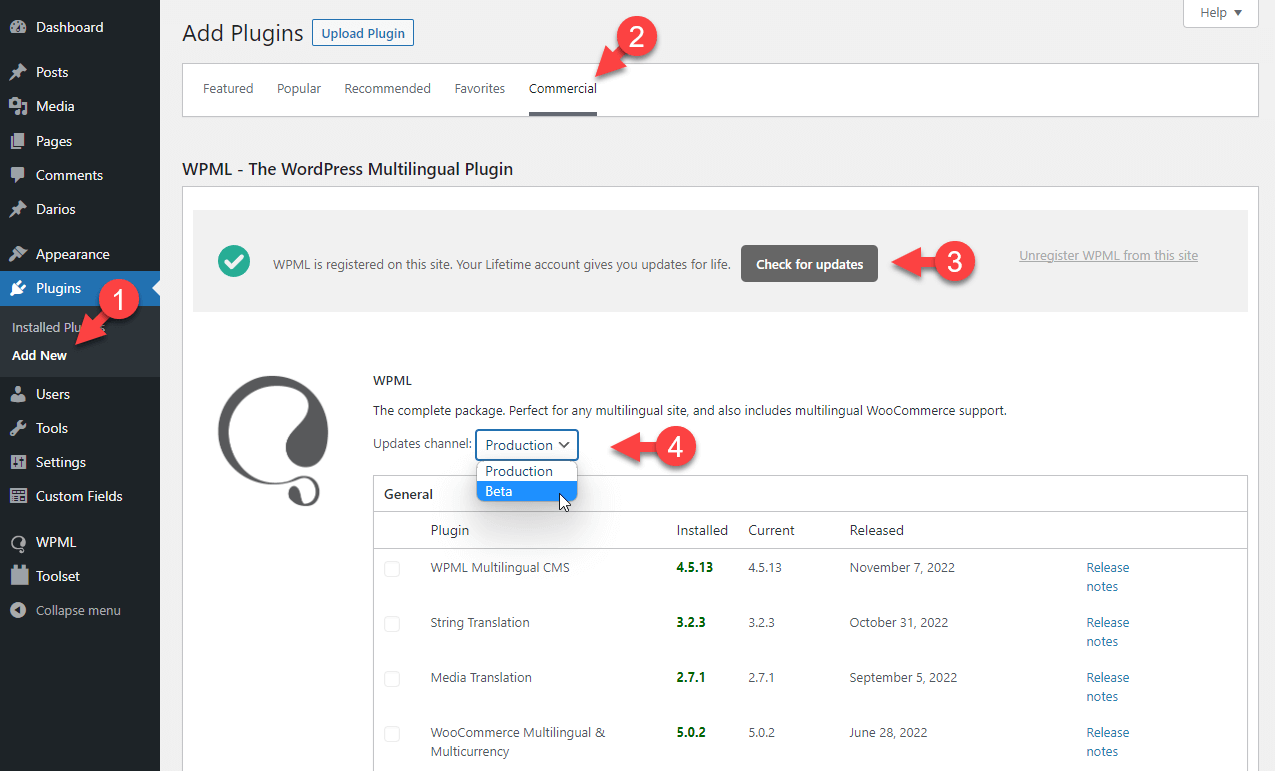 We're Still Polishing the Details
We wanted to share this beta with you as soon as possible so there are still some cosmetic details we're working on.
Currently, known issues include:
Some documentation links are not working
ACF versions before 6.0 might have some styling issues with the new wizard
Try ACFML 2.0 Beta and Share Your Feedback
This development is meant for you, the users of ACFML. By testing it yourself, you can tell us exactly how it works for you and what you think still needs improvement.
In other words, testing this beta today will help you have a better version of ACFML in a few weeks.
If you find any issues with the beta, please report them to our support team.
For other thoughts, please leave your feedback and suggestions in the comments!